Now, the Bajaj Pulsar NS1000 is a concept design that you will not see very often. But there are quite a few automobile enthusiasts who go to the trouble of designing something like this. Bajaj had recently launched the popular 250 cc bikes in two variants, F250 and N250. Needless to say, these two versions were well received by the customers. Abin_Designs_511 always keeps coming up with interesting and unique iterations of the regular products, be it in the two-wheel or four-wheel space. This lets people experience something out of the ordinary even though it is in digital format. Let us take a look at the details of what this digital interaction has to offer.
Also read: 2021 Bajaj Pulsar Top Speed and Acceleration Test Results Are Out!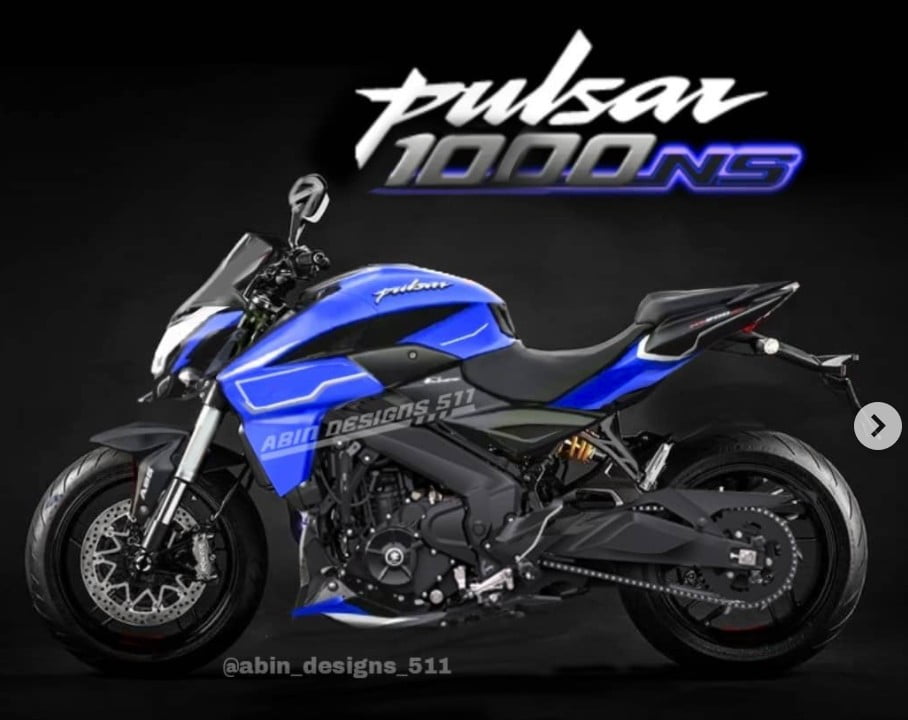 Concept Bajaj Pulsar NS1000
These two bikes look like a bulky, sporty and more muscular version of the regular Pulsar F250. However, there are quite a few unique design patterns to differentiate the two. One can easily see how muscular and chunky the faring is. It is neatly integrated into the muscular fuel tank. The engine protection is smartly done with rugged elements on the sides. The underbelly is also quite strong and goes well with the overall theme of the bike. The visor and handlebars give the front fascia a sport bike-like feel. The combination of black and red, as well as black and blue, brings out the street versions of the motorcycle.
Also read: This is How Bajaj Pulsar F250 Should Have Looked Like!
The front profile is accentuated by a retro-styled alloy wheel design along with chunky tyres. The high-profile tyre size fits the character of this muscular bike well. The same is the case at the rear. The rear tyre looks even chunkier. The alloy wheel design is different from the front wheel. The tail end looks modern with a split seat setup and stylish tail lamps. Needless to say, the bike will sport all the modern connectivity features like a digital instrument cluster with USB and smartphone connectivity. The headlamps and taillamps will be LED units as well along with LED DRLs. All in all, we really quite like what the automobile designer has done to the popular Pulsar 250.
Also read: Bajaj Pulsar NS200 Tests The Build Quality of A Bus