Mahindra Thar is one of the most popular cars in the Indian market. A new auction showcased the value of off-roader.
The latest-gen Mahindra Thar is priced at 13.53 lakh – Rs 16.03 lakh (ex-showroom). However, it is not even close to the most costly version of the vehicle. The Indian manufacturer is said to have gifted a Mahindra Thar unit (AX soft top variant) to the Guruvayur temple in Kerala. Subsequently, an auction was held which raised Rs 15.10 lakh. However, due to controversy, there was a re-auction. During this, Mr. Vignesh Vijayakumar (a non-resident Indian) won the Mahindra Thar for Rs 43 lakh.
You may also like: Anand Mahindra Tweets Off-Roading is a 'Thar-apy'
You may also like: Mahindra Thar vs Mercedes G-Wagon Hardcore Off-Road Challenge
During the re-auction, there were a total of 14 participants. The Devaswon board and managing committee considered the auction results on May 16 and the car was handed over to the winner. Mr. Vignesh Vijayakumar is an Indian businessman from Dubai. However, he actually hails from Malappuram's Angadippuram region, and his father participated in the auction on his behalf. In comparison, the first auction only has one participant. The winner of the first auction Mr. Ali or his representatives did not participate in the re-auction.
Mr. Vignesh Vijayakumar seems over the moon after this winning. Since it is the only Thar in the country that was donated to Guruvayur Temple, it is special. "I feel blessed to have become eligible to receive a car donated to Lord Guruvayurappan. I may be owning other cars, which may have a higher price from a material-financial point of view, but I consider this car as the most treasured one, as I'm receiving it from the temple of Lord Guruvayurappan. I had authorized my representative to quote any price to win the auction," said Vignesh Vijayakumar.
You may also like: 5 Features of New Maruti Baleno MISSING on Tata Harrier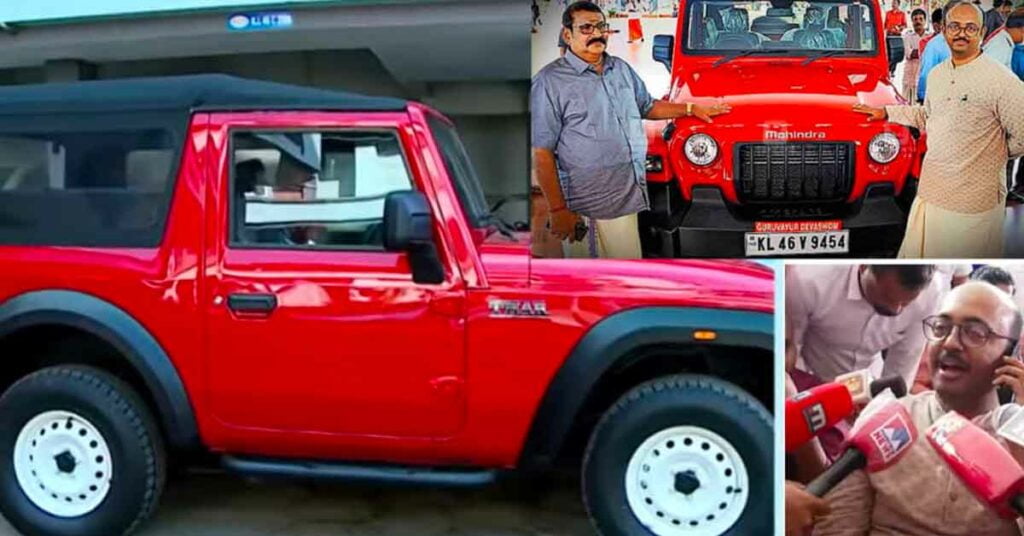 Since the auction amount does not include the GST, the total cost of the Mahindra Thar would be over 50 lakh. This makes the auctioned unit India's costliest Mahindra Thar. At this price point, it surpasses a brand new Toyota Fortuner or Legender. The Mahindra Thar AX soft top variant comes with features like comes with white painted steel rims, basic interiors, side-facing bench seats for rear passengers, AC, and more. However, the 4×4 lacks the alloy wheels and infotainment system.
You may also like: Mirzapur's Munna Bhaiya Schools Biker Chasing His Mahindra Thar
The latest-gen Mahindra Thar is powered by a 2.2-liter turbo-diesel (130 PS/320 Nm)/ 2-litre turbo-petrol engine (150 PS/320 Nm). Transmission options for both the powertrains are a 6-speed manual and a 6-speed automatic with a low-range box. You also get a transfer case and a mechanically locking center differential. Currently, the Thar houses 4 people. The popular off-roader has basically no competition in the market. The only direct rival is the Force Gurkha which has also recently received a new-gen upgrade.
Join our official telegram channel for free latest updates and follow us on Google News here.