Fiat did not participate in the 2012 Auto Expo and its only important launches, the 2012 Fiat Linea and 2012 Fiat Grande Punto, were revealed on 3rd of January 2012. The new models did not carry any major changes but featured a number of small yet important changes. Today we will be comparing the all new 2012 Linea with the 2012 Honda City which was launched last year.
Fiat Linea 2012 Exteriors Vs Honda City 2012 Exteriors
Fiat is one of the finest and biggest automobile group in the world that has evolved over the decades. Though not very striking in design, its products have the real premium feel one would expect. The Linea is no exception and flaunts every bit of its simple yet elegant Italian design. The  overall exteriors have bare minimum body lines and the headlamps look quite large as compared to the proportions of the car. A huge grille at the front stretches up to the fender and gives the car a very unique look.
image – Fiat Linea (left) and Honda City 2012 (right)
The City from Honda has been an all time favorite of the consumers here and undoubtedly it is the design that draws your attention. Unlike the Linea which reflects elegance the City is more about being sporty. The sharp and straight body lines, sharp headlamps and pronounced facial features leave a mesmerizing effect. The 2012 City gets even better and gets chrome on the front grille and added exterior features.
Fiat Linea Exterior Dimensions
length: 4560 mm
width: 1730 mm
height: 1487 mm
wheelbase: 2603 mm
Honda City Exterior Dimensions
Overall Length 4440 mm
Overall Width 1695 mm
Overall Height 1485 mm
Wheelbase 2550 mm
Proportion wise the Linea has the edge and is appreciably longer, marginally wider and also has a longer wheelbase. This means that the car offers slightly more room than the City but if you consider the overall package in terms of appearance the City is definitely a better choice.
Fiat Linea 2012 Interiors Vs Honda City 2012 Interiors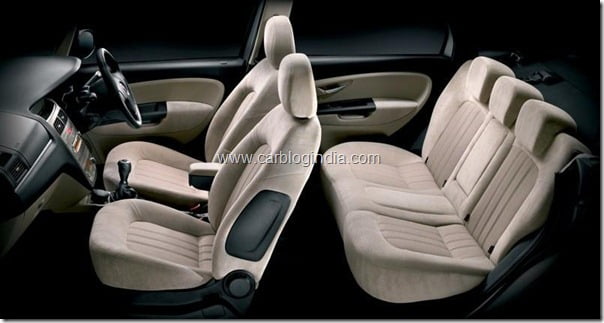 image- Fiat Linea Interiors
The Linea is as beautiful on the inside as on the outside and the interiors look very upmarket. The fit and finish is just brilliant and one would not find even a single reason for not liking it. Being a premium sedan the car offers many features but the latest Linea gets the following features as new additions-Integrated Audio System in all variants, Airbags, and BlueMe feature  in mid variants, Automatic Climate Control System, ABS and EBD, New Design alloy Wheels, Rain Sensing Wipers, Auto On/Off Headlamps, New Leather seats in top of the line diesel variants, New Chrome Interiors and 16 inch alloys in top of the line diesel variants , New Light beige interiors and seat fabric, New Dashboard and door trims, New Floor Carpets and Seatbelts, New Oceanic Blue Exterior Colour, Improved Air Conditioning, Power Windows with delay feature and Improved NVH for diesel models.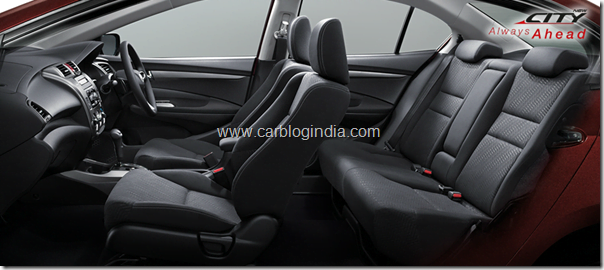 image – 2012 Honda City Interiors
Once again the new City has not been given any drastic changes but added with additional and interesting features that one would definitely like. The list includes First in class Electric Sun-roof in the V variant, Outside rear view mirrors with Turn Indicators, New Design 10 Spoke Alloy wheels, Premium Chrome Front Grille, New Design rear bumpers with Reflectors, Sporty new Front Bumper, Rear Combination Tail Lamps, Increased ground clearance of 165 mm which was a major complaint by customers on bad roads of India, New Cruise Control Feature, Better Quality Seat Fabrics, Blue Meter Graphics, Chrome garnished central console, Chrome door handles and silver linings on interior door trims, New Integrated audio system starting from E Variant with USB, iPod support with remote control, Aux-input, MP3, AM/FM Radio and Speed based volume compensation.
So both features and quality wise the cars are at par but considering the extra premium feel and space on the inside we give the Linea a thumbs up here.
Fiat Linea 2012 Petrol Engine Vs Honda City 2012 Petrol Engine
Type: 1.4 Fire Petrol,DOHC 16 Valves
Displacement: 1368 CC
Maximum Power: 90 BHP @ 6000 RPM
Maximum Torque:115 Nm @ 4500 RPM
Transmission: 5 Speed manual
ARAI Certified Mileage: 14.6 KMPL
Honda City Petrol Engine
SOHC 4 Cylinder 16 Valve i-VTEC VVTI Engine
PGM-FI 1.5 Litre MPFI Petrol Engine
Displacement 1497 CC
Max Power of 118.4 BHP @ 6600 RPM
Max Torque of 145 Nm @ 4800 RPM
5 Speed Manual Transmission or 5 Speed Automatic with Grade Logic Control with torque converter
ARAI tested mileage of 16.8 KMPL
Talking about the engine of the two the Linea gets a 1.4 litre engine that delivers 90 BHP and 115 Nm which is quite less as compared to the City's 118 BHP and 145 Nm. In terms of mileage as well the Linea falls back and therefore City gets an edge over here.
Fiat Linea 2012  Petrol Performance & Handling Vs Honda City 2012 Petrol Performance & Handling
Linea has always amazed us by its handling and road manners but the smaller engine feels is a disappointment. The extra power and torque one would desire at turns and straight roads is absent. On the other hand City is a winner and the added torque and power fully complement the driving characteristics of the car. So I would say that Linea is good but City is slightly better.
Fiat Linea 2012 Petrol Price Vs Honda City 2012 Petrol Price
Fiat Linea 2012 price ex-showroom Delhi is as follows:
Fiat Linea 1.4 Petrol Active 2012 is priced at Rs. 6.84 Lakhs
Fiat Linea 1.4 Petrol Dynamic 2012 is priced at Rs. 7.81 Lakhs
Honda City 2012 Petrol Prices are as follows:
Honda City 2012 Corporate  MT is prices at Rs. 6.99 Lakhs
Honda City 2012 E MT is prices at Rs. 7.70 Lakhs
Honda City 2012 S MT is prices at Rs. 8.20 Lakhs
Honda City 2012 V MT is prices at Rs. 8.70 Lakhs
Honda City 2012 V AT is prices at Rs. 9.42 Lakhs
Honda City 2012 V MT with Sunroof is prices at Rs. 9.50 Lakhs
Honda City 2012 V AT with Sunroof is prices at Rs. 10.22 Lakhs
The Linea is available in only two petrol variants whereas the City is available in 7 different variants so we will compare the variants that are closest in pricing.
2012 Fiat Linea 1.4 Active Vs 2012 Honda City Corporate
Both the Active and  Corporate are the base variants of their respective models. The Active in spite of being a base variant comes with many features but lacks the safety and premium features at the same time. It does not get ABS EBD, 3 point ELR seat belts, chrome body inserts, leather strapped steering wheel and premium upholstery on the inside, chrome inserts on the interiors, automatic climate control etc.
The City Corporate has its own advantages and disadvantages. It gets all the safety features unlike the Linea but lacks desired features like the Audio system, speakers, silver finish on the inside, leather offerings etc. Now if you are looking for safety over convenience, go for the City and if you are more into infotainment than safety, buy Linea Active.
2012 Fiat Linea 1.4 Dynamic Vs 2012 Honda City E
The Dynamic is is complete in terms of all the features Fiat offers and one would definitely like it. The City E is the closest to it but is a slight improvement over the Corporate variant only and offers additional features like the audio system with AUX and USB support, speakers, aluminium finish of steering wheel.
The rest of the City models are more expensive and offer additional features like automatic transmission, ORVM turn indicators, sunroof etc. So if you are willing to get those additional features with City you will have to pay an extra price and completely neglect the Linea as the same are not available in it.
Car Blog India Verdict – 2012 Fiat Linea Petrol Vs 2012 Honda City Petrol
If you want an elegant looking car that is satisfactory on features and has good overall built Linea has to be the car. But at the same time the City has more features is somewhat comparable in pricing and also has more power and torque.
So I would strongly recommend you go, take a test drive, consider the offered features and you requirements and then buy the car. As far as our verdict is concerned we will still go ahead with the City.
check out more-
Join us for FREE NEWS Updates on our Whatsapp Community or our official telegram channel.