Ford India has launched the Ford Fiesta 2012 automatic transmission model in India on 28th Feb 2012 in New Delhi. We attended the launch and brought you a detailed launch coverage here – Ford Fiesta 2012 Automatic Price, Pictures, Video and Details. The Fiesta automatic has been launched in the entry level Fiesta Style variant and the top end Fiesta Titanium Plus variant which came as a surprise as we were not expecting the entry level model to get AT option which was done to keep the prices very competitive. In this article, we compare the Ford Fiesta 2012 Automatic with the new Honda City 2012 Automatic transmission variant. For a detailed variant by variant complete comparison of these two cars, you can check this article-  New Honda City 2012 Vs New Model Ford Fiesta Petrol.
New Ford Fiesta AT Exteriors Vs 2012 Honda City AT Exteriors

image – 2012 New Honda City (Left) and New Ford Fiesta (Right)
2011 Honda City Dimensions
Overall Length 4440 mm
Overall Width 1695 mm
Overall Height 1485 mm
Wheelbase 2550 mm
2011 Ford Fiesta Dimensions:
Length= 4291 mm
Width= 1722 mm
Height= 1496 mm
Wheelbase= 2489 mm
In terms of exteriors, both cars are global cars, with presence in many countries, this the exterior style is very well designed for both City 2012 and New Fiesta. There is however a big difference in the design language of these two cars.
The Fiesta is more rounded and aerodynamic based on the Kinetic design language of Ford. There is a distinctive hexagonal grille, tall stance, pronounced wheel arches and slight aggression in the overall styling.
Honda City on the other hand is a modern looking car with lots of chrome treatment in front, premium and sophisticated styling, it looks less sporty than Fiesta but more elegant at the same time. Both cars have their attractive points which are strong enough that I would consider this a tie.
New Ford Fiesta AT Interiors Vs 2012 Honda City AT Interiors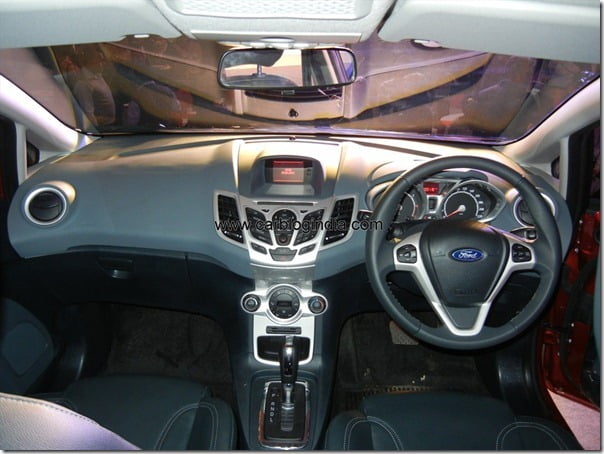 image – Ford Fiesta Automatic Interiors
Like exteriors, the interiors of the Fiesta AT are sporty and rugged. There is slight use of aluminum like silver finish on the steering, central console, AC vents, inside door trims etc. Its grey and black dual tone which comes with leather upholstery in the top end variant and in Fabric in the base variant.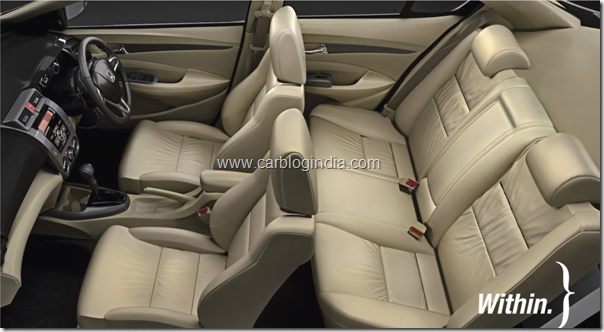 image – Honda City 2011 Interiors
The Honda City Interiors are more sophisticated and look much more premium with the beige and brown dual tone, however its more prone to get soiled by dusty air on Indian roads. The overall comfort and feel inside a Honda City 2012 is quite pleasing, however the height of the seats is slightly low and the width of the car is slightly lesser compared to Fiesta. In terms of Interiors, the City seems to be a better car, but it does lack some of the features like voice recognition, Bluetooth pairing for mobile phones etc.
New Ford Fiesta AT Petrol Engine Vs 2012 Honda City AT Petrol Engine
Ford Fiesta AT 2012 Petrol Engine Specifications
4 Cylinder Inline 16 Valve DOHC MPFI Petrol Engine
Ti-VCT (Dual VVTI system)
1499 CC Displacement
Max power output of 107.5 BHP@ 6045 RPM
Transmission 6 speed dual clutch PowerShift automatic
Max Torque of 140 Nm @ 4500 RPM
All Aluminium Engine construction
Kerb weight: 1153 Kg
ARAI certified mileage of 16.97 KMPL
Power to weight ratio of 93.23 BHP per 1000 Kg
2012 Honda City AT Petrol Engine
SOHC 4 Cylinder 16 Valve i-VTEC VVTI Engine
PGM-FI 1.5 Litre MPFI Petrol Engine
Displacement 1497 CC
Max Power of 118 BHP @ 6600 RPM
Max Torque of 145 Nm @ 4800 RPM
5 Speed Automatic with Grade Logic Control with torque converter
ARAI tested mileage of 15.6 KMPL
Kerb Weight: 1145 to 1160 Kg
Power to weight ratio of 102.38 BHP per 1000 Kg
Looking at the engine specifications, the Honda Engine seems much more powerful and has a better power to weight ratio which is about 10% higher compared to the Fiesta, but the catch is in the type of Automatic transmission type which these cars offer. The City has a torque converter type transmission which is usually less efficient and delivers lesser efficient and effective power to the wheels when compared with the dual clutch transmission of Fiesta. Which is why the Fiesta delivers a fuel economy of 17.97 KMPL which is as good as fuel efficiency of the City MT or Fiesta MT.
New Ford Fiesta AT Petrol Handling and Performance Vs 2012 Honda City AT Petrol Handling and Performance
Comparing these two cars on handling is like comparing two legends. Both New Ford Fiesta and New Honda City 2012 are great handling cars with well sorted suspension for good ride comfort as well as sharp handling. The Fiesta has a slight advantage of larger ride height which makes is a better rider on bad roads. Both cars have good control on high speeds, however the steering feedback of the Fiesta is slightly better as it deploys a advanced pull-drift compensation mechanism. The performance of the Fiesta is slightly better because of its more responsive PowerShift dual clutch system which responds well to the accelerator input and downshifts effectively if you push the accelerator hard.
So I would say Fiesta, besides a less powerful engine, performs better than the City AT which is a very hard to beat car.
New Ford Fiesta AT Petrol Price Vs 2012 Honda City AT Petrol Price
2012 Ford Fiesta Automatic Petrol Price Ex-Showroom Delhi
Ford Fiesta 2011 1.5 TiVCT Style : Rs. 8.99 Lakhs
Ford Fiesta 2011 1.5 TiCVT Titanium+ Automatic: Rs. 9.73 Lakhs
New Honda City 2012 AT Price in India Ex-Showroom Delhi:
Honda City 2011 V AT is prices at Rs. 9.42 Lakhs
Honda City 2011 V AT with Sunroof is prices at Rs. 10.22 Lakhs
Ford Fiesta Style AT Vs Honda City V AT
If we compare the Honda City V AT without sunroof with the Fiesta Style AT, the City seems slightly higher priced, but it does offer features like cruise control, fog lamps etc. which are missing the the Fiesta Style, however, the Fiesta does offer slightly better interior space, audio system with CD/USB and Aux input while the CD option is missing in the City. Overall, Fiesta is cheaper, but also cuts down on some features, however, for fuel economy and responsiveness of its transmission system, the Fiesta seems a better option.
Ford Fiesta Titanium+ AT Vs Honda City V AT
If we compare the top end Titanium+ variant of the Fiesta AT, it features cruise control, EPS, hill and gradient assist, good fuel economy with responsive dual clutch system, reverse parking sensors, voice recognition system which are missing in the City 2012 V AT. Also there is leather upholstery in Fiesta which comes only with the sunroof model which is priced higher than the Fiesta by close to Rs. 50 K. Also the Dual clutch transmission is a plus. So in terms of value for money and performance, Fiesta is a better choice.
Car Blog India verdict – New Ford Fiesta AT Petrol Vs 2012 Honda City AT Petrol
Fiesta seems to be a much better bet with great features, better performance, fuel economy and its value for money package. Do take a test drive of both cars before making a final decision.
check out more-
Join us for FREE NEWS Updates on our Whatsapp Community or our official telegram channel.