Maruti Suzuki is the number one car seller in the passenger car segment in India, and among its most popular cars is the Maruti Swift 2011, new model which has been launched only in August 2011. Just a little later than a month of new Swift launch, Honda SIEL India has launched its smallest car in India, the Honda Brio to change the game in this segment. In continuation to our car comparison series on Car Blog India, in this article, we will compare the legendary Maruti Swift with the fresh new Honda Brio in detail on various aspects.
Honda Brio Exteriors Vs Maruti Swift 2011 Exteriors
Honda Brio Dimension
Length = 3610 mm
Width = 1680 mm
Height = 1500 mm
Wheelbase = 2345 mm
Honda Brio is a new design and is very modern and dynamic. The dual triangle design approach of Honda is very non-contemporary and gives Brio a distinct look and make it stand out in the crowd. The styling of exteriors is very pleasing to eyes and appeals well to the buyers. Apart from this, the quality, fit and finish of the Brio is also very impressive.
Maruti Swift 2011 Dimensions
Length = 3850 mm
Width = 1695mm
Height = 1510mm
Wheelbase = 2430
Maruti Swift 2011 on the other hand is also a very non-contemporary design based on the older Swift only, but its longer, wider, slightly higher and has a longer wheelbase compared to Brio. The Swift also has a large fan following and is quite popular. Its very hard to pick one from the two, but my vote goes to Brio for its freshness and modern design factor.
Honda Brio Interiors Vs Maruti Swift 2011 Interiors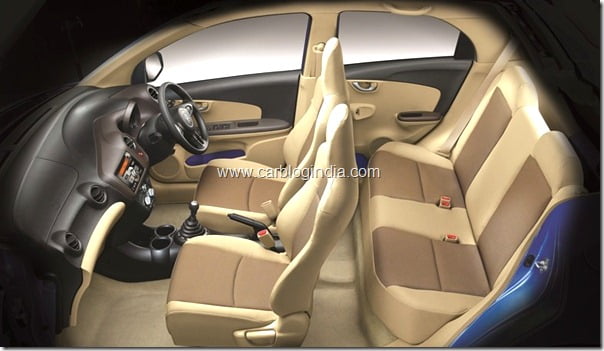 image- Honda Brio Interiors
When it comes to interiors, these two cars are very different looking in terms of colour tones, feel and appeal of the cabin. The Brio has a bright cabin with lighter Beige and Brown colour tones, which makes the car look bright and large from inside. Apart from looking large, the packaging of the Brio is done more intelligently to save space. It feels quite spacious besides being a small sized car.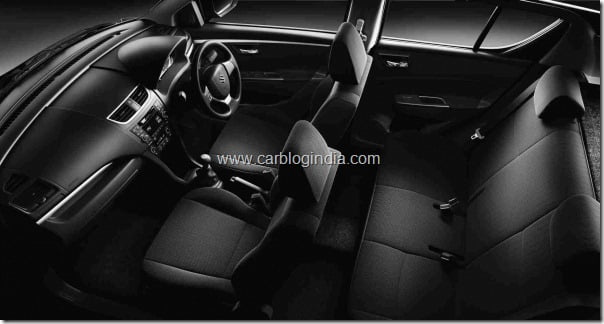 image – 2011 Maruti Swift Interiors
Interior of Swift are Black Grey which makes it look sporty, but it may seem quite dull. The leg room in the Swift 2011 has been improved over the older generation Swift. The quality of the material is also better than the old Swift, but not better than the Brio. Overall, in terms of Interiors, Brio feels more spacious and cheerful car compared to the new Swift.
Honda Brio Petrol Engine Vs Maruti Swift 2011 Petrol Engine
Engine Specifications of Honda Brio
1.2 Litre 4 Cylinder i-VTEC Engine
Engine Displacement 1198 CC
Max power of 86.8 BHP @ 6000 RPM
Max torque of 109 Nm @ 4600 RPM
5 Speed Manual transmission
ARAI Certified Mileage of 18.4 KMPL
Kerb Weight 920 to 940 Kg
Power to weight ratio of 93.3 BHP /1000 Kg
Maruti Swift 2011 Engine Specifications
Improved K12 1.2 Litre MPFI Petrol Engine
Dual VVTI Technology
4 Cylinder, Displacement 1197 CC
Max power of 85.8 BHP @ 6000 RPM
Max torque of 114 Nm @ 4000 RPM
5 Speed Manual transmission
ARAI Certified mileage of 18.6 KMPL
Kerb Weight 960 to 990 Kg
Power to weight ratio of 88 BHP /1000 Kg
Comparing the engine specifications of Brio and Swift, both are very close in terms of engine displacement, max power, torque and fuel efficiency. The major difference being the power to weight ratio. Brio with slightly more power and lesser weight comes out to be better at the power to weight ratio and feels more agile. The Honda iVTEC engine is also more refined and calm compared to the Swift petrol engine.
Both cars come very close in engine performance, but Brio leads the Swift Petrol overall in terms of Engine and power to weight ratio.
Honda Brio Petrol Handling and Performance Vs Maruti Swift 2011 Petrol Handling and Performance
Brio is a comfortable car in terms of ride quality, the suspension is slightly on the softer side, so it does handle well, but not the best in this segment. It does exhibit some body roll at sharp turns at higher speeds.
Swift 2011 is unparalleled in its handling and performance in its segment. This is one area where it really excels and which makes Swift such a popular car. With stiff suspension, which may feel bit uncomfortable on bad roads, Swift handles very sharply and the steering feedback of the Swift makes it one of the best handling cars in this price range. So our vote for handling performance goes to Swift.
Honda Brio Petrol Price Vs Maruti Swift 2011 Petrol Price
Honda Brio Petrol Prices in India are as follows:
The prices of Honda Brio Ex-Showroom Delhi are as follows:
Honda Brio E is priced at Rs.3.95 Lakhs
Honda Brio S is priced at Rs. 4.35Lakhs
Honda Brio S (Option Pack) is priced at Rs. 4.90 Lakhs
Honda Brio V is priced at Rs. 5.10 Lakhs
Maruti Swift 2011 Petrol Price In India
The prices of Maruti Swift Petrol Ex-Showroom Delhi are as follows:
Maruti Swift Lxi Petrol is priced at Rs. 4.22 Lakhs
Maruti Swift Vxi Petrol is priced at Rs. 4.76 Lakhs
Maruti Swift Zxi Petrol is priced at Rs. 5.53 Lakhs
Honda Brio E Vs Swift Lxi
If we do a value for money comparison of these two cars, the Brio E seems to be a very lucrative car for the base variant which comes with no-frills but does have power steering, AC and front power windows. This variant in fact seems to be better equipped than the Swift Lxi in terms of features.
Honda Brio S Vs Swift Lxi / Vxi
By spending about Rs. 40,000 more for a Brio S, you can additionally get body coloured outside mirrors and door handles, full wheel caps, Integrated Audio system with USB, Radio and AUX-input along with the steering mounted controls. It also packs come chrome garnish on the interiors on steering knob, air vents, keyless entry, front and rear power windows. It does offer many features which are missing from even the Vxi variant of Swift like the Integrated audio system with steering mounted controls. This makes Brio S a far more attractive car compared to the Swift Lxi which is cheaper by Rs. 13,000 approx.
Honda Brio S Option Pack Vs Swift Vxi
If you compare the Brio S with Option pack with the Swift Vxi (Swift Vxi is cheaper than Brio S option pack by about Rs. 16,000), you get all the features of Brio S along with tilt adjust steering wheel, ABS, EBD and Dual SRS Airbags, electrically adjustable outside rear view mirrors etc. This makes Brio S Option pack a more sensible option over the Swift Vxi. In fact it packs almost all vital features which Swift Zxi has to offer like the ABS, dual Airbags to name a few.
Honda Brio V Vs Swift Zxi
Lastly, the Brio V Vs the Maruti Swift 2011 Zxi, it does come fully loaded and does have some better features like larger alloy wheels, audio system with CD support (Brio does not support CD playback), electromagnetic boot release, rear washer and wiper with defogger, driver seat height adjust, automatic climate control, dual airbags, ABD and EBD. The Zxi seems like a better package overall, but it costs Rs. 43,000 more than the Brio V which may seem pricey to many buyers.
Car Blog India verdict – Honda Brio Petrol Vs Maruti Swift 2011 Petrol
If you want a value for money car for city commuting and family use and you give more priority to value-for-money and features, Honda Brio will be a good choice for you. Brio does offer better quality and features at lower prices, so Brio will be our first choice for most practical commuting needs.
But if sporty character and handling are your top priorities and you don't bother much about spending extra bucks, Maruti Swift will suit your needs better, only the Zxi comes with complete safety package which may seem pricey but these safety features are important for enthusiastic drivers.
check out more-