Hyundai has launched its smallest engine car for India the 800 CC Hyundai Eon to compete in the not-so-crowded 800 CC small car segment. Interestingly, the Eon falls in the price bracket of Rs. 2.7 Lakhs to Rs. 3.8 ex-showroom which makes it directly compete with some of the 1000 CC small cars like the Chevrolet Spark, base variants of Hyundai Santro and Maruti Wagon R etc.. We have recently compared the Eon with its strongest competitor Maruti Alto here – Hyundai Eon Vs Maruti Alto– Which Is a Better Small Car And Why?.
In continuation to our Car Comparison Series on Car Blog India, we will compare Hyundai Eon with Chevrolet Spark small car in detail in this article.

image- Hyundai Eon (Left) and Chevrolet Spark (Right)
Hyundai Eon Exteriors Vs Chevrolet Spark Exteriors
Hyundai Eon is based on the fluidic sculpture design of Hyundai and contains beautiful and aerodynamic curves with a very upmarket exterior styling, fit, finish and built quality. In terms of dimensions, its same in length, slightly less in height and wider when compared to Chevrolet Spark. However, Eon has a longer wheelbase.
Hyundai Eon Dimensions
Overall Length : 3495 mm
Overall Height : 1500 mm
Overall Width : 1550 mm
Overall Wheelbase :2380 mm
Chevrolet Spark has been one of the most attractive cars in its price segment for a very long time, the cute rounded curves, elegant looks and smiling face like grille makes it look very cheerful car. But Hyundai Eon is a new generation design if we consider the time when Spark was designed. Chevrolet Beat is a modern design which has the aesthetics to challenge the Eon, but Spark looses out on the exterior appeal to the Eon.
Chevrolet Spark Dimensions
Overall Length : 3495 mm
Overall Height : 1518 mm
Overall Width : 1495 mm
Overall Wheelbase : 2345 mm
Hyundai Eon Interiors Vs Chevrolet Spark Interiors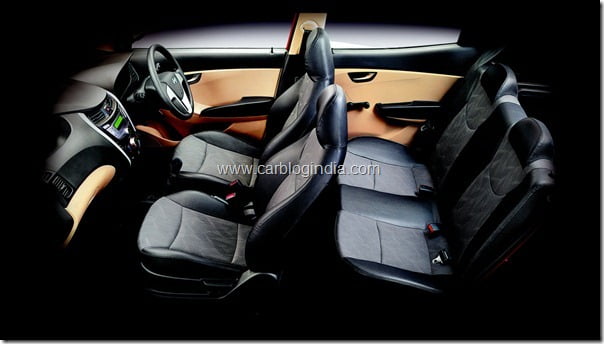 image- Hyundai Eon Interiors
In terms of Interiors, Eon feels very premium considering the price segment which it falls in. The quality of plastics, fabrics, build quality of the instrument panel, dashboard console etc. all feel good. In terms of space, the front seats ate quiet spacious with intelligent packaging of the car. The leg room at the rear seats is also very good, but the shoulder room seems slight cramped for three healthy adults, so is the case with Spark as well with respect to the rear space.

image- Chevrolet Spark Interiors
Spark also has good quality of interiors, fabric and comfortable seating on the front seats. However, because of low width, the rear seat does not feel comfortable for 3 passengers. The design of the interiors seems slightly plain if compared with the Eon. So in terms on Interiors, my vote goes to Eon.
Hyundai Eon Petrol Engine Vs Chevrolet Spark Petrol Engine
Hyundai Eon Petrol Engine Specifications
Chevrolet Spark Engine Specifications
4 Cylinder MPFI petrol engine
995 CC of Displacement
Maximum Power of 63 BHP @ 5400 RPM
Maximum Torque of 90.3 Nm @ 4200 RPM
5 speed manual transmission
ARAI Certified Mileage of 18 KMPL
The Spark has a higher displacement 4 cylinder engine which delivers higher power and torque but is slightly low on fuel economy. Eon delivers about 17% better fuel economy over Spark as per the ARAI numbers, which may be a lesser difference in the rear driving situations. This is a choice between power and fuel economy, so I leave this decision to you which is more important to you.
Hyundai Eon Petrol Handling and Performance Vs Chevrolet Spark Petrol Handling and Performance
Hyundai Eon is good on handling and ride comfort if we compare it with the small car from this price bracket. The Spark is also a good car in terms of ride comfort and handling. Both handle well and score average on this front, so we call it a tie.
Hyundai Eon Petrol Features and Price Vs Chevrolet Spark Petrol Features and Price
Hyundai Eon Price In India
The ex-showroom Delhi price of Hyundai Eon in India is as follows:
Hyundai EON D-Lite is priced at Rs.2.69 Lakhs
Hyundai EON D-Lite (O) is priced at Rs.2.92 Lakhs
Hyundai EON Era is priced at Rs. 3.11 Lakhs
Hyundai EON Magna is priced at Rs. 3.37 Lakhs
Hyundai Magna (O) is priced at Rs. 3.47 Lakhs
Hyundai Sportz is priced at Rs. 3.71 Lakhs
Chevrolet Spark Petrol Price In India
The ex-showroom Delhi price of Chevrolet Spark Petrol in India is as follows:
Chevrolet Spark Petrol 1.0 is priced at Rs. 3.23 Lakhs
Chevrolet Spark Petrol 1.0 LS is priced at Rs. 3.59 Lakhs
Chevrolet Spark Petrol 1.0 is priced at Rs. 3.81 Lakhs
Hyundai Eon D-Lite Vs Chevrolet Spark 1.0
If we compare the low end variant D-Lite of the Hyundai Eon with the base variant of the Chevrolet Spark, the price of Eon seems to be way too less but the difference is clear from the fact that Spark has got a more powerful engine and Spark has AC in the starting variant as well which is the reason why is the reason why it costs more. But the price difference is still huge considering that Hyundai Eon is a better looking car and has more attractive interiors as well.
Hyundai Eon D-Lite (O) Vs Chevrolet Spark 1.0
In terms of features, Eon D-Lite (O) offers AC but no power steering which is the same in case of Spark, but Spark does offer better power and larger R13 tyres compared to the Hyundai Eon. Considering a price difference of Rs. 31,000 (Spark costs higher), the Eon seems to be a much better value for money.
Hyundai Eon Era Vs Chevrolet Spark 1.0
Eon Era offers both AC and power steering whereas Spark does not offer power steering below the LS variant. Also Eon Era has body coloured bumpers, better exteriors and interiors compared to Spark.So between base variant of Spark and Eon Era, Eon seems to be a better choice at lower price, however, Spark does have larger tyres and more powerful engine. Our pick will be Eon Era.
Hyundai Eon Magna (O) Vs Chevrolet Spark 1.0 LS
Since the price bracket od the Spark LS falls closer to that of Magna Options pack, we will compare these two skipping the Magna.  Magna O Offers Central locking, passenger side outside mirror, wheel covers, parcel tray, front power windows, tilt adjust steering wheel and full featured integrated audio system with two speakers which seems to be an attractive package. On the other hand, Spark LS provides Power steering, which Eon Magna O also have, front power windows, which Magna O also provides, but has larger engine. So all in all Eon Magna O is a much better package at this price point and costs less.
Hyundai Eon Sportz Vs Chevrolet Spark 1.0 LT
Hyundai Eon Sportz additionally offers Keyless entry, fog lamps, driver side airbag, body coloured door handles and ORVMs, sporty 3 spoke silver black steering, and very premium quality of Interiors.
Chevrolet Spark top end variant LT additionally adds passenger side outside rear view mirror, full wheel covers, rear spoiler, roof rails, fog lamps, better door trims, metallic finish on instrument panel, all door power windows, day night rear view mirrors, passenger side vanity mirror, central locking, rear defogger, integrated full features audio system with 4 speakers and antenna.
The choice between these two top end variants is tough considering the top end features they offer, but we select Eon for its more attractive features like keyless entry, airbag for safety, better aesthetics and better interiors. There are some features it lacks like day-night inside rear view mirror, rear defogger, only 2 speakers compared to 4 in Spark LT, but till the positives outweigh the negatives in favour of Eon Sportz.
Car Blog India verdict – Hyundai Eon Petrol Vs Chevrolet Spark Petrol
Hyundai Eon is a better choice overall across the variants and starts at a much lower price. The Spark does offer a better engine and impressive handling, but looks dated and too simple in terms of features and style compared to Eon. Also Eon is more value for money considering the features and price.
check out more-
Join us for FREE NEWS Updates on our Whatsapp Community or our official telegram channel.