We come across quite a few hilarious but dangerous acts by drunk people and this one involving a Maruti Ertiga certainly qualifies
In a bizarre turn of events, drunk men were seen dancing on a Maruti Ertiga in Ghaziabad. This stupid and dangerous act has been recorded by the onlookers and posted on Twitter. People tagged the Ghaziabad police asking them to take strong action against these miscreants. This is a great example of we must contribute towards making our roads safe by reporting such dangerous activities to the authorities. Police swung into action and slapped a challan along with Rs 20,000 fine on these men.
You may also like: Traffic Police in This City Offering 75% Discount On Challan Payments
You may also like: WATCH Truck Driver Take Revenge From Corrupt Police Officers
Drunk Men Dancing On Maruti Ertiga
The video clip has been uploaded on NDTV's YouTube channel. According to the report, this incident took place on the Delhi-Meerut Expressway in Ghaziabad which is visibly busy. The men are seen dancing on the moving car roof. In a few moments, the driver comes out and the man who was dancing on the roof comes to the driver's seat to drive. The other person sits beside him on the passenger seat. Now, there are so many issues with this. Not only was dancing on the roof of a car on a busy highway extremely dangerous, the drunk man, then driving the vehicle is even more concerning. Needless to say, there are so many charges waiting to be slapped on these careless men.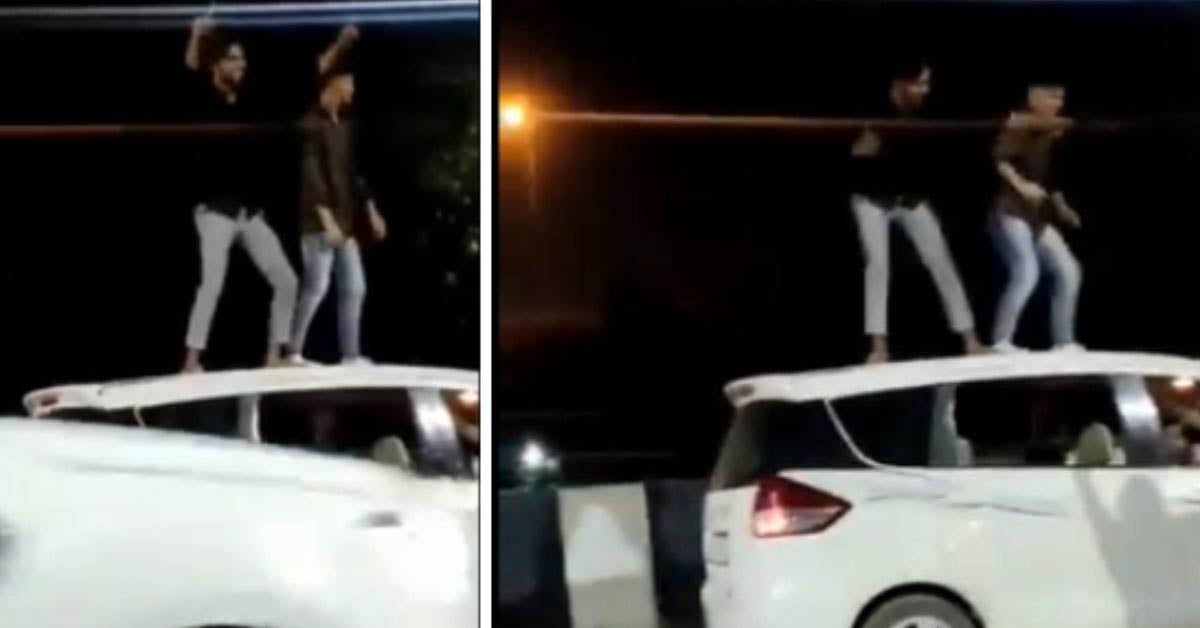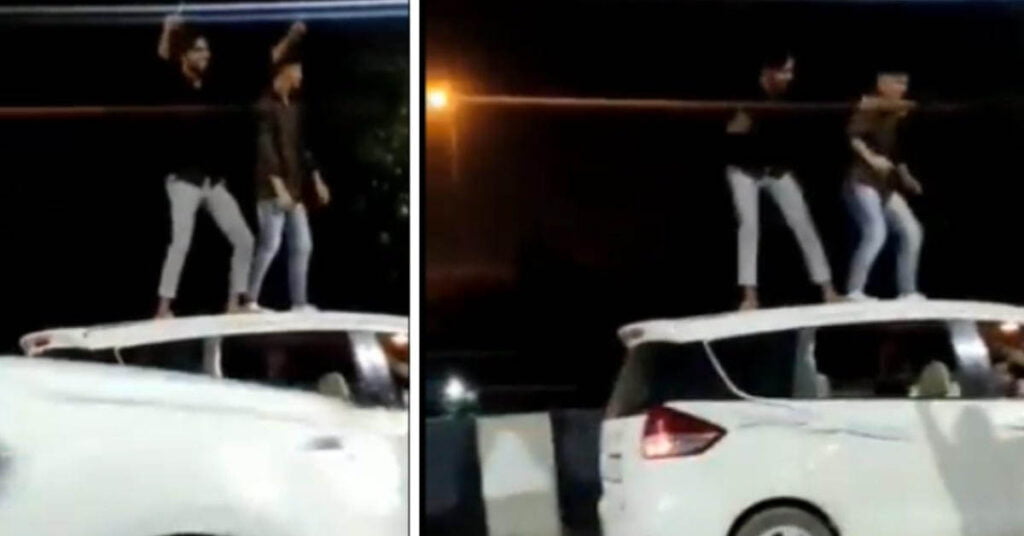 Police Issues E-Challan
Once the case reached the Ghaziabad Police via Twitter, they responded promptly. Acknowledging the information, they soon caught the car by tracking the number which was visible in the video sent to the police. They issued a fine of Rs 20,000 and uploaded the detailed documents of the e-challan on Twitter. the charges under which the men were booked included MV Act 184, without registration or suspended or cancelled registration driven vehicle, disobedience of any direction lawful given by the authority, violation of prescribed standards in relation to air pollution and passenger standing on footboard.
You may also like: This Act of Police Officers Will Restore Your Faith in Humanity
श्रीमान जी ट्वीटर पर प्राप्त शिकायत का संज्ञान लेते हुए उक्त वाहन स्वामी के विरुद्ध यातायात नियमों का उल्लंघन करने पर कुल 20000 रू0 की चालानी कार्यवाही की गई। pic.twitter.com/CHyJRemWaE

— Gzb Traffic police (@Gzbtrafficpol) April 1, 2022
This is a great response by the police ensuring that the local public is able to rely on them. It gives out a clear indication that such stupid and dangerous acts won't go unpunished. We hope that people stop doing such activities and common sense prevails.
Join us for FREE NEWS Updates on our Whatsapp Community or our official telegram channel.