The VIP culture is exposed in the worst possible cases oftentimes and this latest incident of a Congress MLA's son driving, driving and hitting a car is yet another example of that.
In a shocking display of undeserved privilege, the son of a Congress MLA hit a car, hurled abuses and was found drinking in his car. The news has been doing rounds across various media houses expressing concern and shock regarding the state of affairs. The spoilt brats of politicians have been doing such crimes under the patronage of their parents. This latest case from Madhya Pradesh is hinting at following the same pattern which might lead to him getting away with this.
You may also like: Car Driver Harassing Lion in Gujarat Shows What's Wrong With The Society
You may also like: Uber Cab 'Touches' Tata Harrier- What Happens Next Will Shock You!
Drunk Congress MLA Son Hit Car
Hukum Sigh Karada is a former Congress Minister whose son, Rohitap Singh is seen drinking while driving in this video. Additionally, he had just hit a car of a business on the Bhopal-Indore highway. The businessmen came out of the car and started recording the entire scene after finding Rohitap in an inebriated state. The video clip clearly shows that he has no idea of what he has done or what was going on. Instead, he is caught hurling abuses at everyone and seems quite fearless about the police and law.
You may also like: Drunk Range Rover Driver Kills Man; Shows No Remorse
What is surprising is the fact even after hitting the car once and people already arguing about it, he decides to simply hit and drag it for 400 m in front of everyone. It looks like he has an MG Gloster and one can clearly see the drink at the centre console. Rohitap is completely devoid of his senses and is not able to comprehend anything that is happening around him. People are heard shouting to take the keys of the car out so that they could stop him. But before doing that, he drives on ramming into the already damaged car of the businessmen.
You may also like: Mahindra Thar Mowing Down Pedestrian Shows What's Wrong with Our Drivers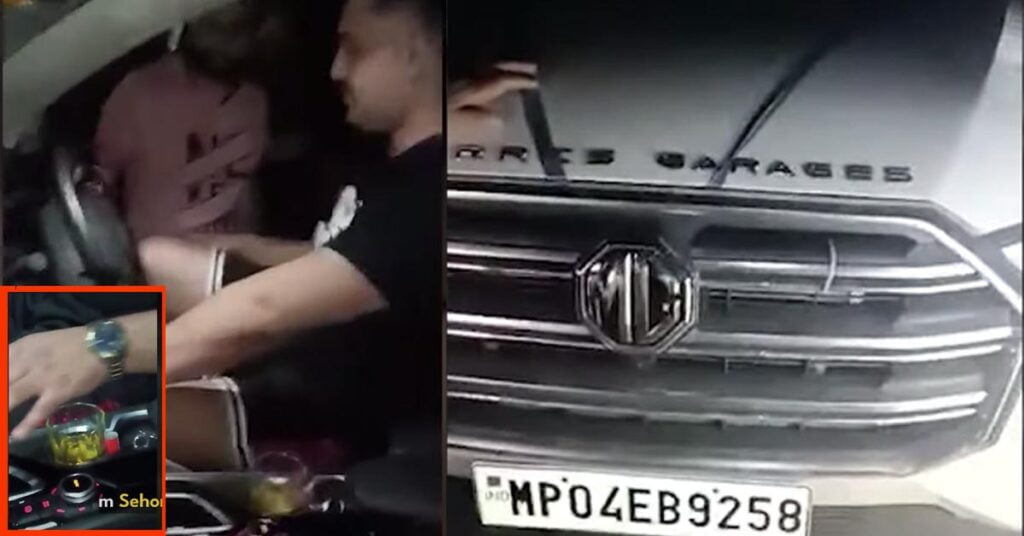 We could only hope that this VIP culture stops and people committing such crimes must be put behind bars and punished appropriately. As long as these spoilt brats don't realise the value of human lives and the need to follow law and order, the situation will continue to be grim. Let us hope that this son of Congress MLA gets the punishment he deserves for hitting the car and driving drunk that has been caught on tape.
Join our official telegram channel for free latest updates and follow us on Google News here.