We just had a small interaction with Ford India Executive Director for Marketing, Sales and Service Nigel E Wark on the phone line regarding the new variants and repositioning of Ford Fiesta 2012 Sedan In India. Ford India has recently announced new variants of Ford Fiesta Sedan in India just 2 days before the Indian Union Budget is to be announced. It's a mysterious time for most automakers as the Finance Ministers in India are well-known for announcing some of the not-so-expected policy changed in India in almost every union budget announcement and it does keep the India automakers quite conscious and very cautions during this time. Today (on 14th March 2012), Ford India has announced new line-up of Ford Fiesta Global Sedan Variants In India which start at Rs. 1 Lakh Lesser (at Rs. 7.23 Lakhs) compared to the initially launched entry level variants lineup launched in India in July 2011.
Coming back to the interaction with Nigel, In this small telephonic conversation we talked about points related to Fiesta, pricing, sales and overall growth going forwards. Below are some of the key points of the discussion: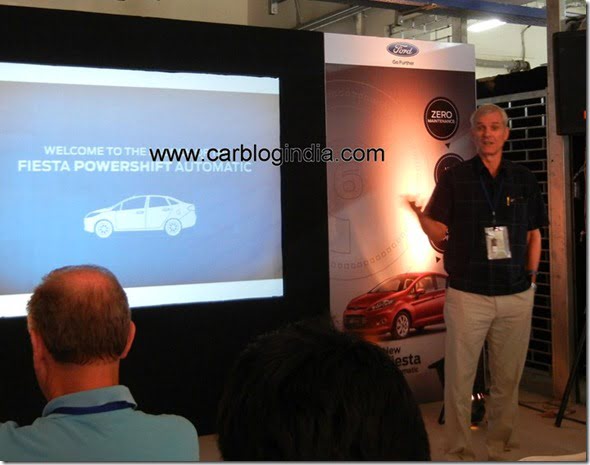 image – Nigel E Wark Addressing Fiesta Hot Wheels Participants at BIC, Noida
Car Blog India, Question: In December 2011, we have seen high discounts of as much as Rs. 75,000 on petrol variants of Ford Fiesta 2011in India. What kind of response of improvement of sales did you observe during that period with lower prices of Fiesta under the offers?
Nigel, Answer: December 2011 has been one of the best sales month for Fiesta in 2011. Besides Fiesta, other car models were also on good offers and they also sold well. The discounts and offers were also provided to compete with the competitors as at that time of the year, the car makers as well as customers both expect discounts. Also one more reason for those discounts were the availability of the petrol cars and to balance out the imbalance created  in the demand of Diesel vs Petrol cars because of higher prices of Petrol in India. The response has been good.
Car Blog India, Question: We congratulate Ford India on this new repositioning of the variants and this new price of the entry level variant is expected to improve the sales of Fiesta as it is a very nice car and was probably not getting the deserved sales because of comparatively higher prices in the segment. Going forwards, how much improvements in sales, in terms of percentage, do you expect in the global Ford Fiesta 2012 in India?
Nigel, Answer: Thank you for your good wishes. Talking in terms of sales numbers, we can't say any particular number, but yes, we do expect growth. The Indian Union Budget 2012 is just around the corner and it may also make an impact on the Indian automobile industry, so we are watching the updates closely. As per the sales growth of the new Fiesta 2012 in India, it will also be a challenge for us to be able to deal with the constrains of the expected increase in demand as Fiesta is a global model which is very popular in many markets. It is already sold out in many markets of the world. We also expect a good rise in sales in India in coming months with new variants line up.
Car Blog India, Question: With the new entry level variant Ambiente in Ford Fiesta lineup, how many total variants will Ford India have in Indian Market?
Nigel, Answer:  To simplify the variants lineup and make it less confusing for the customers to choose from, we have kept the total number of variants of Ford Fiesta sedan in India to 6. All these variants offer great features and value for money to the buyers. The Fiesta Petrol with manual transmission will come in Ambiente and Titanium + (Plus) variants, the Fiesta Petrol with PowerShift Automatic Transmission will come in Style and Titanium +. The Fiesta Diesel with manual transmission comes in Style and Titanium + (Plus) variants. The new lineup has been designed keeping in mind the needs of Indian buyers and offer good value and great fuel economy.
Do share your comments and suggestions below and let us know your views on this re-positioning of Ford Fiesta 2012. For more details, check out more coverage at below links –
More Related News