Ford Fiesta 2011 which was launched in India in July 2011 at a starting price of Rs. 8.23 Lakhs. All new Ford Fiesta global sedan has been a great handler and offers some of the best features in this segment, we have done a detailed test drive review of the new Fiesta Petrol and Diesel here. The trims levels introduced initially were all loaded with ABS, dual airbags and complete safety features. The pricing of the Fiesta however did cause some troubles with the sales volumes of the car. India being a very price competitive market did not offer the deserved sales volumes and popularity to this car. During the festival time and year end, Ford India offered some great discounts and offers on the Fiesta Petrol which proved to be great and the sales did pick. This was a clear indication that pricing was coming the way of the sales besides being one of the best handling, highly efficient and quiet cars in the segment.
Taking its lessons from the same, Ford India has today officially announced the new line-up of Ford Fiesta 2012 which makes the new Ford Fiesta more affordable for aspiring customers. The Ford Fiesta Ambiente Petrol new variant starts at just Rs. 7.23 Lakhs ex-showroom Delhi which is huge Rs. 1 lakh lesser compared to the previous entry level variant Fiesta Style Petrol. This is likely to be a win-win for Ford India and Fiesta buyers as both get benefitted from a new lineup which will increase affordability and sales of Ford Fiesta 2012.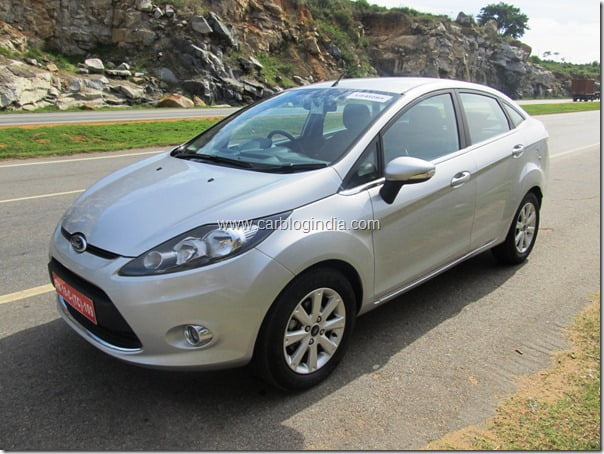 image – Global Ford Fiesta Sedan India
Ford Fiesta 2012 Variants, Trim Levels And Price In India
After the repositioning of the new Ford Fiesta 2012 Line up In India, the ex-showroom Delhi Price  of Ford Fiesta and the trim levels available are as follows:
Ford Fiesta Petrol 1.5 Ti-VCT With Manual Transmission
Ford Fiesta Petrol Ambiente with Manual Transmission is priced at Rs. 7.23 Lakhs
Ford Fiesta Petrol Titanium + with Manual Transmission is priced at Rs. 8.80 Lakhs
Ford Fiesta Petrol 1.5 Ti-VCT With Automatic Transmission
Ford Fiesta Petrol Style with Automatic Transmission is priced at Rs. 8.99 Lakhs
Ford Fiesta Petrol Titanium + with Automatic Transmission is priced at Rs. 9.70 Lakhs
Ford Fiesta Diesel 1.5 Duratorq With Manual Transmission
Ford Fiesta Diesel Style with Manual Transmission is priced at Rs. 8.99 Lakhs
Ford Fiesta Diesel Titanium + with Manual Transmission is priced at Rs. 9.90 lakhs
The newly introduced 2012 Fiesta entry level variant Ambiente comes loaded with many class leading features and is priced very attractively. This will create a new level playing field for Ford Fiesta against its strong competitors like the Honda City 2012, Skoda Rapid, Volkswagen Vento etc. The Fiesta offers global quality, addictive driving dynamics and intuitive technology at a much more affordable price tag.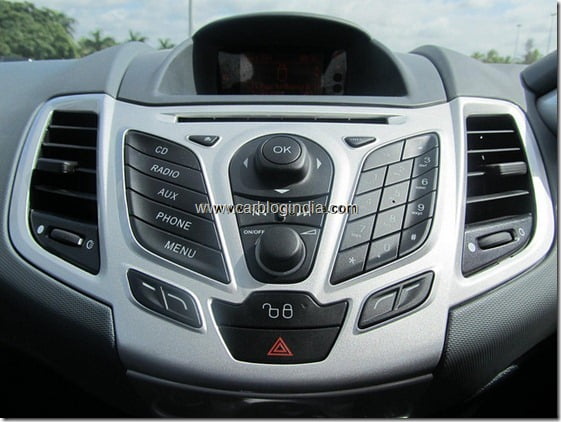 The 2012 line-up of All-New Ford Fiesta will be available in manual transmission in two trims, in both petrol and diesel powertrain options. By offering the Ambiente in 1.5L Ti-VCT at Rs. 723,000(ex-showroom, New Delhi), and 1.5L Duratorq TDCi Style at Rs. 899,000 (ex-showroom, New Delhi), Ford brings unmatched value to its Indian customers.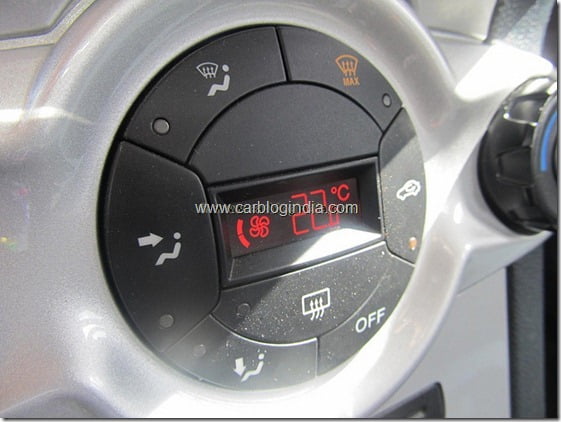 Additionally, the 2012 Ford Fiesta line-up offers the All-new Ford Fiesta PowerShift Automatic. We have test driven the PowerShift Recently at the Buddh International track and we were very impressed with its performance, handling and features on the Formula One track (Click here for detailed review and video). With segment-first dual-clutch six-speed technology, Ford Fiesta PowerShift Automatic delivers class-leading fuel economy of 16.97 KM/L. It is available in two variants– Style and Titanium+ in 1.5L Ti-VCT engine and has a unique sealed-for-life transmission unit that requires no maintenance for 10 years or 240,000 KMs.
Ford Fiesta 2012 India Features
Priced aggressively to appeal to a value-conscious customer, the Ambiente variant features EPAS, Driver Airbag, Driver seat height adjust, ABS, Power mirrors, Turn indicators on ORVM, Tilt Steering, Guide me home headlamp, Front seat belt height adjuster and adjustable rear headrests.
More than 55 percent of the structure in the new lineup will use high-strength steel with ultra-strong boron steel reinforcing several key points. Safety is also enhanced by standard front driver and passenger airbags on Style and Titanium+ trims.
In addition to all these features, the top-end Titanium+ will have Cruise Control, Rear Park Assist, Bluetooth voice control, auto power-fold mirrors, reverse parking sensor and chrome front grille – features only seen in expensive higher segment vehicles. The Powershift Automatic Titatnium+ variant will additionally have leather seats giving a plush and rich feel to the amazing ride experience of customers.
With no changes to the already popular design language, the 2012 line-up comes equipped with existing tech-tastic features like an intuitive human-machine interface, first-in-segment Advanced Bluetooth Voice Control that allow for hands-free control over six functions such as phone, radio, CD, USB, iPod and electronic climate control.
Powered by all-new fuel-efficient 1.5 L Ti-VCT and 1.5 L Duratorq TDCi powertrains developed for India and built in Chennai, the new 2012 Ford Fiesta delivers excellent handling in city as well as highway conditions, without sacrificing its essentially sporty character. Both engines offer best-in-class fuel economy: 1.5 L Ti-VCT delivers 16.86 KM/L and the 1.5 L Duratorq TDCi, 23.5 KM/L. The All-New Fiesta Powershift Automatic with 1.5 L Ti-VCT breaks the myth about automatics by offering a comparable fuel efficiency of 16.97 KM/L– making it India's most fuel efficient automatic sedans in its segment. All these mileage data is as per ARAI test results.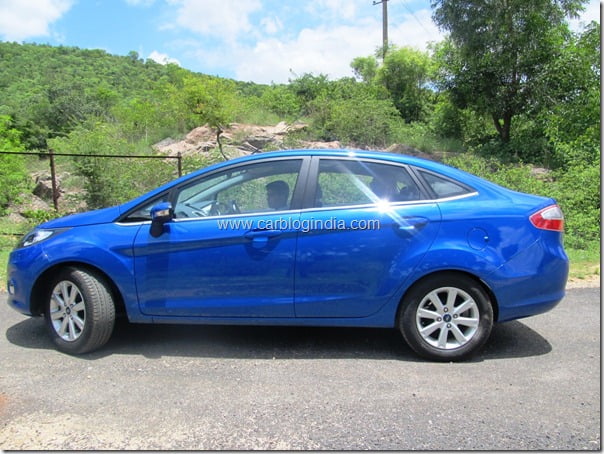 The 2012 edition has Voice Control – a segment-first – that will allow for hands-free control over six functions: mobile phone, radio, CD player, USB drive, iPod and temperature. Integrated Aux-in Port to 'plug and play', digital signal processing to enhance sound quality, as well as intelligent phone utilities to swap, hold, mute and transfer calls, are features that continue to showcase Fiesta's intuitive technology.Ford India will offer a 2-year warranty/ 100,000 KM to ensure the peace of mind that comes with owning the latest Ford Fiesta 2012 line-up. The years of research, superior materials and the best of engineering also bring to the customer a lower cost of ownership.
Ford Fiesta 2012 New Brochure India
check out more-