Ford has finally launched the much awaited Ford Fiesta Automatic and has priced it very competitively against cars like Hyundai Verna Fluidic automatic and 2011 Honda City automatic. Since the car is already out, we couldn't stop ourselves from making a comparison post of the Fiesta with Verna. So now you readers will come to know which of the two automatic transmission cars is better and why.
2012 Ford Fiesta Automatic Exteriors Vs Hyundai Verna Fluidic Automatic Exteriors
Ford has always amazed us with the quality it offers and Fiesta is obviously not an exception. Very upmarket, extremely well built and stylish are the words that describe the car. Although from the rear it looks slightly disappointing but overall it is a robust package.

image – Hyundai Verna Fluidic(left) and 2012 Ford Fiesta AT(right)
Verna Fluidic gets a refreshing new design language that hasn't been seen before. The design is new and very much likable. What is so amazing about the Verna Fluidic are the dynamic body lines that give a brilliant appeal to the car. Coming to the quality of the exteriors, it is quite good but the fit isn't.
2011 Ford Fiesta Dimensions:
Length= 4291 mm
Width= 1722 mm
Height= 1496 mm
Wheelbase= 2489 mm
Hyundai Verna Fluidic Dimensions
Overall Length (mm): 4370
Overall Width (mm): 1700
Overall Height (mm): 1475
Wheelbase (mm): 2570
Proportion wise the Verna may not be wide enough but it is significantly longer and taller and also has a longer wheelbase. This would definitely add to the amount of room offered in Verna. Now considering the looks, build quality and looks one would like the Verna more.
2012 Ford Fiesta Automatic Interiors Vs Hyundai Verna Fluidic Automatic Interiors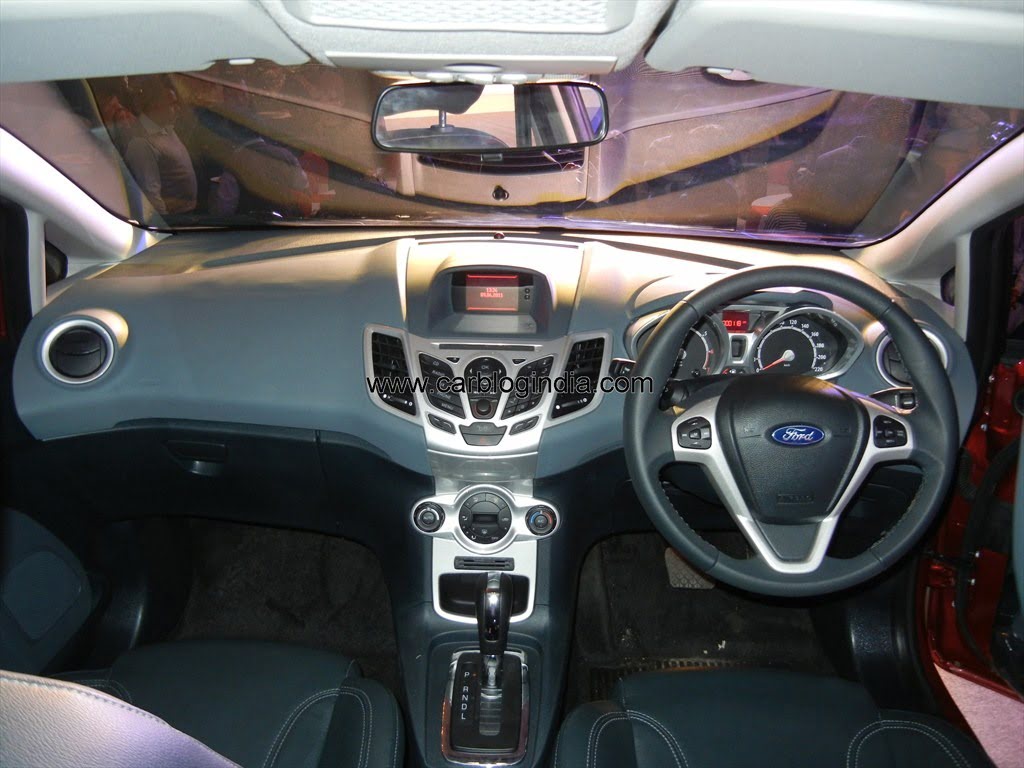 image- 2012 Ford Fiesta AT Interiors
The Fiesta is a very sporty looking car and it is reflected by the car's interiors as well. It is sharp, very stylish and looks very cool. The feel is very contemporary and even the features available with it are not that bad. Features include central locking, ESP, ABS, EBD, Child lock, engine immobilizer, airbags, cruise control, auto AC, power windows, hill and gradient assist, steering mounted controls, creep forward and backward function, turn indicators in ORVM, chrome accents, fog lamps, etc. Fiesta's highlight is the only in its class Voice control technology which is a voice recognition technology for hands free control over mobile, Radio, CD, USB and iPod.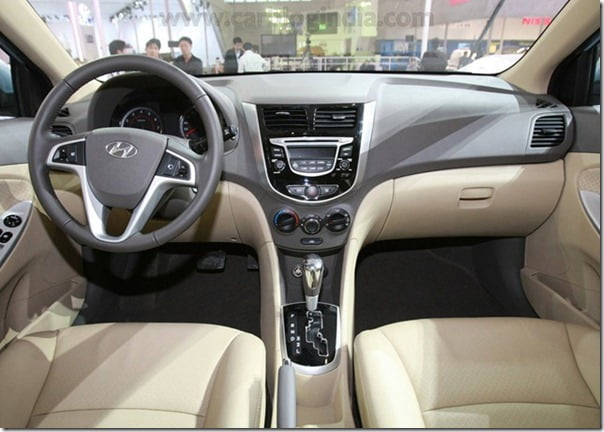 image- Hyundai Verna Fluidic Interiors
Verna is a beautiful from the inside and is also rich in terms of features. The list includes six airbags for additional safety, Engine start stop button with smart key, Parking camera and sensors, Clean air cluster ionizer, 2 DIN audio system with Bluetooth, AUX-in, iPod and USB connectivity, Supervision cluster with blue illumination, Cooled glove box, Steering mounted audio controls, 16 inch wheels,push-button start etc.
The Verna is definitely better than the Fiesta because of some of its features and also offers much more space. The Fiesta is low on space at the rear so it is a bit uncomfortable to sit on the rear seats. So in the interiors section the Verna easily beats the Fiesta.
2012 Ford Fiesta Automatic Engine Vs Hyundai Verna Fluidic Automatic Engine
Ford Fiesta 2011 Petrol Engine Specifications:
4 Cylinder Inline 16 Valve DOHC MPFI Petrol Engine
Ti-VCT (Dual VVTI system)
1499 CC Displacement
Max power output of 107.5 BHP@ 6045 RPM
Transmission 6 speed dual clutch PowerShift automatic
Max Torque of 140 Nm @ 4500 RPM
All Aluminium Engine construction
Kerb weight: 1153 Kg
ARAI certified mileage of 16.97 KMPL
Power to weight ratio of 93.23 BHP per 1000 Kg
Hyundai Verna Fluidic Engine Specifications:
Engine / Features: 1.6 Petrol VTVT Version
Max Power (PS): 123 @ 6300 RPM
Max Torque(Nm) : 156 @ 4200 RPM
Mileage (KMPL): 15 KMPL
Transmission: Automatic transmission
Verna does have an advantage here as the engine is bigger and more powerful. This 16 litre heart offers better pickup. Coming to the Fiesta, it has a smaller engine that lags in power and torque when compared to Verna. Mileage wise also Fiesta is a better car. However the transmission of the Fiesta is much advanced and more fuel economical than of Fiesta.
The Powershift Dual Clutch system is quite better than the conventional one used in Verna. It performs consistently well and also is low on maintenance.
2012 Ford Fiesta Automatic Performance And Handling Vs Hyundai Verna Fluidic Automatic Performance And Handling
Verna might have defeated the Fiesta in many areas but when it comes to handling and performance, the Fiesta has no match. It is the best-to-drive car in its class and will always bring a smile to your face. Be it corners or straight road, Fiesta's stability is praise worthy. Adding to the charm of this car is the PowerShift dual clutch auto transmission which is way more efficient extremely responsive.
The Verna does offer more power and torque but considering the fact that it is less stable on high speeds and corners, all that extra power and torque figures become useless.
2012 Ford Fiesta Automatic Price Vs Hyundai Verna Fluidic Automatic Price
Ford Fiesta Automatic Price In India
Ford Fiesta Style Automatic  Variant is priced at Rs. 8.99 Lakhs ex-showroom Delhi
Ford Fiesta Titanium+ Automatic has been prices at Rs. 9.7 Lakhs ex-showroom Delhi.
Hyundai Verna Fluidic Automatic Price In India
Hyundai Verna RB 2011 1.6 SX (O) Automatic transmission Petrol is priced at Rs. 9.64 Lakhs Ex-Showroom Delhi
This is quite interesting as Ford has kept the pricing quite low as compared the Verna. However the 8.99 lakh base Style Fiesta does not have enough features and is only meant for people who can sacrifice on features for this amazing automatic gearbox.
The Fiesta Titanium+ Automatic and Vena SX(O) automatic are quite close to each other and offer all the class leading features. Here the Verna is better as it has parking camera, push button start, six airbags and other features which are not available in Fiesta, though the latter offers Voice recognition and cruise control.
Car Blog India Verdict – 2012 Ford Fiesta Automatic Vs Hyundai Verna Fluidic Automatic
First of all do take a test drive of the both the cars and we are sure Fiesta will definitely amaze you. Now coming to the verdict, if you are a price conscious buyer and want to afford an automatic gear and can sacrifice on features go with Fiesta Style. If you are more into features and do not mind spending Rs.70,000 more then Verna has to be your choice. Fiesta Titanium+ however offers better fuel efficiency and power delivery with its 6 speed dual clutch automatic.
check out more-
Join us for FREE NEWS Updates on our Whatsapp Community or our official telegram channel.