In our previous comparisons we compared the Skoda Rapid Automatic with 2012 Ford Fiesta Automatic and now we would be comparing the latter with Rapid's cousin, Volkswagen Vento. The Rapid V/s Fiesta comparison was quite interesting and I am sure this one would be equally interesting.
2012 Ford Fiesta Automatic Exteriors Vs Volkswagen Vento Automatic Exteriors
Launched last year by Ford, the Fiesta 2011 is a real treat to look at. It looks really good and has a great road presence. The dynamic design expresses itself and enhancing the appeal of the car is its sharp headlights, flared wheel arches and coupe like sporty structure. What we do not like about Fiesta is its rear design which is too compact for a sedan of this size.

image – Volkswagen Vento(left) and 2011 Ford Fiesta(right)
The Vento is nothing but a Volkswagen Polo with a stretched boot. What I like about the car is the fact that in spite of being extremely simple in terms of design, it has an element of elegance that draws your attention. The front of the car does look nice enough but again the rear is too simple. There is nothing sporty about the car but overall it is a good package.
Ford Fiesta 2011 Dimensions:
Length= 4291 mm
Width= 1722 mm
Height= 1496 mm
Wheelbase= 2489 mm
Volkswagen Vento Dimensions:
Length (mm):  4384
Width (mm):   1699
Height (mm):  1466
Wheelbase (mm):  2552
Talking about the dimensions of the two the Vento leads with a longer wheelbase and more length whereas the Fiesta beats Vento in width and height. Considering the design, dimensions and appeal Fiesta seems to be a bit better and we give it a thumbs up.
2012 Ford Fiesta Automatic Interiors Vs Volkswagen Vento Automatic Interiors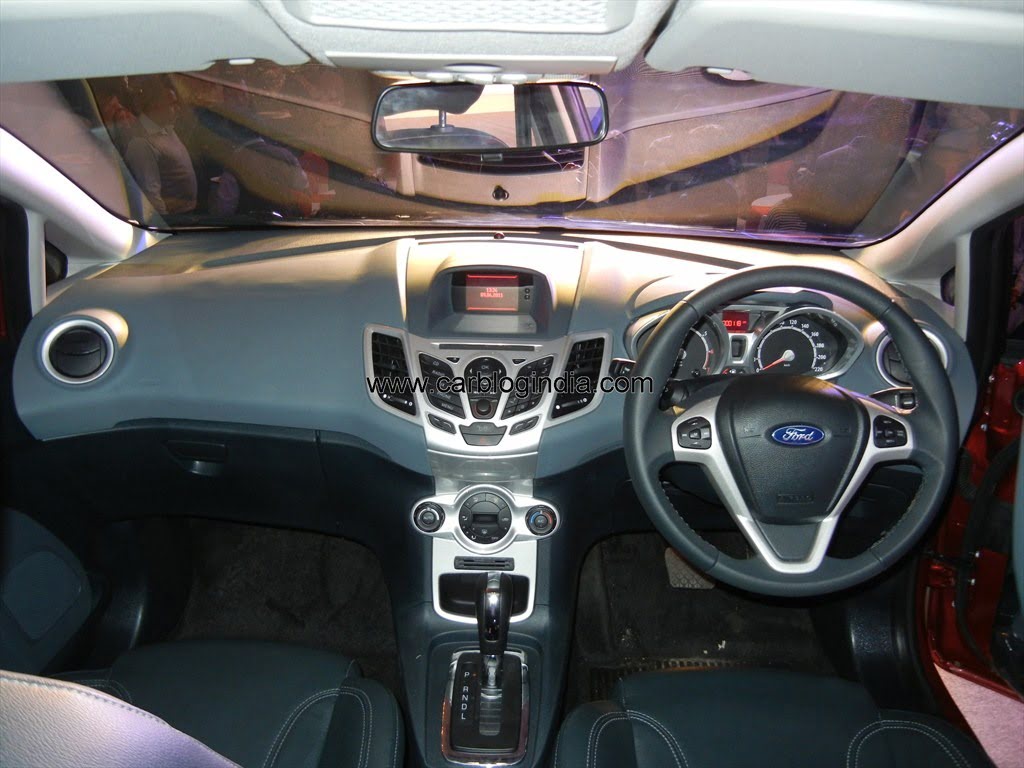 image- Ford Fiesta 2011 Interiors
As we have mentioned in most of our Fiesta posts, it is a great car not only in looks but features as well. It offers some of the class leading features which are not there in other cars. The features list includes ABS, EBD, Cruise Control, Voice Recognition technology for for hands free control over mobile, Radio, CD, USB and iPod, Child lock, engine immobilizer, auto A/C, power windows, hill and gradient assist, steering mounted controls, creep forward and backward function etc. Talking about the space offered, the front seat passengers will get enough space but the passengers at the back are not so lucky. Fiesta offers much less space at the rear, it is quite comfortable though.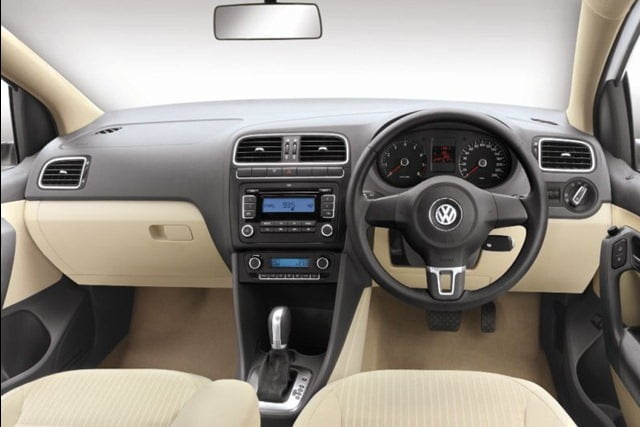 image- Volkswagen Vento Interiors
The Vento is very classy and looks quite elegant on the interiors but is a great disappointment in terms of features. It lacks a lot but still manages to offer features like ABS, EBD, Airbags, a basic audio system, automatic climate control, tilt and telescopic steering wheel, rear AC vents(not there in Fiesta) and a couple of other features. Considering the space the car offers at the rear as well the front, it is quite satisfactory and definitely better than Fiesta.
Summing up the interiors comparison, the Fiesta is way better than Vento in features and looks but offers lesser space but still I would go with the former.
2012 Ford Fiesta Automatic Engine Vs Volkswagen Vento Automatic Engine
Ford Fiesta 2011 Petrol Engine Specifications:
4 Cylinder Inline 16 Valve DOHC MPFI Petrol Engine
Ti-VCT (Dual VVTI system)
1499 CC Displacement
Max power output of 107.5 BHP@ 6045 RPM
Transmission: 6 speed dual clutch PowerShift automatic
Max Torque of 140 Nm @ 4500 RPM
All Aluminium Engine construction
Kerb weight: 1153 Kg
ARAI certified mileage of 16.97 KMPL
Power to weight ratio of 93.23 BHP per 1000 Kg
Volkswagen Vento Petrol Specifications
1.6 Litre MPFI Petrol Engine
Max Power – 105 BHP @ 5250 RPM
Max Torque – 153 Nm @ 3800 RPM
6 Speed Automatic Transmission
Kerb Weight: 1120 kg to 1180 kg
Arai certified mileage of 14.4 KMPL
Power to weight ratio of 88.98 BHP per 1000 kg
The Vento has a 1.6 litre petrol engine that delivers more power and torque than Fiesta's 1.5 litre unit. But with that extra power and torque, the mileage figure stands at 14.4 KMPL. This figure is definitely weaker than Fiesta's 17 KMPL which gives it an edge over Vento.
The reason for this amazing mileage is Ford's PowerShift Dual Clutch automatic transmission that is much more efficient than the transmission fitted into Vento and surprisingly as per Ford's claim it is a Zero maintenance transmission(can work without maintenance for 2.4 lakh kilometers or 10 years)
2012 Ford Fiesta Automatic Performance And Handling Vs Volkswagen Vento Automatic Performance And Handling
Fiesta is the best car to drive in its segment and offers an incredible driving pleasure. Be it straight roads or tough corners, the car conquers it all. Even comfort is not an issue with the car and it really soaks all the bumps.
The Vento is stiffer and good to drive. High speed stability is one of its attributes but when compared to Fiesta, it still feels less confident.
2012 Ford Fiesta Automatic Price Vs Volkswagen Vento Automatic Price
Ford Fiesta Automatic Price In India
Ford Fiesta Style Automatic  Variant is priced at Rs. 8.99 Lakhs ex-showroom Delhi
Ford Fiesta Titanium+ Automatic has been prices at Rs. 9.7 Lakhs ex-showroom Delhi
Volkswagen Vento Automatic Price In India
Volkswagen Vento Highline AT is priced at Rs. 9.21 lakh(ex-showroom Delhi)
Here it is quite interesting to note that Fiesta comes in two variants, Style Automatic with minimal features and Titanium+ with most of the features. The Vento is evidently available in just one Highline top end variant which is priced 22,000 INR more than Fiesta Style base.
The Vento Highline model is the top end model but still it lacks many features which are available in Fiesta only. If you really want to sacrifice on features, but want a car that drives good and is cheaper then Fiesta Style is definitely better. But if you really wish to go for features, considering the common ones like ABS etc., then Vento is a good choice. Buyers who wish to pay extra money for exclusive features can go with Fiesta Titanium+.
Car Blog India Verdict – 2012 Ford Fiesta Automatic Vs Volkswagen Vento Automatic
First of all do test drive both the cars as different buyers will have different experiences. Coming to the verdict now, it is quite evident that Fiesta has been priced right at 9 lakhs but is minimal on features. The Vento Highline though top-end, offers not so pleasing features. So if you wish to buy a simple automatic car with great performance just go with Fiesta or else go with Vento Highline which is just 20 k more expensive. But if you do want get a unique and different car in terms of features and performance then go with Fiesta Titanium+.
check out more-