We have already compared the 2011 Ford Fiesta automatic variant with the Hyundai Verna Fluidic and found out Fiesta is a better choice if a buyer is not conscious about the features he or she gets. The next tough competitor for 2011 Ford Fiesta is Skoda Rapid, so would it be better than Fiesta or not, let  us find out.
2012 Ford Fiesta Automatic Exteriors Vs 2011 Skoda Rapid Automatic Exteriors
Ford latest generation Fiesta is different and quite good looking. The looks are really sharp and the overall stance is really sporty. Some of the highlighting features are sharp headlights, sleek grille, flared wheel arches and a coupe like design. The only disappointing thing about Fiesta is its rear which looks extremely compact and not so pleasing.

image – 2011 Ford Fiesta(left) and Skoda Rapid(right)
Although Skoda has done a great job by bringing this inexpensive car, the design has been a bit disappointing as we expected something refreshing. Being a part of Volkswagen Group, Rapid and Volkswagen Vento share a majority of components including the body. The side and rear profile completely resemble Vento's side and rear, Skoda has tweaked the tail lights a bit though. The front is the only part from where Vento and Rapid can be distinguished.
2011 Ford Fiesta Dimensions:
Length= 4291 mm
Width= 1722 mm
Height= 1496 mm
Wheelbase= 2489 mm
Skoda Rapid Dimensions:
Length = 4386 mm
Width = 1699 mm
Height = 1466 mm
Wheelbase = 2552 mm
Proportion wise the Rapid is significantly longer and also gets a longer wheelbase, however the Fiesta gets more height and width. Considering the exteriors only I have to say that Fiesta looks much better than the simple Rapid.
2012 Ford Fiesta Automatic Interiors Vs 2011 Skoda Rapid Automatic Interiors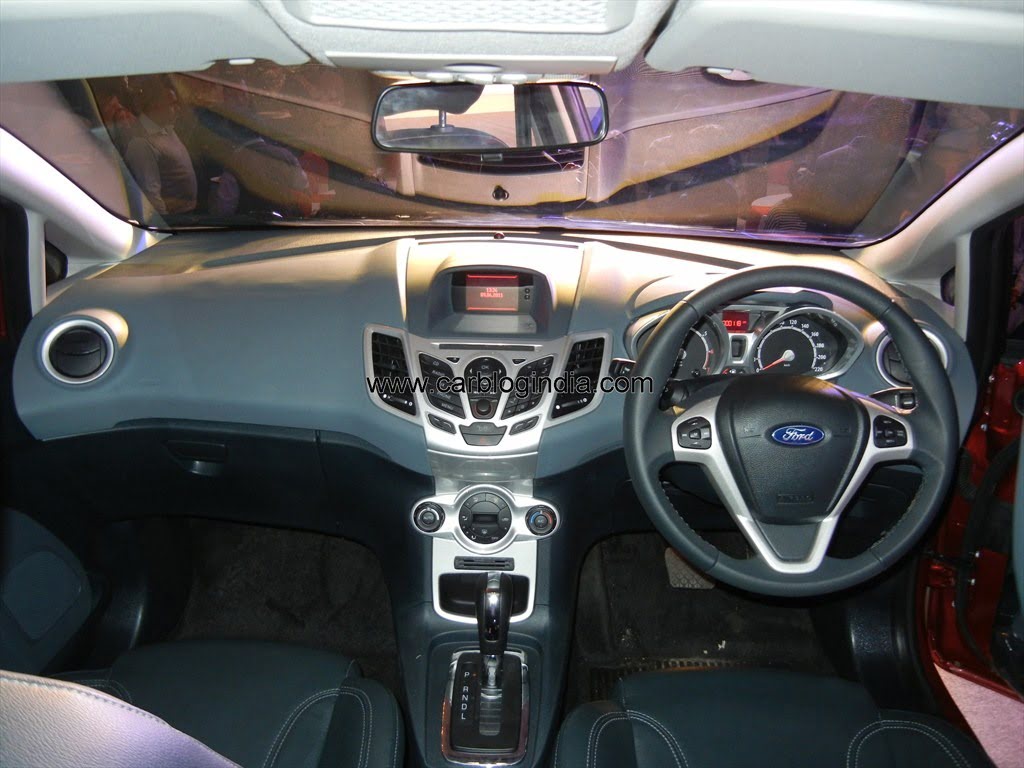 image- 2012 Ford Fiesta AT Interiors
Fiesta is quite impressive on the interiors too. The contemporary design is very new and looks fabulous. The silver finish around the central console, A/C vents and steering is quite nice and gives an upmarket feel. Coming to the features of this car Ford has done a great job and offers central locking, ESP, ABS, EBD, Child lock, engine immobilizer, airbags, auto A/C, power windows, hill and gradient assist, steering mounted controls, creep forward and backward function, turn indicators in ORVM, chrome accents, fog lamps and the only in its class Voice control technology which is a voice recognition technology for hands free control over mobile, Radio, CD, USB and iPod. Beside these there are other features as well.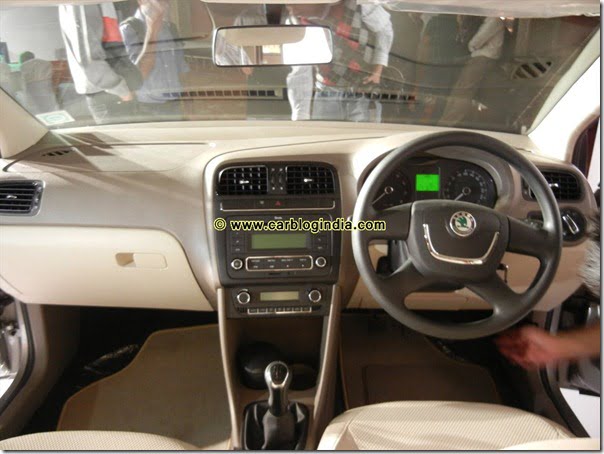 image – Skoda Rapid Interiors
The Rapid is too simple and is a replica of Vento in all senses. The dashboard has actually been borrowed from Vento and only the steering has been changed to make it look like a Skoda. Features include Rear windscreen defogger, child proof rear door locking, Engine immobilizer, Tilt and take adjustable steering wheel, 2 Din Audio system with cable and connector, rear air conditioning vents, onyx-grey/Ivory upholstery,Bounce back system, Rear and front fog lights, ABS, Dual rate brake assist, airbags, Multi function display of travelling time, fuel consumption etc., Automatic climate control, Alloy wheels etc.
Coming to the space both the cars offer, the Rapid has ample amount of space for the rear passengers but the Fiesta is not generous enough and offers less space.
Considering features and space on the insider, once again I would go with the Fiesta as I can sacrifice some space for better features.
2012 Ford Fiesta Automatic Petrol Engine Vs 2011 Skoda Rapid Automatic Petrol Engine
Ford Fiesta 2011 Petrol Engine Specifications:
4 Cylinder Inline 16 Valve DOHC MPFI Petrol Engine
Ti-VCT (Dual VVTI system)
1499 CC Displacement
Max power output of 107.5 BHP@ 6045 RPM
Transmission 6 speed dual clutch PowerShift automatic
Max Torque of 140 Nm @ 4500 RPM
All Aluminium Engine construction
Kerb weight: 1153 Kg
ARAI certified mileage of 16.97 KMPL
Power to weight ratio of 93.23 BHP per 1000 Kg
Skoda Rapid Petrol Engine Specifications
4 Cylinder MPFI Petrol Engine
16 Valve DOHC Engine with BS4 emission norms compliance
Max power of 105 BHP@ 5250 RPM
Max torque of 153 Nm @ 3800 RPM
ARAI certified mileage of 13.10 KMPL
Kerb weight: 1180 Kg
Power to weight ratio of 88.98 BHP per 1000 Kg
Although Rapid has a bigger engine that delivers almost same power and more torque torque, the mileage offered is not as good as one would expect. On the other hand Fiesta strikes a perfect balance between performance and mileage and is way more efficient.
The main reason for this high efficiency is the PowerShift Dual clutch automatic gearbox which is much better than the gearbox fitted in Rapid.
2012 Ford Fiesta Automatic Performance & Handling Vs 2011 Skoda Rapid Automatic Performance & Handling
The Fiesta is the ultimate car to drive and brings a smile to your face every time you get behind the wheel. It maneuvers amazingly and goes great around corners and straight roads.
The Rapid is good and quite comfortable around corners and straight roads but it is not as impressive as Fiesta.
2012 Ford Fiesta Automatic Price Vs 2011 Skoda Rapid Automatic Price
Ford Fiesta Automatic Price In India
Ford Fiesta Style Automatic  Variant is priced at Rs. 8.99 Lakhs ex-showroom Delhi
Ford Fiesta Titanium+ Automatic has been prices at Rs. 9.7 Lakhs ex-showroom Delhi.
Prices of Skoda Rapid ex-showroom Delhi are as follows:
Skoda Rapid Ambition 1.6 MPI Petrol AT is priced at Rs. 8.09 Lakh
Skoda Rapid Elegance 1.6 MPI Petrol AT is priced at Rs. 8.99 Lakh
The base variants of both the cars have been priced competitively but there is a major difference as you can see. The base Rapid is priced at Rs. 8.09 lakh whereas the Fiesta Style base is at Rs. 8.99 Lakh. Features wise both the cars are fine and offer a handful of features only. Chrome inserts are minimal and there are no alloy wheels in both. Similarly a lot of other convenience features are also missing but Fiesta offers the better ones. Importantly the pricing differs by approximately Rs.90,000 which is quite a lot and therefore you should go with Rapid Ambition.
The top end variants Titanium+ and Elegance are good in features but Fiesta once again offers much more than expected. Disappointingly the Fiesta again is priced high by nearly Rs.70,000.
Car Blog India Verdict – 2012 Ford Fiesta Automatic Vs 2011 Skoda Rapid Automatic
Both the cars are good enough but it is advisable to go and test drive them before you make your final decision. Coming to the verdict, Fiesta is pricier, offers less power and torque, offers great mileage and great features and is fun to drive. Although Rapid is cheaper than Fiesta, it offers not so impressive mileage, is low on features but is more comfortable.
For us Rapid is a more practical choice if only pricing is considered but if you really want to get a good car and can sacrifice space, please go with Fiesta.
check out more-
Join us for FREE NEWS Updates on our Whatsapp Community or our official telegram channel.