So far we have compared the 2011 Ford Fiesta Automatic with a number of cars like Skoda Rapid, Volkswagen Vento, etc. and now expanding our Car Comparison Series on Car Blog India, I will be comparing the same with Maruti Suzuki SX4 automatic with the newly launched PowerShift Automatic Ford Fiesta.
2012 Ford Fiesta Automatic Exteriors Vs Maruti SX4 Automatic Exteriors
As we have mentioned in many of our posts the Ford Fiesta 2011 is a good looking car and has managed to attract many buyers but is definitely not the bestseller. The new Fiesta has a very contemporary design with sharp headlamps, simple yet sporty design, a sleek coupe like built. It is attractive enough from the sides and front but moving towards the rear the car does disappoint you a bit.

image – 2011 Ford Fiesta(left) and Maruti SX4(right)
The SX4 is the only sporty looking car from Maruti's stable. I would definitely not say that the looks are killing but it still looks quite brutal and aggressive. The built also is quite good, however going by the dimensions of the car it looks quite weird.
Ford Fiesta 2011 Dimensions
Length= 4291 mm
Width= 1722 mm
Height= 1496 mm
Wheelbase= 2489 mm
Maruti SX4 Dimensions
Length = 4490 mm
Width = 1735 mm
Height = 1550 mm(VXi/VDi) and 1560(ZXi/ZDi)
Wheelbase = 2500 mm
The dimensions of a car matter as much as its looks. The Fiesta is only marginally wider than SX4 whereas the latter beats Fiesta in length, wheelbase and height. Concluding on the basis of looks and dimensions, the SX4 does seem to be better.
2012 Ford Fiesta Automatic Interiors Vs Maruti SX4 Automatic Interiors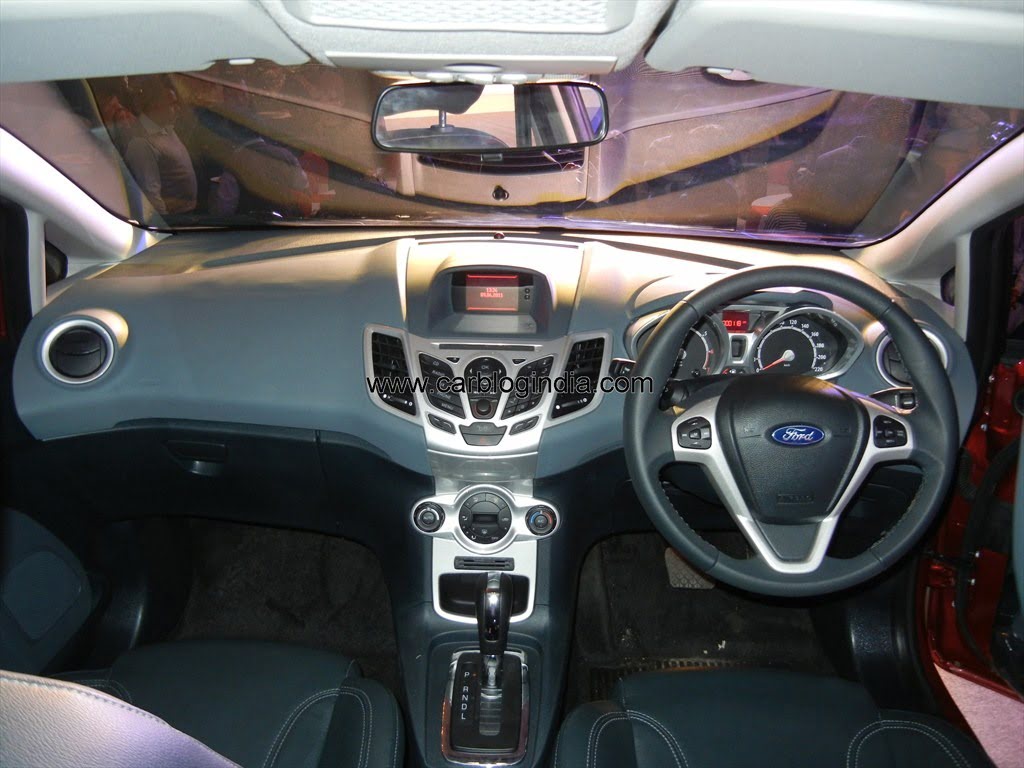 image- Ford Fiesta 2011 Interiors
Fiesta may disappoint you from its rear but it is way better on the inside in terms of looks and features. The features list includes ABS, EBD, Cruise Control, Voice Recognition technology for for hands free control over mobile, Radio, CD, USB and iPod, Child lock, engine immobilizer, auto A/C, power windows, hill and gradient assist, steering mounted controls, creep forward and backward function etc. Many things are attractive in Fiesta but if you are rear seat lover then things might not be the way you are expecting. The rear seat of Fiesta is extremely comfortable but lacks space and there is less probability of a fifth passenger being successful in getting enough space.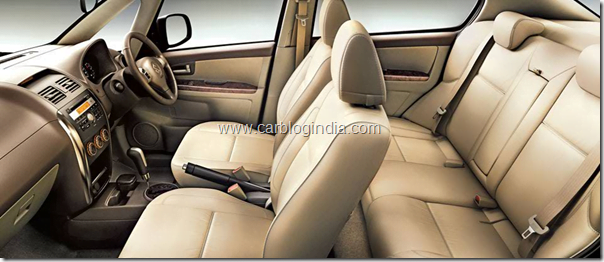 image-Maruti SX4 sedan Interiors
The SX4 looks fine in terms of looks and quality. It is neither bad nor extremely good and falls somewhere in between. Features wise the car offers ABS, EBD, iCATS, child lock, dual airbags, fog lamps, alloys,audio player with USB, MP3 support, steering mounted audio controls etc. Beside these the car offers good dual color tone Interiors, comfortable seats, good legroom at the rear, good under thigh support, adjustable headrests, comfortable back support, foldable armrest etc.
2012 Ford Fiesta Automatic Engine Vs Maruti SX4 Automatic Engine
Ford Fiesta 2011 Petrol Engine Specifications
4 Cylinder Inline 16 Valve DOHC MPFI Petrol Engine
Ti-VCT (Dual VVTI system)
1499 CC Displacement
Max power output of 107.5 BHP@ 6045 RPM
Transmission: 6 speed dual clutch PowerShift automatic
Max Torque of 140 Nm @ 4500 RPM
All Aluminium Engine construction
Kerb weight: 1153 Kg
ARAI certified mileage of 16.97 KMPL
Power to weight ratio of 93.23 BHP per 1000 Kg
Maruti SX4 Petrol Engine Specifications
Type: 16 Valve DOHC VVT
Displacement: 1586 c
Maximum output: 104 BHP @ 5600 RPM
Maximum Torque: 145 Nm @ 4100 RPM
4 speed automatic transmission
Kerb weight: 1210 kg(automatic)
ARAI certified mileage of 12.60 KMPL(automatic)
Power to weight ratio of 88.1 BHP per 1000 Kg
The Fiesta is better in power whereas the SX4 leads in torque output. In spite of having a bigger engine the SX4 fails to deliver better power and torque and another disappointing thing about the same is its mileage of 12.6 KMPL.Though the Fiesta is at par in terms of power and torque output, it offers an impressive 17 KMPL of fuel efficiency.
Thanks to the 6 speed PowerShift Dual Clutch Automatic Transmission fitted into Fiesta which gives this car more efficiency than any other car in its class. In fact the company claims the transmission to be a ZERO maintenance (2,40,000 km or 10 years of working without maintenance).
2012 Ford Fiesta Automatic Performance & Handling Vs Maruti SX4 Automatic Performance & Handling
The Fiesta is extremely comfortable and is a dream to drive. It handles brilliantly on corners and is most stable on straight roads. The SX4 is a good practical car which is comfortable and handles well but when compared to Fiesta, it does not stand a chance.
2012 Ford Fiesta Automatic Price Vs Maruti SX4 Automatic Price
Ford Fiesta Automatic Price In India
Ford Fiesta Style Automatic  Variant is priced at Rs. 8.99 Lakhs ex-showroom Delhi
Ford Fiesta Titanium+ Automatic has been prices at Rs. 9.7 Lakhs ex-showroom Delhi
Maruti Suzuki SX4 Automatic Price In India
MARUTI SX4 ZXI AT (BSIV) is priced at Rs. 8.50 lakhs
MARUTI SX4 ZXI AT LEATHER (BSIV) is priced at Rs. 8.84 lakhs
The base variants of the two cars differ in price by almost Rs.50,000 which is quite a lot. The base Fiesta Style offers less features at a greater price of 9 lakh INR whereas the SX4 ZXi fully loaded top end model is priced at Rs. 8.50 lakhs. Also don't forget that SX4 offers more space than Fiesta, it offers less in terms of features though.
The top end model of Fiesta is way too pricy as compared to SX4 Automatic. At 8.84 lakh INR SX4 comes with all the features as well as leather on the interiors which is quite impressive. The Fiesta top end on the other hand is Rs.1 lakh expensive than SX4 top end which is a plus point for SX4.
Car Blog India Verdict – 2012 Ford Fiesta Automatic Vs Maruti SX4 Automatic
Maruti has always been successful in pricing its cars right and SX4 is one of them as it offers more than you want at a much affordable price. Although Ford has done a brilliant job by pricing the Fiesta base at Rs. 9 lakh, it still has to work harder so as to compete with SX4. Coming to the verdict now, if you can sacrifice on mileage but not on features and space and also want to pay less, go for SX4. On the other hand if you want to have unique features and best mileage at a greater price and can sacrifice on rear seat space then go for Fiesta.
check out more-
Join us for FREE NEWS Updates on our Whatsapp Community or our official telegram channel.