Fathers are often not given enough credit for what they do for their children.
This latest video shows just one instance of what they are capable of doing.
It is time they get the credit that is long overdue.
This latest video of a father holding his child with one hand and riding a scooter with the other is doing rounds on the internet. Netizens are in awe of this man who realises that his child is falling asleep on the scooter. In our lives, we love to express our feelings of immense love for our mothers. In doing that, often enough, most of what the fathers do is overshadowed. However, with videos like these, that must be brought to the fore. Here are the details of this emotional event.
You may also like: Upcoming Honda Activa 7G to Come with Hybrid Engine?
You may also like: Old Man Kick Starting His Diesel Bullet Wins Hearts of Netizens
You may also like: Sachin Tendulkar on a Road Trip in Humble Kia Carens – Wins Hearts with his Simplicity
Father Holding Child on a Scooter
The video has been posted on Instagram by abhi37920. In this clip, a man is seen riding a scooter on a road. Suddenly, he feels his child tilting toward one side, perhaps under the influence of slumber. Realising this, he put his left arm behind his back to give support to the sleeping child, while kept riding with the other hand. Another road user travelling behind the man recorded the entire episode and the video is winning the hearts of the netizens.
You may also like: Owner Shares Heartwarming Story of Ford EcoSport's Build Quality
While this might be dangerous as well, people are definitely looking at the important side of this. Looking at the video, internet users are transported back to their childhood days to remember things that their fathers used to do for them. The common theme is that these tiny gestures were silent and were always overshadowed by other things in life. At least with social media, these gestures are being caught on tape and brought to the public eye.
You may also like: This Kind Gesture From Swiggy Delivery Guy Will Melt Your Heart
Having garnered millions of views, a few comments were particularly interesting. One user said, "Indeed! Jab tak Baap ka haath maathe ho na kabhi koi tension hoti.. Becoz u know bapu hai peeche." Another person commented, "I still remember that day of hindi elocution when we were going back it was raining so much and we only had one raincoat and my father gave it to me." Finally, someone mentioned, 'My father did this for 4 kids. thank you for reminding me my bachpan. papa toh papa hi hote hain yaar."
You may also like: Anand Mahindra Reacts on Kid Admiring Her Dad's New XUV700 – Wins Hearts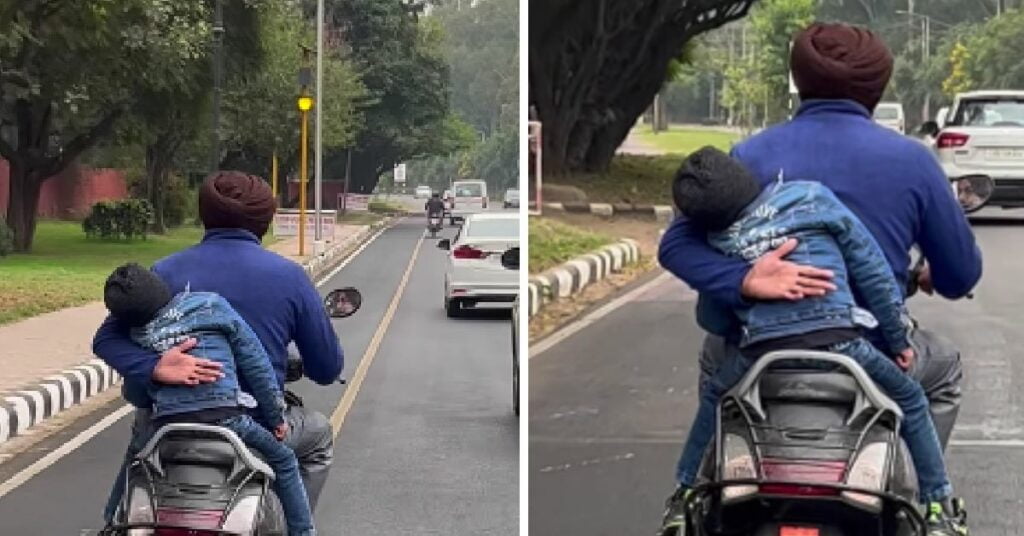 Disclaimer- The embedded videos/ external content is/are being used as a convenience and for informational purposes only; they do not constitute an endorsement or approval by Car Blog India of any of the products, services, and /or opinions of the corporation or organization or individual. Car Blog India bears no responsibility for the accuracy, legality, and/or content of the external site or for that of subsequent external videos/ external content. Contact the external publisher for answers to questions regarding its content.
Join our official telegram channel for free latest updates and follow us on Google News here.