Fires in EVs are getting increasingly common with the onset of summer in India. Here is yet another unfortunate incident involving an Okinawa e-scooter engulfed in flames.
Two incidents of OKinawa scooters catching fire have been reported in last 24 hours. One of these is a Praise Pro model that has caught fire. Unfortunately, the other one was inside a dealership and took down the entire showroom with it. The fires in the electric scooters are being reported at an alarming rate. Lives have been lost in some of these sad events. There have already been over 2 dozen such incidents this year and the peak summer has not even arrived yet. These cases are putting fear into the minds of the potential and existing EV owners and rightly so.
You may also like: WATCH 20 Jitendra EV Electric Scooters On Fire Inside Transport Truck
You may also like: LML and eROCKIT to Sell Human Electric Hybrid Bike in India
Okinawa Scooter Fire Takes Down Entire Dealership
An Okinawa electric scooter was engulfed in flames which then spread to the entire dealership. This event is reported to have taken place in Tamil Nadu. The details of this mishap were not available but the model in the other incident was a Praise Pro electric scooter. In both the cases, the locals joined in to control the fire and no casualties were reported. It must be noted that back on March 26, a father-daughter duo couldn't survive when their electric scooter exploded while charging. Interestingly, Okinawa had recalled over 3,200 electric scooters on April 16 for ensuring that the connectors and battery components are properly connected to prevent such indicnets from happening. This was a couple of days before this event took place.
You may also like: 4th Pure EV Electric Scooter Goes Up in Flames In 8 Months
It is quite natural for people to be concerned about their safety, especially during the upcoming summer season. The batteries of the EVs are temperature dependent which is the reason why so many parked EVs or EVs while charign are exploding. The NITI Aayog CEO, Amitabh Kant, has advise the EV makers to recall the entire batches of electric scooters that are catching fire voluntarily in favour of ensuring safety of the EV owners. An Ola S1 Pro was also seen on flames recently in Pune while in the parking position.
You may also like: Ola S1 Pro Suspension Breakage Incident Due to Head-On Collision?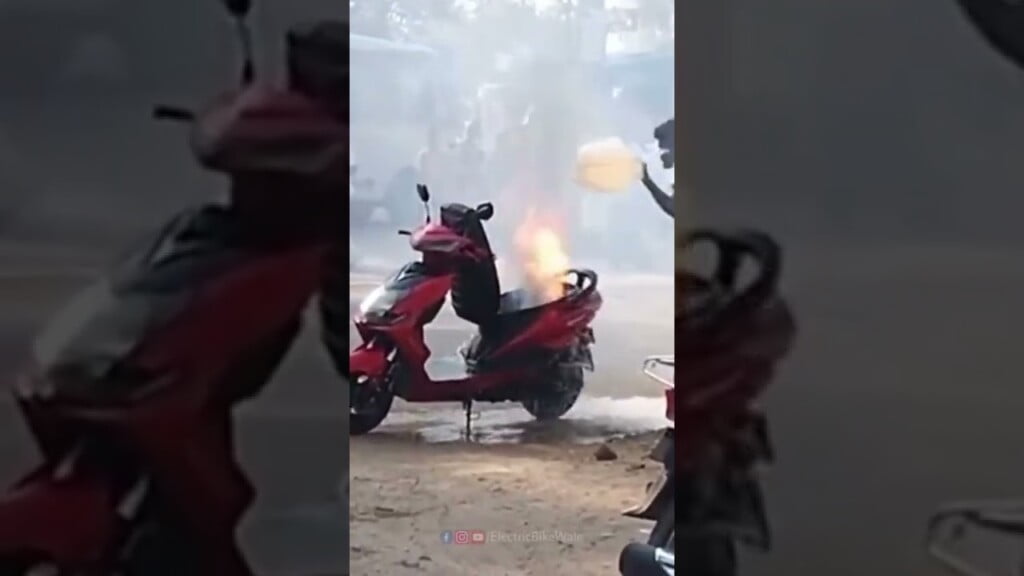 The government is seeking explanation from Ola and Okinawa by calling their technical teams. While that is mandatory, these incidents will prove detrimental to the mass adoption of EVs for the public. The central and state governments are pushing the EV narrative by offering incentives and subsidies but people are concerned about their safety. This could prove to be the next big challenge in front of the EV industry.
Join us for FREE NEWS Updates on our Whatsapp Community or our official telegram channel.