Merely a couple of weeks after an Ola S1 Pro received flak for catching fire, it's once again under limelight
Update (16 April 2022) – Soon after pictures of an Ola S1 Pro with a broken suspension went viral, several netizens started criticizing Ola Electric to roll out a 'half-baked' product that seems to be marred with quality blips. However, it looks like there's another version of this episode. As per some claims, the blue-coloured S1 Pro seen in the pictures doing rounds on various social platforms had a head-on collission with another two-wheeler. It's being said that the electric scooter bore the brunt and suffered from a damaged front-end. Fortunately, the customer walked away with minor injuries. It's important to mention here that the EV-maker is yet to release an official statement on this incident but for now, we're happy to know that no one got badly hurt in this mishap.
15 April 2022 – Late last month, a video showing a brand new Ola S1 Pro on fire went viral on various social media platforms. The scary visuals showed the scooter being reduced to waste as it got almost completely engulfed in flames. The incident once again raised many questions on the quality of the scooter, especially because several owners have already reported numerous glitches with the product. Now, once again, the Ola electric scooter is in the limelight-
You may also like: Ola Electric vs Chetak Electric vs Ather Electric – Hill Climb Test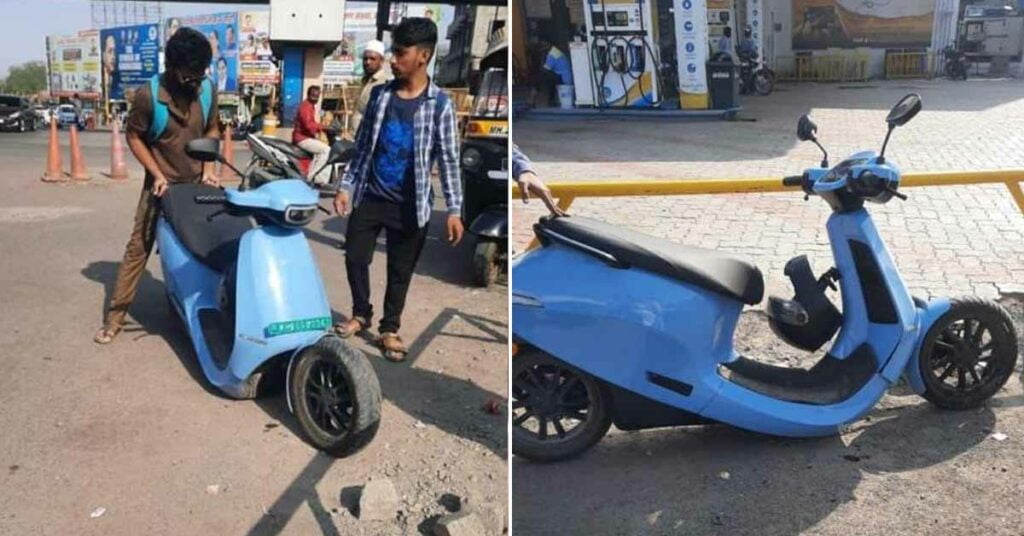 You may also like: Yamaha R15 vs Ola S1 Pro – One of a Kind Drag Race
Seen above is a photograph of what seems to be a brand new Ola S1 Pro that is in an immovable condition after its front suspension broke down. It must be noted here that several users have reported poor build quality along with some software glitches that have marred their ownership experience. These images have been quick to go viral and while we await full details of this episode, several social media users have been criticizing the e-scooter for its poor quality.
Luckily, no one was seriously injured in this incident and it looks like the electric scooter won't need much to come back to shape. However, the fact that the scooter has time and again come into focus for such quality issues leaves customers and prospective buyers quite unhappy. In fact, such incidents not only ruin the ownership experience but even pose as a serious threat to the safety of the user. Earlier, another user had claimed that he miraculously escaped a sticky situation when his electric scooter automatically got into reverse model at a high speed.
Ola Electric has been investigating the cause of such incidents but is yet to share the reason for such incidents. An official statement that was issued on the fire incident that happened in Pune stated: "We are aware of an incident in Pune that happened with one of our scooters and are investigating to understand the root cause and will share more updates in the next few days. We're in constant touch with the customer who is absolutely safe."
You may also like: Ola S1 Pro Owner Shares HONEST Review of e-Scooter
You may also like: Ola S1 Pro vs Ather 450X – Drag Race In All Drive Modes
Bhavish Aggarwal, Ola Electric's CEO, earlier Tweeted, "Vehicle safety is of paramount importance at Ola and we are committed to the highest quality standards in our products. We take this incident seriously and will take appropriate action and share more in the coming days. Safety is top priority. We're investigating this and will fix it." Ola S1 and S1 Pro went on sale in August last year and are priced at Rs 99,999 and Rs 1,29,999 (Ex-showroom), respectively. The more affordable version features a 2.98 kWh non-removable battery while the S1 Pro gets a 3.97 kWh unit. The claimed range is pegged at 121 km and 181 km for the S1 and S1 Pro, respectively.
Join our official telegram channel for free latest updates and follow us on Google News here.