It is simply remarkable what aftermarket car modification houses are able to achieve.
This post shows a Mahindra XUV500 being converted into an XUV700.
People can avail of this hack to ditch the long waiting times associated with the XUV700.
Here is a post showing a Mahindra XUV500 into an XUV700 conversion process. Now, we all know that the XUV700 has replaced the XUV500 in our market. But it was not just a facelift, which makes the silhouette and design of both these SUVs quite distinct. Sure, there are some elements that are reminiscent of the XUV500 in the XUV700, but these SUVs are quite different. That is what makes this modification task quite challenging. Here are the details.
You may also like: New Pics of Mahindra XUV500 to XUV700 Conversion Show an Odd Contraption
You may also like: Mahindra XUV700 Filled with Diesel Instead of Petrol, User Shares Experience with RSA
You may also like: Mahindra XUV700 Falls Off the Road, Owner Blames ADAS
You may also like: Mahindra XUV700 Driver Plays Cards in Moving Car, Crashes
Mahindra XUV500 to XUV700 Conversion
The post has been shared by saurabh.kmph on Instagram. It showcases the older XUV500 on the road with the front side fender detached. The video shows the front fascia of this SUV which is an exact replica of the latest XUV700. The car modifier has borrowed the original accessories from Mahindra to slap on this XUV500 making it look like the XUV700. That explains why the quality of the modification looks top-notch even in this quick snippet.
You may also like: South African Vlogger Impressed with Made in India Mahindra XUV700
There are some experienced car modification houses that are capable of pulling off such a feat. Therefore, you must make sure that you are approaching experienced mechanics. They can use the OEM components and install the parts on the XUV500 with minor tweaking and mending. This includes body panels, a front grille, bumpers, headlights and more. However, make sure to be aware of the procedure to follow if you meet with an accident and would need these spare parts again.
You may also like: Mahindra XUV700 Driver Plays Ludo, Eats Burger as ADAS Controls Car
Specs
The Mahindra XUV700 comes with a 2.0-litre turbocharged petrol unit that churns out a maximum power of 200 PS and a peak torque of 380 Nm. Meanwhile, the Diesel engine is available in multiple states of tune. The lower versions get 155 PS and 360 Nm, while the higher-positioned models benefit from 185 PS and 420 Nm (450 Nm in the automatic variant). Both the petrol and diesel engine variants will be available with 6-speed manual and automatic transmission choices. The prices range from Rs 13.45 lakh to Rs 25.47 lakh, ex-showroom.
You may also like: Mahindra XUV700 Shows ADAS/5-star Safety Rating Aren't Substitutes for Safe Driving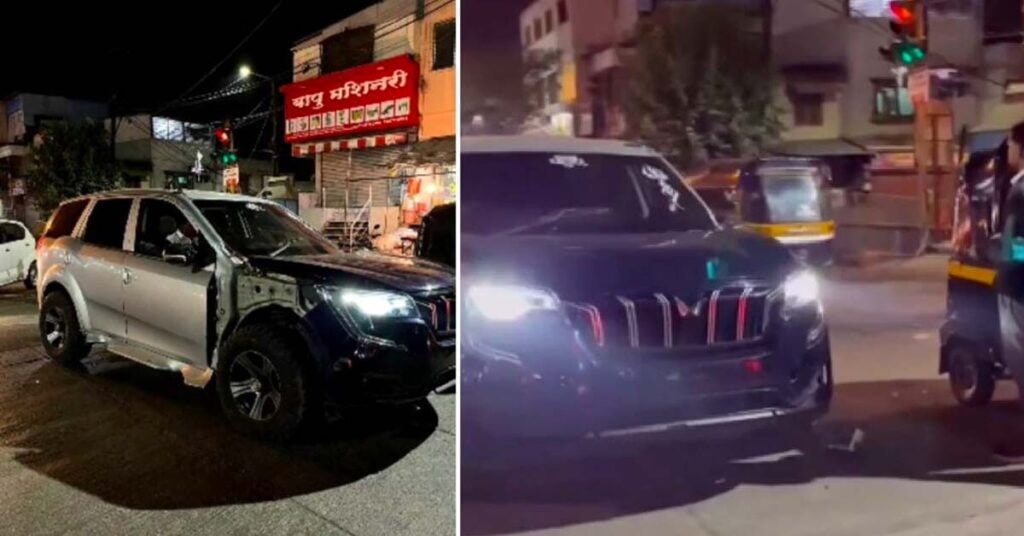 You may also like: Mid-spec Mahindra XUV700 AX5 with Luxury Interior Modification – VIDEO
Disclaimer- The embedded videos/ external content is/are being used as a convenience and for informational purposes only; they do not constitute an endorsement or approval by Car Blog India of any of the products, services, and /or opinions of the corporation or organization or individual. Car Blog India bears no responsibility for the accuracy, legality, and/or content of the external site or for that of subsequent external videos/ external content. Contact the external publisher for answers to questions regarding its content.