Mahindra XUV700 comes with the option of a diesel and petrol engine.
But this owner reports filling up the tank with diesel in the petrol version.
The RSA was quick in rescuing the family and saving the day.
In this latest incident, a Mahindra XUV700 petrol version had its fuel tank filled with diesel instead. XUV700 is a popular 5/7-seat premium mid-size SUV. It became so successful in our market ever since its inception that the long waiting times continue even now after months of launch. Also, such misjudgements at petrol pumps are nothing new. With large SUVs, the petrol pump attendants presume that it will most likely be a diesel vehicle. That is where the error occurs.
You may also like: New Pics of Mahindra XUV500 to XUV700 Conversion Show an Odd Contraption
You may also like: South African Media Reviews Made in India Mahindra XUV700 – Here's What it Feels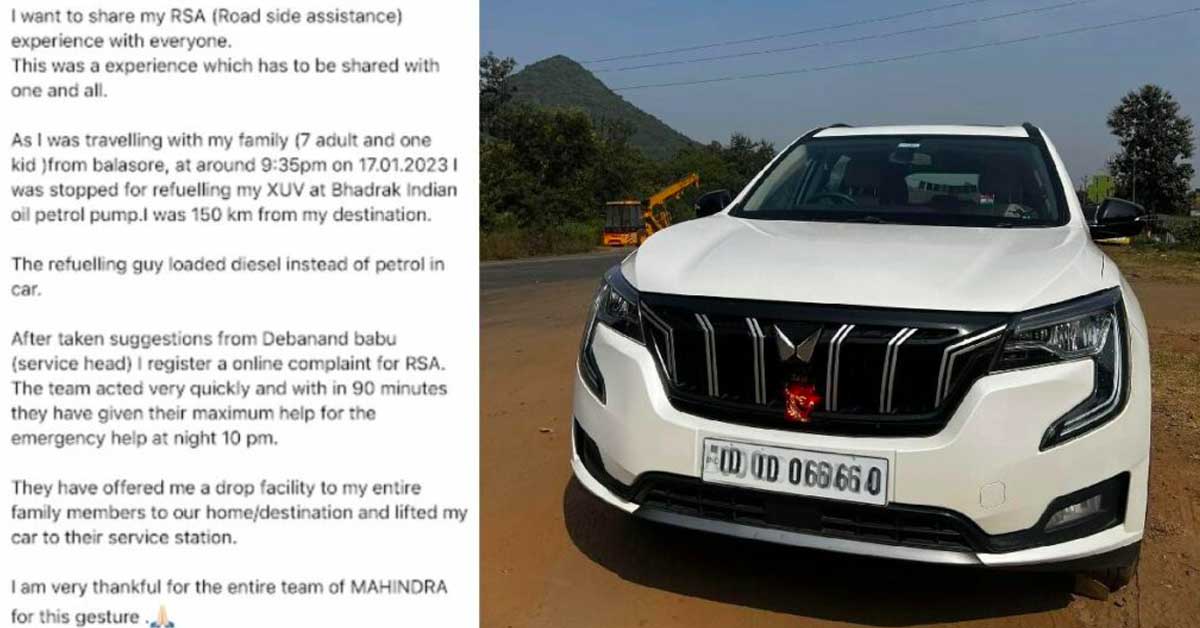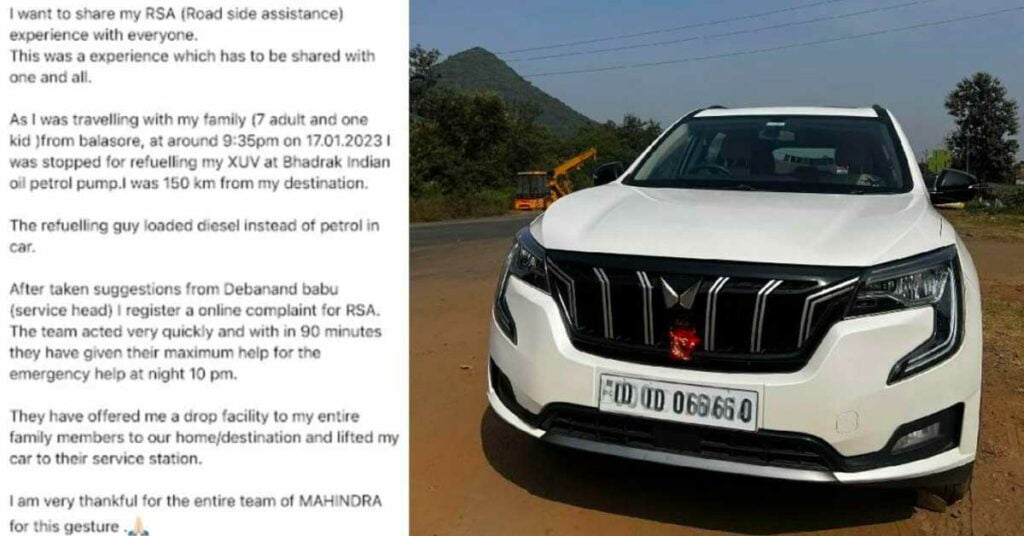 You may also like: India's First Mahindra XUV500 to XUV700 Conversion – This is IT!
You may also like: Mahindra XUV700 Driver Plays Cards in Moving Car, Crashes
Mahindra XUV700 Filled with Diesel Instead of Petrol
The incident has been reported by the owner on the XUV 700 Owners Club page on Facebook. In the post, he retells his tale at the petrol pump. He was travelling from Balasore in Odisha with his family. There were 7 adults and a child in the SUV. They stopped at the Bhadrak Indian Oil Petrol Pump. At this point, the family was around 150 km away from where they were travelling to. However, the petrol pump attendant, in carelessness, ended up filling the XUV700 with diesel instead of petrol.
You may also like: Mahindra XUV700 Falls Off the Road, Owner Blames ADAS
Needless to mention, it became a huge issue as the SUV was not supposed to move. Note that while a vehicle might work on the wrong fuel for some time but it can lead to damage to the mechanical or electronic parts. This is because the fuel delivery system, pump pressure, compression ratio, etc. are different for diesel and petrol. Hence, it is advised to avoid driving the vehicle if it has been wrongly fuelled.
You may also like: Mahindra XUV700 Owner Plays Cards with Friends as ADAS Pilots the SUV
You may also like: Anand Mahindra to Deliver Mahindra XUV400 One of One Edition to Winning Bidder
You may also like: South African Media Gets First Taste of Mahindra XUV700 – Here's What They Have To Say
RSA to the Rescue
The owner called up the Sales Head at around 9:35 PM informing him about the entire episode. He arranged the RSA (Road-Side Assistance) services and the towing van arrived at the scene within 90 mins and took away the SUV to the service centre. More importantly, the family was transported to where they were supposed to go. This has garnered praise from the owner and internet users in the Facebook group. We hope that other carmakers also become so helpful and caring toward the customers. What are your thoughts on this incident?
Join us for FREE NEWS Updates on our Whatsapp Community or our official telegram channel.