Aftermarket automobile modification houses are getting increasingly popular.
They have been able to replicate or modify just about any car into any other car.
This latest example of a conversion of an XUV500 to XUV700 is a prime example of that.
We had earlier reported the sighting of a Mahindra XUV500 to XUV700 conversion by an aftermarket modification house. Now, a set of new pics that give us a better look at the said conversion reveal a rather complicated machine. However, it looks like the product is still some time away from completion. The XUV700 is a mega-successful SUV that commands long waiting times in our market. That could be the reason why an XUV500 owner decided to get adventurous and convert his old SUV to XUV700. Here are the details.
You may also like: Hongqi HS5 Chinese SUV Copies Mahindra XUV700's Interior
You may also like: Mahindra XUV700 Filled with Diesel Instead of Petrol, User Shares Experience with RSA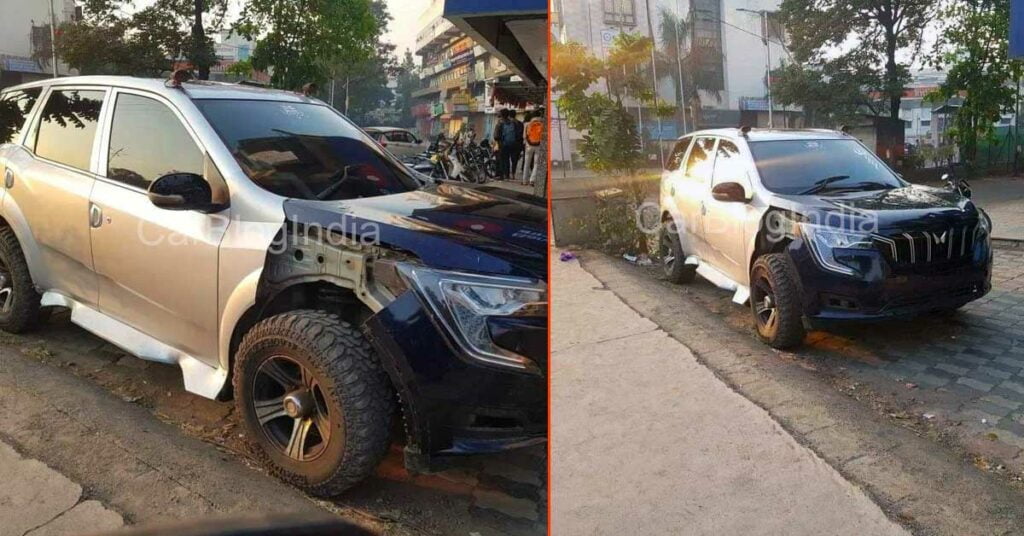 You may also like: Mahindra XUV700 Driver Plays Cards in Moving Car, Crashes
You may also like: Mahindra Thar 5-Door (Scorpio N-Based) Seen Night-Time Testing
Mahindra XUV500 to XUV700 Conversion
The images show a rather monstrous version of the originally posh and premium SUV. The main attraction is the front end that features all the elements of the XUV700, including the signature LED DRLs, LED headlamps, vertical slats on the front grille finished in chrome, a black bonnet, bumper and fender setup which could also be just a temporary wrap, black ORVMs and more.
You may also like: Mahindra XUV700 Falls Off the Road, Owner Blames ADAS
On the sides, there are colossal off-roading-focused wide tyres that elevate the overall road presence of this SUV. In addition to that, the prominent side skirtings and prominent wheel arches lend a butch appearance to this converted XUV700. However, the lack of a side fender means that the project is still some time away from the final stage. These modifications have certainly turned the XUV500 into something that looks pretty odd-ball at the moment. That said, we reserve our final verdict until we can lay our eyes on the finished product.
You may also like: Mahindra XUV700 Drives on its Own as Stupid Driver Sits on Passenger Seat – VIDEO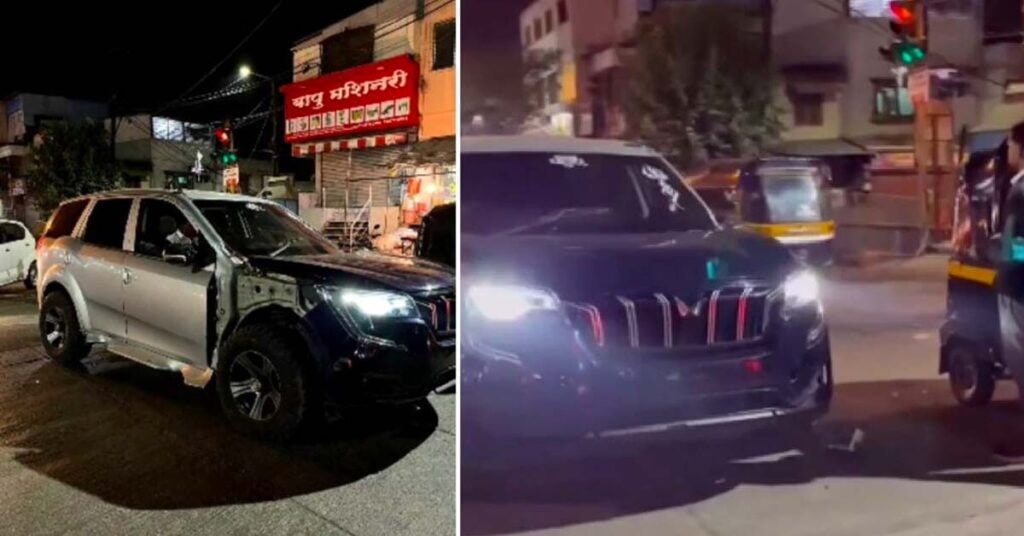 You may also like: Hummer H2 is The Real Big Daddy of SUVs – Towers Over Mahindra XUV700
Aftermarket Modifications are Illegal
While talking about such complicated modifications, we must also mention that almost all such car modifications in India are illegal. Therefore, you must consult your local RTO before performing any significant modification to your car. Still, people go for mild modifications like aftermarket alloy wheels which are fine if you are not changing the wheel and tyre dimensions too much. You could go for genuine accessories from the carmaker if you want to bling up the vehicle. What are your thoughts on this Mahindra XUV500 to XUV700 conversion?
Join our official telegram channel for free latest updates and follow us on Google News here.