Mahindra XUV700 comes with Level 2 ADAS features to assist the driver on properly-marked highways.
However, some drivers have been misusing it terribly.
This latest instance shows the driver sitting in the passenger seat as the SUV drives on its own.
In this latest video, a Mahindra XUV700 driver sits in the passenger seat as the SUV drives on its own. XUV700 has garnered unprecedented demand ever since its launch in India last year. The waiting times are still long for the flagship SUV from the Indian carmaker. Its powerful engines, latest tech features, highest safety standards and plush cabin are some of the reasons for its appeal. However, there are a handful of people who are frequently seen misusing its ADAS functions.
You may also like: Brand New Mahindra XUV700 Crashed While Testing ADAS
You may also like: Mahindra XUV700 Owner Plays Cards with Friends as ADAS Pilots the SUV
You may also like: Mahindra XUV700 Owner Goes to 'Sleep' at High Speed, Then Tells Others Not To Do It
You may also like: Angry Businessman Sets Maruti Ertiga on Fire, 25 Other Cars Burn Down – VIDEO
XUV700 Driver Sits in Passenger Seat
The video has been uploaded by Nikhil Rana on his YouTube channel. He regularly posts content around highlighting the importance of safety ratings in a car. This time around, a case has surfaced where the driver of the XUV700 is seen sitting in the passenger seat while the SUV drives on its own on the highway. The ADAS is using lane markings to steer itself and adaptive cruise control to accelerate and decelerate the vehicle. Also, the title of the video mentions that the speed of the car is around 91 km/h.
You may also like: Influencer Getting Off a Moving Kia Seltos is Plain Stupidity
You may also like: Influencer Eats Lunch While Mahindra XUV700 Drives on its Own at 81 km/h, ADAS Misused AGAIN
However, it must be understood that the ADAS functions in modern cars are not meant as a replacement for the driver. These are just there to aid and lend additional support to the driver in the case of emergencies when the reactions of the driver are not quick enough. But some people have made a mockery of it and are seen eating lunch, playing cards, and ludo as the SUV keeps driving itself. Needless to say, the consequences of this could be fatal.
You may also like: Mahindra XUV700 Driver Plays Ludo, Eats Burger as ADAS Controls Car
In this video, the driver is in no position to control the car if someone or something suddenly appears on the road. He is sitting comfortably on the passenger side which is an invitation to disaster. We would strongly urge our readers to stay clear of such activities. Also, if you see someone attempting such stupid acts on the road, you must report them to the authorities and discourage such behaviour if they are known to you. That is the only way to ensure road safety. What are your thoughts on the matter?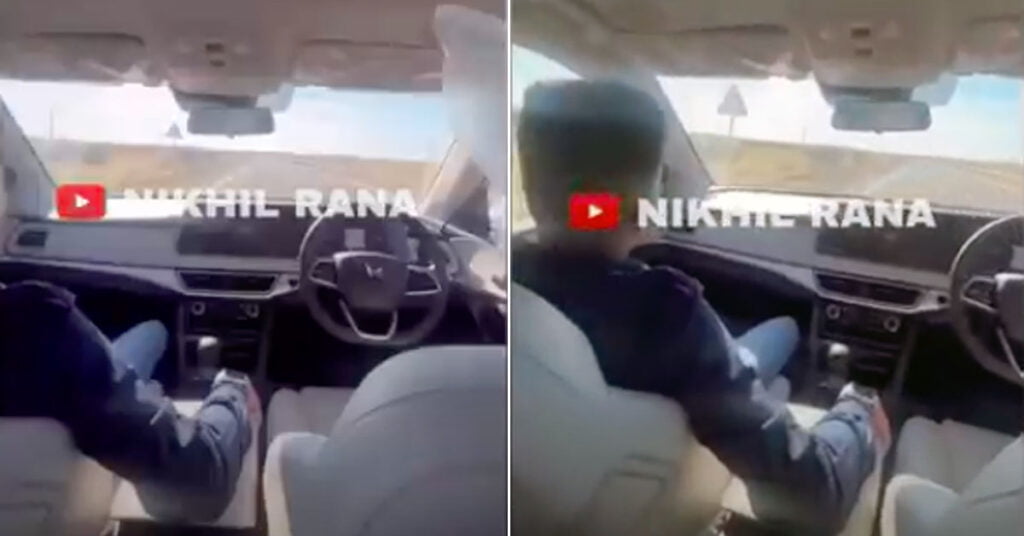 You may also like: Mahindra XUV700 Shows ADAS/5-star Safety Rating Aren't Substitutes for Safe Driving
Disclaimer- The embedded videos/ external content is/are being used as a convenience and for informational purposes only; they do not constitute an endorsement or approval by Car Blog India of any of the products, services, and /or opinions of the corporation or organization or individual. Car Blog India bears no responsibility for the accuracy, legality, and/or content of the external site or for that of subsequent external videos/ external content. Contact the external publisher for answers to questions regarding its content.
Join our official telegram channel for free latest updates and follow us on Google News here.