We have unfortunately seen tons of instances where people have misused the ADAS function in modern cars like the Mahindra XUV700.
In this latest video, a Mahindra XUV700 driver is seen with his friends as he plays ludo in a moving car, while another user leverages ADAS to eat a burger with his hands off the steering wheel. These are classic cases of misadventures involving the ADAS feature which is, ironically, meant to make driving safer. XUV700 offers ADAS which is also a prominent feature that drew in a ton of new buyers. However, not everyone is using this safety feature so safely. Let us take a look at this in detail.
You may also like: Mahindra XUV700 Shows ADAS/5-star Safety Rating Aren't Substitutes for Safe Driving
You may also like: Mahindra XUV700 Driver Sits on Passenger Seat as SUV Drives On – ADAS Misused Again
Mahindra XUV700 Owner Plays Ludo While Using ADAS
This video has been uploaded by Nikhil Rana on his YouTube channel. He regularly posts such content in order to raise awareness among car buyers regarding the importance of safety ratings and safe driving on the roads. As per the information in this video, three people are seen playing a game of Ludo while the SUV is in motion. What is even more surprising is the fact that the driver is sitting with both feet on the seat. This is a clear misuse of the feature and such stupid acts only invite trouble.
You may also like: Mahindra XUV700 vs Hyundai Tuscon – Which One Has Better ADAS?
In another separate instance, a man is seen eating a burger while leaving his XUV700 on Autopilot. Worse still, he posted this reel challenging people to do even more bizarre things. He asks what can you do while your XUV700 is in Autopilot mode. There have been many such instances where people are seen making reels for social media while climbing on the roof of the XUV or walking alongside the SUV. We must understand, that these features are meant to ASSIST the drivers and not REPLACE them.
You may also like: Instagrammer Drives Mahindra XUV700 While Sitting on Roof – ADAS Misused!
Attempting such foolish stunts for no reason at all is bound to cause harm not only to the drivers and their cars but also to others on the road. When these drivers don't have their eyes on the road, even a tiny slip-up by the system can cause lethal damage to anyone. We strongly recommend our readers to NOT misuse this feature and only use it for assistance. That is what it is meant to do. Also, make sure to discourage anyone who is attempting such mindless acts and report them to the authorities for jeopardizing the safety of everyone around.
You may also like: Mid-spec Mahindra XUV700 AX5 with Luxury Interior Modification – VIDEO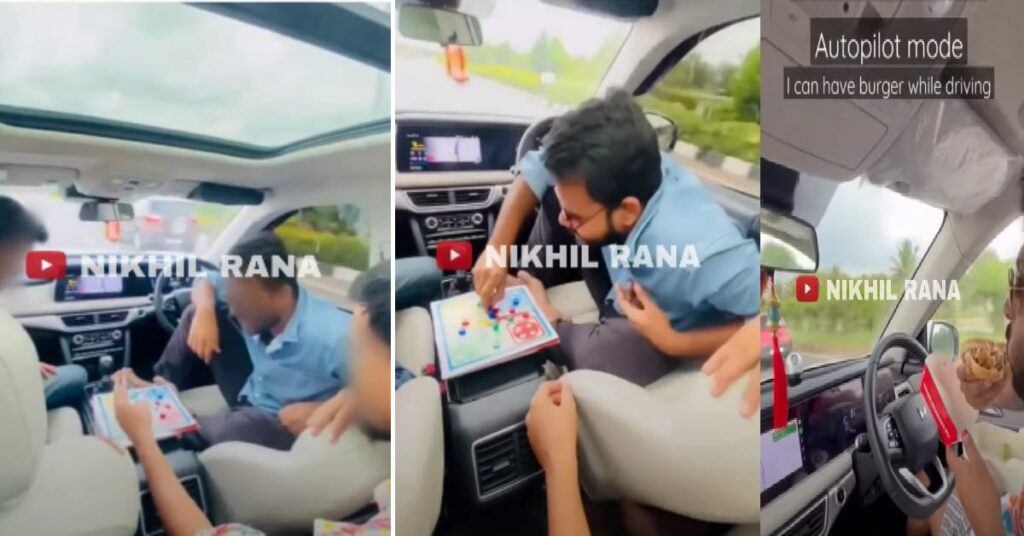 Disclaimer- The embedded videos/ external content is/are being used as a convenience and for informational purposes only; they do not constitute an endorsement or approval by Car Blog India of any of the products, services, and /or opinions of the corporation or organization or individual. Car Blog India bears no responsibility for the accuracy, legality, and/or content of the external site or for that of subsequent external videos/ external content. Contact the external publisher for answers to questions regarding its content.
Join our official telegram channel for free latest updates and follow us on Google News here.