Mahindra XUV700 features ADAS for an enhanced safety net
But some owners use it for autonomous driving and take their hands off the steering wheel.
There have been numerous cases of misuse of ADAS features of the Mahindra XUV700. This is clear misuse of the autonomous driver assistance technology as few owners and self proclaimed 'influencers' try to use it simply to gain popularity. Such people, who have an aim to get views on their content, perform some really crazy antics. This not only puts their own lives at risk but even those of other road users. Today, though, we have another personality who tries to deliver the right message in a totally wrong manner!
You may also like: Influencer Eats Lunch While Mahindra XUV700 Drives on its Own at 81 km/h, ADAS Misused YET AGAIN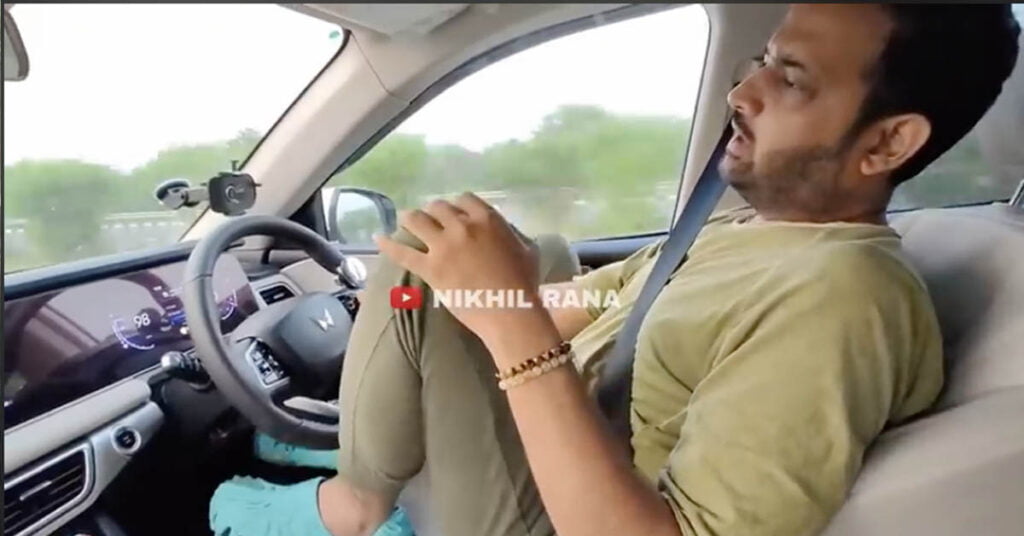 You may also like: Mahindra XUV700 Driver Plays Ludo, Eats Burger as ADAS Controls Car
Mahindra XUV700 ADAS Misused AGAIN!
This Youtube video shows several parts of another video that was put online by a Mahindra XUV700 owner. He uses an AX7L Diesel variant to showcase how many people have been missing ADAS. In this video, the driver says he's been driving at the Yamuna Expressway and feels sleepy. Next, to our horror, he declares he's going to take a nap. He engages cruise control at over 90 km/h and takes his hands off the steering wheel. Next, he takes his feet away from the pedals and gets relaxed on the driver's seat.
You may also like: Mahindra XUV700 Shows ADAS/5-star Safety Rating Aren't Substitutes for Safe Driving
However, unlike what one would imagine, the driver doesn't doze off. Instead, immediately afterwards, he starts lecturing on the danger of doing something like this. He says how many have been missing ADAS in a similar fashion. He's quick to regain complete control of the vehicle. While it's heartening to see him talk sense and ask others to think logically, his little stunt itself was pretty dangerous. Even though the XUV700 comes with frontal collision avoidance feature along with adaptive cruise control, the driver had no control over the vehicle for many seconds. Moreover, he wasn't paying complete attention to the road as he was busy recording the video.
You may also like: Mahindra XUV700 Running with Cruise Control Set at 78 km/h Crashes, Keeps All Safe
Right Message Delivered in Wrong Manner
In an attempt to teach others, the driver himself had no control over the vehicle for a few seconds. This was enough for a mishap to take place. Plus, his little stunt could be counter productive. The driver clearly demonstrates how it's possible to have the car run on 'auto pilot' while the driver takes a nap. We request all our readers to avoid paying attention to such carelessness. Irrespective of the message one wants to deliver, such stunts should be totally not imitated. Such acts can cause harm to self as well as other road users. Also, if you are a social media influencer, you must be responsible and not do such stunts.
You may also like: Mahindra XUV700 Driver Sits on Passenger Seat as SUV Drives On Its Own – ADAS Misused
Disclaimer- The embedded videos/ external content is/are being used as a convenience and for informational purposes only; they do not constitute an endorsement or approval by Car Blog India of any of the products, services, and /or opinions of the corporation or organization or individual. Car Blog India bears no responsibility for the accuracy, legality, and/or content of the external site or for that of subsequent external videos/ external content. Contact the external publisher for answers to questions regarding its content.
Join our official telegram channel for free latest updates and follow us on Google News here.