Mahindra XUV700 comes with ADAS features that are meant to enhance safety.
But people have been misusing it frequently for a long time now.
This latest driver was involved in an accident because of playing cards while letting ADAS drive the SUV.
In an unfortunate incident, a Mahindra XUV700 driver plays cards while letting the SUV drive itself but crashes afterwards. This adds to the increasing tally of cases where XUV700 owners are misusing the ADAS functions of the car. ADAS refers to Advanced Driver Assistance System that is meant to aid drivers and not substitute them. Lately, a lot of cases have cropped up where people are flaunting not paying attention on the road after switching the ADAS functions ON in their cars. Here are the details.
You may also like: Mahindra XUV700 Falls Off the Road, Owner Blames ADAS
You may also like: Brand New Mahindra XUV700 Crashed While Testing ADAS
XUV700 Driver Plays Cards While ADAS Drives Car
The video has been uploaded as YouTube Shorts by Soutrikghosh5199. It shows the driver of the XUV700 playing cards with his friends as the car moves on its own using the ADAS. ADAS recognises lane markings on the highway and is able to steer, accelerate or decelerate the car on its own depending on the road conditions. In essence, its aim is to support the driver in the case of emergencies. However, people have been misusing it by allowing it to replace the driver.
You may also like: Mahindra XUV700 Drives on its Own as Stupid Driver Sits on Passenger Seat – VIDEO
We have reported many instances where the drivers are seen eating lunch, sitting in the passenger seat, climbing the roof or playing games in the moving car without paying attention to the road. This is equivalent to inviting trouble. In this latest case, the SUV is seen hitting a divider head-on and the airbags are seen deployed. We don't know whether the occupants suffered major injuries or not. Nevertheless, this should serve as a lesson to all those who are involved in such idiotic acts.
You may also like: Alexa Says 'I Am Fine' as a New Mahindra XUV700 Crashes – Vlogger Gets Excited For Nothing
Road Safety
Finally, we would like to advise our readers to propagate road safety measures and discourage such mindless acts. India is already home to thousands of road accidents each year taking the lives of thousands of people. It is high time we start becoming responsible drivers and conducting ourselves according to the laws and regulations on the road. Do share your thoughts about this with us.
You may also like: Mahindra XUV700 Owner Goes to 'Sleep' at High Speed, Then Tells Others Not To Do It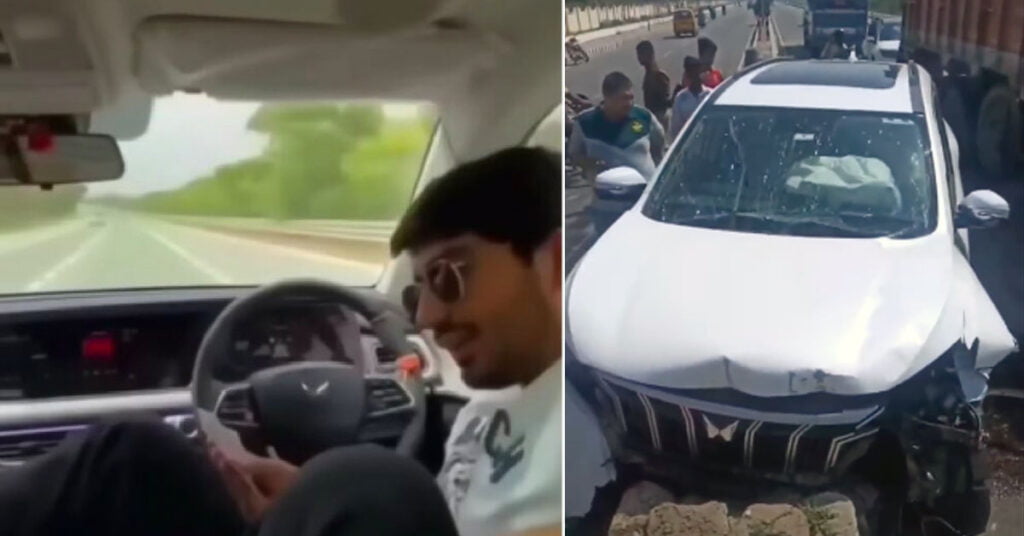 You may also like: Mahindra XUV700 Driver Plays Ludo, Eats Burger as ADAS Controls Car
Disclaimer- The embedded videos/ external content is/are being used as a convenience and for informational purposes only; they do not constitute an endorsement or approval by Car Blog India of any of the products, services, and /or opinions of the corporation or organization or individual. Car Blog India bears no responsibility for the accuracy, legality, and/or content of the external site or for that of subsequent external videos/ external content. Contact the external publisher for answers to questions regarding its content.
Join our official telegram channel for free latest updates and follow us on Google News here.