Mahindra XUV700 comes with the latest features and technology including Alexa support.
However, people misuse the ADAS functions often.
XUV700 comes with powerful petrol and diesel engines.
In this latest video, Mahindra XUV700 crashes but Alexa says 'I Am Fine'. However, it was not a commentary about the accident but a simple welcome note that the SUV greets you with as you enter the cabin. XUV700 has been a hit among Indian car buyers ever since its launch. It commands long waiting times after even a year of its launch. However, there have been many instances of owners misusing its ADAS functions as well. But, this latest case doesn't look like a consequence of that.
You may also like: Mahindra XUV700 Owner Goes to 'Sleep' at High Speed, Then Tells Others Not To Do It
You may also like: Influencer Eats Lunch While Mahindra XUV700 Drives on its Own at 81 km/h, ADAS Misused AGAIN
Mahindra XUV700 Crashes, Alexa Reacts
The video has been uploaded by Nikhil Rana on his YouTube channel. This channel keeps bringing up incidents related to accidents of popular cars to highlight the importance of buying cars with high safety ratings. This time around, the XUV700 owner takes the delivery of the brand-new SUV. But a few moments later, the XUV700 is seen with a deformed front end on a highway. The details of this incident are not available. The video mentions that this is the AX7L variant of the SUV that comes with ADAS functions.
You may also like: Mahindra XUV700 Driver Plays Ludo, Eats Burger as ADAS Controls Car
Funnily enough, as the cameraman shows the details of the accident, he opens the door of the XUV700. The OS is programmed to greet the driver which is why Alexa says 'I Am Fine'. Considering the occasion, this ironic statement by Alexa is able to lighten up the mood of everyone around. Since it was a frontal impact, the airbags are seen deployed. Thankfully, no one in the car was injured including a child. Note that the XUV700 is a 5-star rated product. The Alexa part of the video must be taken with a pinch of salt as it had nothing to do with the crash.
You may also like: Mahindra XUV700 Shows ADAS/5-star Safety Rating Aren't Substitutes for Safe Driving
Follow Traffic Rules
Finally, we would like to draw the attention of our readers toward the importance of buying cars with utmost safety and following traffic rules. The most common traffic violation includes overspeeding. That is the main reason for an overly large number of accidents on our roads affecting thousands of people every year. Make sure to drive within speed limits to ensure maximum safety. Do share your thoughts on the matter.
You may also like: Instagrammer Drives Mahindra XUV700 While Sitting on Roof – ADAS Misused!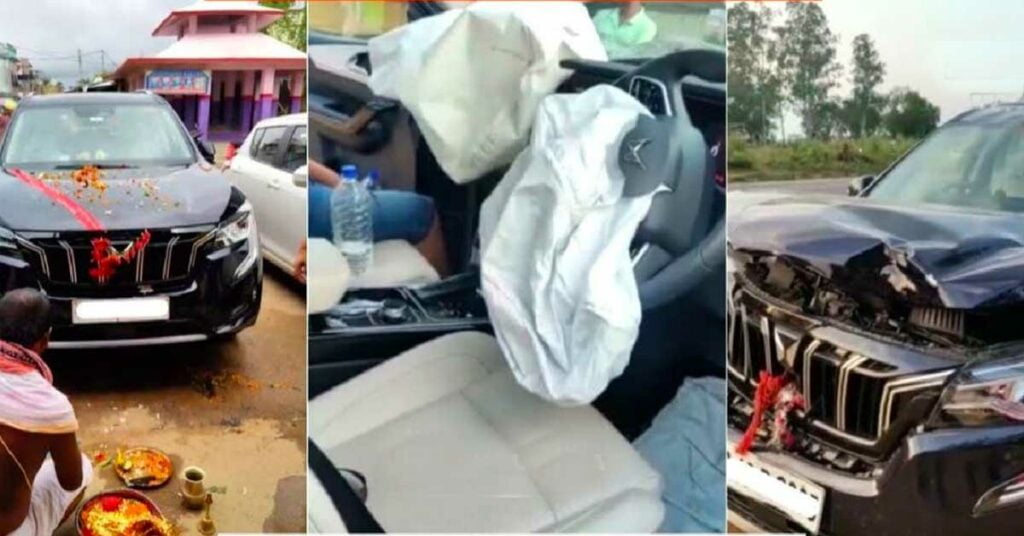 Disclaimer- The embedded videos/ external content is/are being used as a convenience and for informational purposes only; they do not constitute an endorsement or approval by Car Blog India of any of the products, services, and /or opinions of the corporation or organization or individual. Car Blog India bears no responsibility for the accuracy, legality, and/or content of the external site or for that of subsequent external videos/ external content. Contact the external publisher for answers to questions regarding its content.
Join our official telegram channel for free latest updates and follow us on Google News here.