The food delivery business depends on how quickly can the customers receive their orders.
In an attempt to do that, the delivery personnel might have to perform enthusiastic driving.
But that should not be an excuse to break traffic regulations pertaining to road safety.
In this latest video, a delivery boy was involved in a crash as he was performing a wheelie amidst a sea of bikers on the road. In the delivery business, the delivery time is the most critical aspect. However, to achieve that, some delivery personnel even risk their safety and the safety of others on the roads. That could lead to inconvenient circumstances. This is one such case where the delivery boy is seen struggling after his motorcycle crashes while performing a wheelie.
You may also like: Stupid Royal Enfield Bullet Rider Performs Stunts While Wife Rides Pillion
You may also like: Woman Does Stunts on her Scooty on a Highway in Lucknow
Delivery Boy Crash
The video clip has been shared by cricketreels_7 on Instagram. It shows a massive group of bikers on the road. It looks like they are racing or involved in a group activity where they are travelling right next to each other. There are all sorts of bikes in this herd. However, one food delivery boy is doing a wheelie in the middle of the crowd when his bike loses traction. He falls off and the bikers around him hit him but not at a high speed. His delivery box at the rear gives away his job details.
You may also like: Pillion Shows Off Bike Stunts on Bajaj Pulsar, Falls! – Video Goes Viral
Now, more details of this are not available. But it shows a rather unusual and slightly dangerous practice. You can't risk your safety with stunts like these on the roads. Pulling a wheelie while you are at work is not ideal. You are not only risking your health and safety but also creating a liability for the company you are employed at. Thankfully, it looks like the biker is okay as the bikers around him stop immediately. He is seen picking up his bike and carrying on.
You may also like: Watch Ola Electric Scooter Performing Stunts Like a PRO!
Follow Traffic Rules
In inference, we would like to draw your attention to the fact that we lose thousands of lives on roads each year. Part of the reason why it is so is that people don't follow traffic regulations. Most accidents happen due to overspeeding or performing mindless stunts like these. It must be understood that these are not legal and certainly not required while you are on the job. We hope people learn from this and do not put their lives and safety in danger. Do share your thoughts on the matter.
You may also like: Part 2 of Bajaj Pulsar 220 Ghost Rider Stunt Is Stupidity at its Worst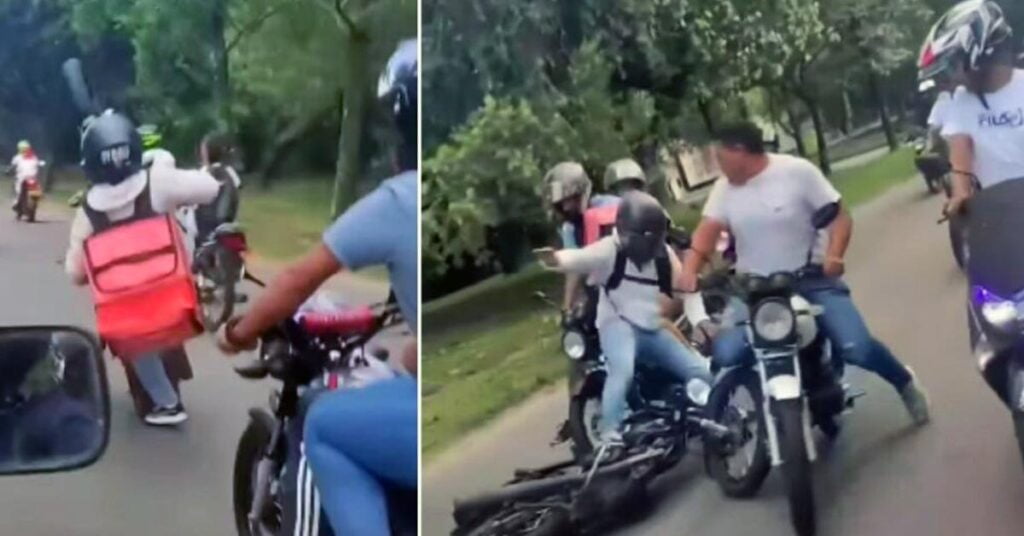 Disclaimer- The embedded videos/ external content is/are being used as a convenience and for informational purposes only; they do not constitute an endorsement or approval by Car Blog India of any of the products, services, and /or opinions of the corporation or organization or individual. Car Blog India bears no responsibility for the accuracy, legality, and/or content of the external site or for that of subsequent external videos/ external content. Contact the external publisher for answers to questions regarding its content.
Join our official telegram channel for free latest updates and follow us on Google News here.