Update- Even though several Ford India dealers had recently come together to assure great service support for at least 5 years to come, many Ford owners have started facing various issues related to the service. CLICK HERE for full info.
In a heartwarming gesture by multiple Ford dealerships, they assure the customers of continued services for the foreseeable future. Ever since Ford announced its production halt for all vehicles in India, the customers are anxious and uncertain about the future. They are worried about the after-sales services and spare parts availability for their Ford cars. Many of them have just bought the new vehicles and now are second-guessing their decision. But we have seen a ton of support even from the customers. They are persuading the American carmaker to take back the decision of exiting the Indian market. Although Ford will still operate in India as a niche player with imports, the mass-production has been discontinued completely. Here are some examples of Ford dealerships announcing their continued aftersales services for Ford products.
Also read: Ford EcoSport to Even Exit USA Despite Higher Sales Than in India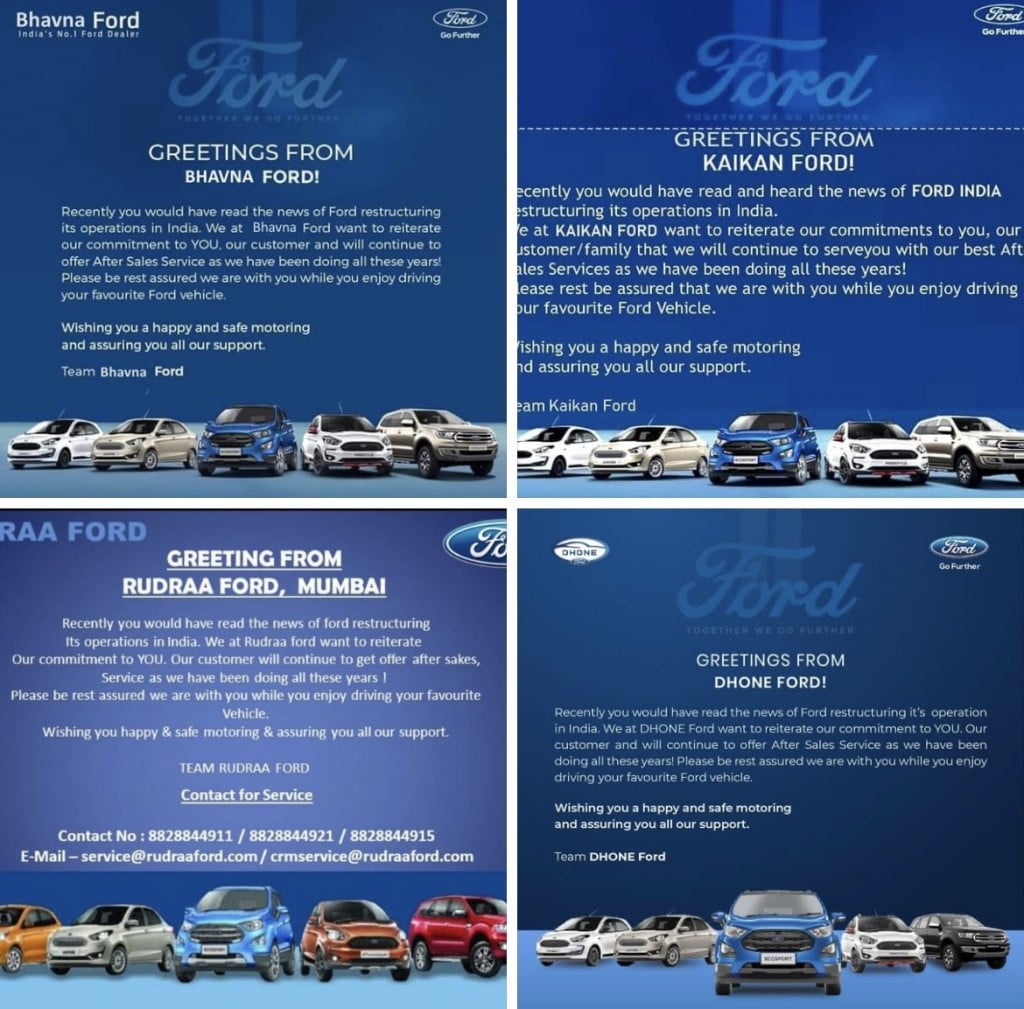 Ford Dealerships Assure Services
In the collage above, there are official letters from the dealerships with their locations and contact information announcing their continued support for the Ford vehicle owners. They acknowledge that there has been a bit of uncertainty for the customers after Ford decided to end production in India. That called for such initiative by the dealerships to show solidarity and availability for the customers to ensure peace of mind. People are fascinated by Ford products and have been for a long time. They don't want to give up their Ford vehicles but were left with no option when they heard the news. Ford had also officially announced that the services will not stop at least for the next 10 years. But coming from the dealerships themselves has made the claim much more believable and reliable.
Also read: What Should Ford Buyers Who Paid in Full But Awaited Delivery Do Now?
Ford Exit from India
It is reported that Ford had to end production in the country due to low sales and high manufacturing capacity. The two manufacturing plants had a capacity of 4,00,000 units per annum of which Ford was currently producing a mere 80,000 which is just 20%. It tried to sell one of the manufacturing plants to MG, Tata, VW and Ola Electric but none of the deals went through. Unable to profitably run their business operations in India and no concrete future plans for new products, it became almost impossible to keep operating with such huge losses. After computing all this, Ford finally decided to pull the plug and operate with just the CBUs of cars like the Mustang, the upcoming Mach E and Ranger Pick Up truck.
Also read: Ford Owners Show Love For Brand As Exit News Leaves All Heartbroken