An online post of a Ford EcoSport owner has surfaced where he enquired about Ford leaving India without letting its customers know. This post has been shared on Facebook and the EcoSport owner is left with uncertainty and anxiety. The guy bought the EcoSport in March 2021. He was aware of the news that was going around back then regarding the American carmaker thinking of quitting our market. So he directly contacted the Ford dealership to know the exact situation. He shares the emails as well. The Ford dealership assured him that there was nothing of that sort. In fact, Ford was launching new variants of its existing models. The updated EcoSport was doing the test rounds too. But, the company finally exited the country shortly thereafter.
Also read: First-Ever Ford Endeavour With GIGANTIC 26-inch Rims – This is IT!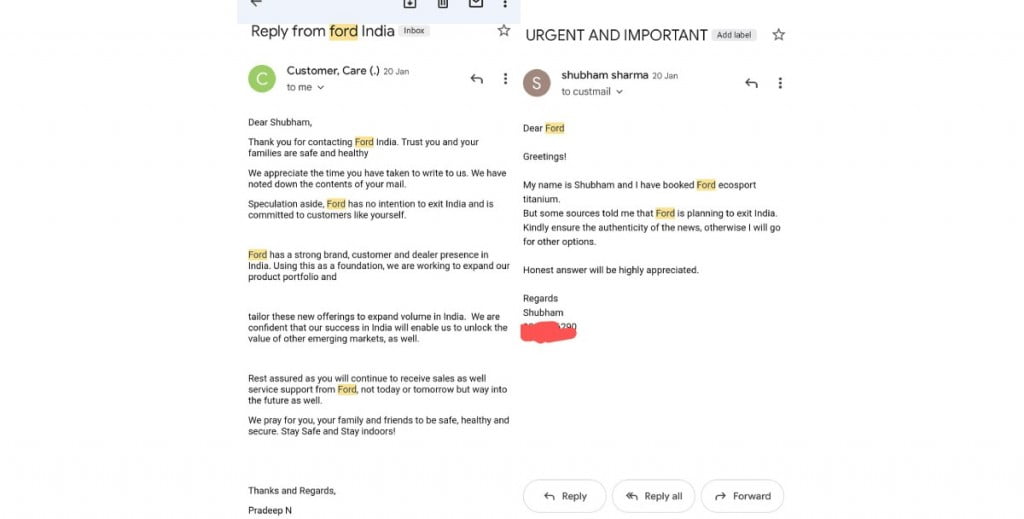 Ford Leaving India Leaves The Customers Feel Cheated
But now when Ford has stopped manufacturing cars in India, the customers are felt cheated. That is the reason why this EcoSport owner shares his plight with the group and asks if he could sue Ford for making false promises. We understand that there are two sides to this story. Ford didn't want to stop production in India. In fact, they tried their best to keep the business alive somehow by selling one of their two manufacturing facilities in India. They went to other OEMs to strike some sort of deal to ease the financial burden and reduced losses. But nothing worked out. In a way, Ford didn't plan this and didn't want the customers to feel that way either. But when there was no option left, it had to stop the bleeding in form of huge losses. Ford reportedly lost $2 Billion in India.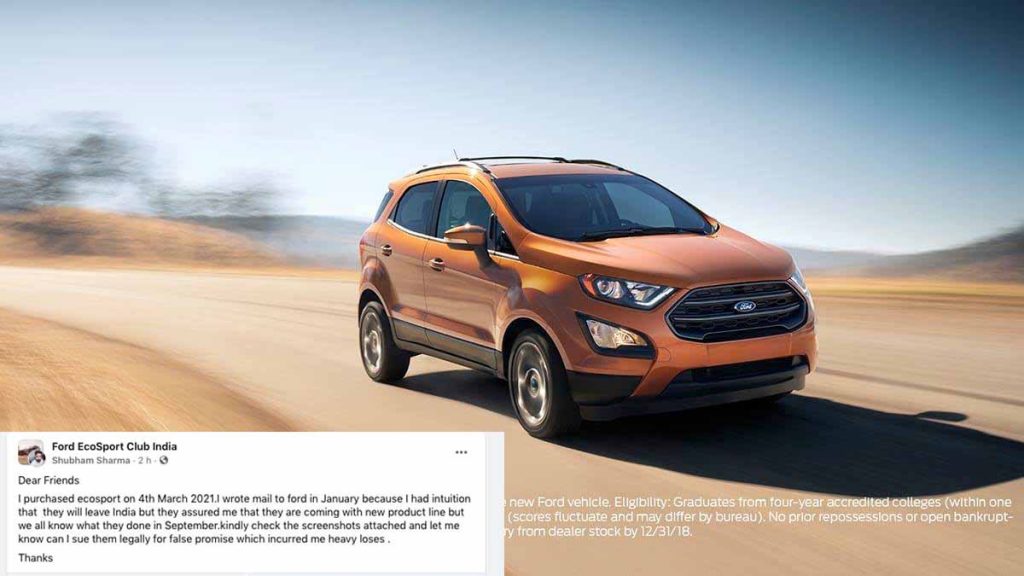 Also read: Crashed Ford EcoSport Hanging From Tree Shows Why We'll Miss It Bad
The customers are also justified in feeling cheated. There are some loyal Ford fans out there who are disappointed with the entire chain of events. Although Ford has promised continuous service and warranty support, the ground reality is a bit different. The smaller dealerships are beginning to shut down completely. If some service centres stay operational, people will have to travel large distances to get the services of their cars done. This is a bit cumbersome which is understandable. But there is no alternative either. We will just have to enjoy this ride while we can with our last Ford products in India. It might be a bit difficult, but we will have to manage with the service centres that are remaining at least for the foreseeable future.
Also read: Were Figo and Aspire Instrumental in Ford India's Failure?