Ford Endeavour and Bentley don't belong remotely close to each other in terms of the segments but this video made us compare their 'performance'.
In this video clip, aftermath of a Ford Endeavour that rammed into a Bentley can be seen and the results are quite surprising. While the Endeavour is a premium SUV of the mass-market space, the Bentley is a luxury carmaker in the high-end segment. The latter costs around 9 times what the Endeavour does. Hence, one would expect the Bentley to perform better than the Endy in most departments. Let us check out what happened when these two vehicles got involved in a bit of a mix-up.
You may also like: New Ford Endeavour in First Walkaround by Indian Vlogger
Ford Endeavour Rams Bentley
The video has been uploaded by Prateek Singh on his YouTube channel. He keeps posting such videos to showcase the performance of cars with high safety ratings. The aim is to raise awareness among car buyers regarding the importance of considering the safety capabilities of a car before making the purchase decision. This incident happened somewhere in Haryana, where the driver of the Bentley had to brake suddenly. The reason is unclear but it is said that a person might have appeared in front of the car. The Endeavour was driving too closely to the Bentley and was not able to brake quickly enough. As a result, the tail end of the Bentley got bruised by the impact from the Endy.
The visuals showcase the damage done to the bumper of the Bentley. It sustained relatively more dent compared to the front end of the Endeavour. This is quite shocking since the difference in the price of the two vehicles is roughly Rs 3 Crore. While we expect the Endeavour to perform better than the Bentley in an off-road environment due to the sheer design and purpose of the Endeavour, the safety aspect of both these vehicles is expected to be top-notch. However, the Bentley certainly underperformed in this scenario also highlighting the build quality of the Endy. That is yet another reason why Endeavour had such an ardent fan following.
You may also like: 2023 Ford Endeavour Lightning e-SUV Looks Future-Proof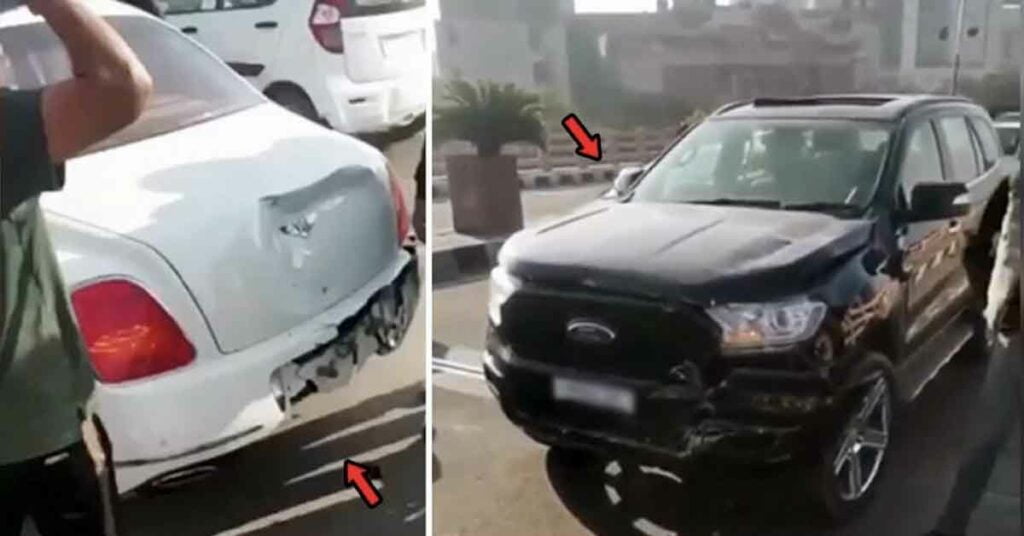 You may also like: This Ford Raptor Lookalike is an Endeavour with Mods Worth Rs 25 Lakh
It is our responsibility to warn our readers of the perils of rash driving. You must always strictly adhere to the traffic regulations and report anyone who breaks them. Driving within the speed limit is the only way to ensure the safety of your loved ones because that is the only way how you could control the undesirable circumstances despite it being not your fault.
Join our official telegram channel for free latest updates and follow us on Google News here.