Updated on 14th March 2012:
Readers who follow us must be knowing that Ford has finally launched the Fiesta Automatic at an attractive price, however what you don't know is that Ford has also removed two variants: Fiesta Trend and Fiesta Titanium from the 2011 Ford Fiesta line-up. But the Fiesta Style and Fiesta Titanium+ variants are still available along with an all new Fiesta Ambiente variant. Interestingly the company has positioned the new Ambiente variant below Style and has also removed some of the features. The most noticeable is the passenger side airbag and music system which are not available in Fiesta Ambiente.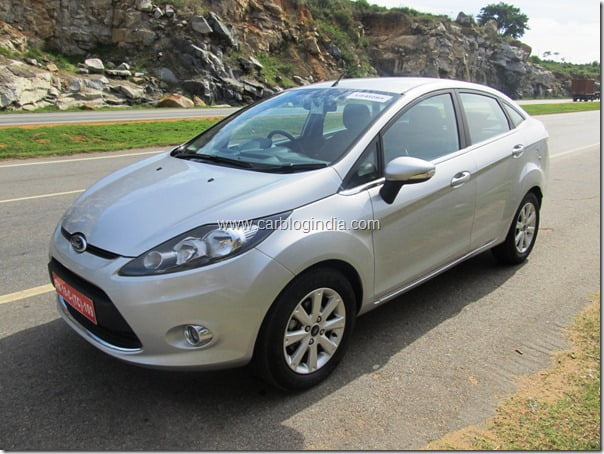 image – 2011 Ford Fiesta
Ford Fiesta Ambiente
This is the most basic variant and as mentioned above, does not come with a music system and passenger side airbag. Rest of the basic features are still available.
Ford Fiesta Style
The Style sits one position above Ambiente and therefore covers all the features available with Ambiente. In comparison with the older Style variant, the Style gets fog lamps, music system, ESP and Cruise Control, the last being completely new for this variant.
Ford Fiesta Titanium Plus
The Titanium sits higher than Style and hence comes with all the features available in Style. Setting it apart from Style is the addition of alloy wheels, electrically adjustable ORVMs and reverse parking sensors.
Fiesta Petrol Manual Variants
Coming to the Manual Transmission, Ford had been offering four different variants: Style, Trend, Titanium and Titanium+. Now that the company has removed some variants, the car is available in two variants only: Fiesta 1.5 P Ambiente and Fiesta 1.5 P Titanium Plus. (Prices Given At The End Of The Post)
Fiesta Petrol Automatic Variants
We have already mentioned the details in the automatic variant launch news but we would mention it once again. Fiesta Automatic is available in two variants: Fiesta 1.5 P AT Style and Fiesta 1.5 P AT Titanium Plus.(Prices Given At The End Of The Post)
Fiesta Diesel Manual Variants
Just like Fiesta Petrol Manual, the diesel version was also available in four variants initially: Style, Trend, Titanium and Titanium Plus but now the company is offering the same in two variants only: Fiesta 1.5 D Style and Fiesta 1.5 D Titanium Plus.(Prices Given At The End Of The Post)
check out more-