Indian roads are quite infamous for being extremely dangerous primarily due to the fact that people don't always follow the traffic rules.
This latest crash (almost) of a Honda Activa and a Royal Enfield reminds us of the perils of driving on Indian roads. Unfortunately, people in India have little regard for traffic and driving rules. In fact, a vast majority of drivers and riders in semi-urban and rural areas of our country are not even aware of a ton of traffic rules due to sheer lack of knowledge. Hence, it becomes challenging, to say the least, to drive on roads with such people around.
You may also like: Young Woman Learning to Ride Honda Activa Crashes Into Temple
You may also like: WATCH Honda Activa Hybrid Kit Installation and Ride Impression
You may also like: Royal Enfield Bullet Tractor is Perfect for Small Farmers
Honda Activa Causes Royal Enfield To Crash
The video has been uploaded on YouTube by a famous YouTuber and an avid rider. He regularly keeps posting content around driving safely on the roads. But this is one of those rare incidents where he is involved in a crash, for no fault of his own. He is riding on a regular road and around 50 km/h. Suddenly, a Honda Activa appears in the front after a blind curve. What is surprising is the fact that the Activa rider was in the wrong lane. His lane was on the other side of the divider which explains why the Bullet rider was not expecting him at all. Additionally, the Activa rider is without a helmet.
You may also like: RE Bullet Hits Maruti Ciaz (ANCAP -4 Star) – Surprising Result
The YouTuber was not able to respond on time although he applied brakes suddenly. This causes the rear tyre of the bike to lose traction and he ends up skidding and falling with his bike right in front of the Activa. Luckily, there was no contact between the two bikes which could have caused physical injuries to one or both of them. The YouTuber got up and another biker helped him pick up his bike. The Bullet experienced a few scratches on the knee-protector, headlamp housing, handlebar and rearview mirror. His leg was a bit bruised too.
You may also like: These Custom Royal Enfield 650 Twins are Sassy Retro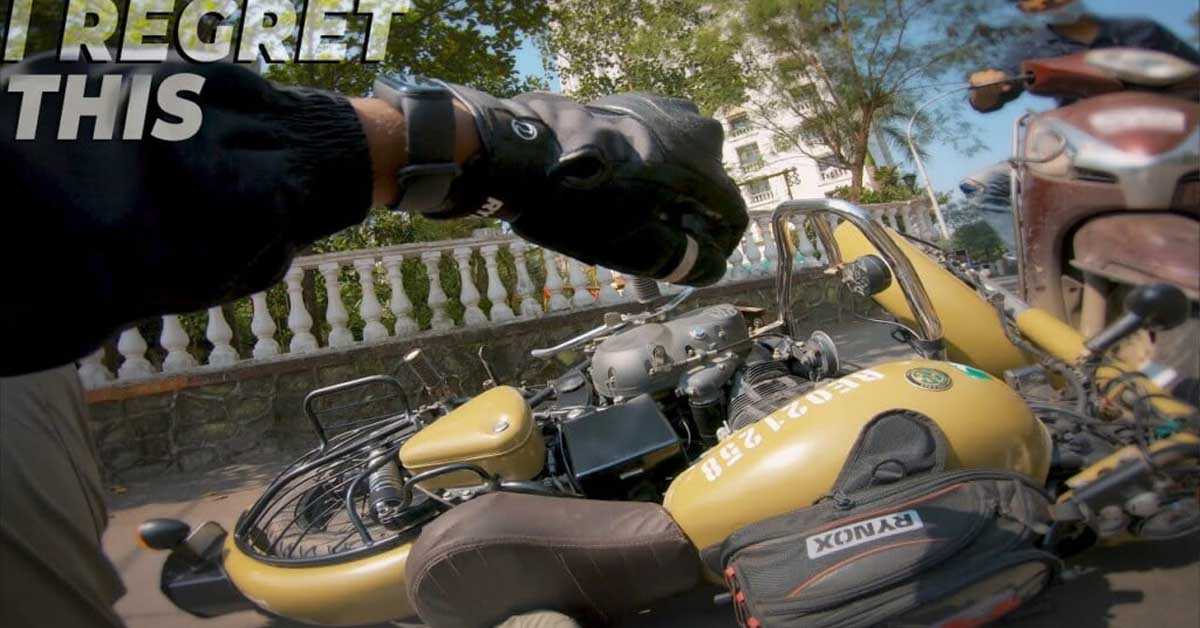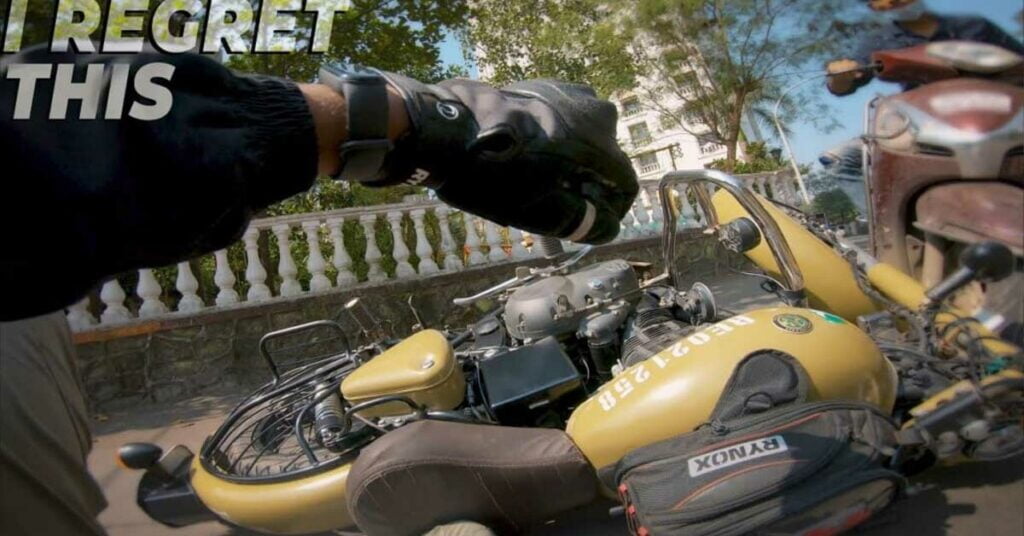 After confronting the apologetic Activa rider he lets him go because he was a courier delivery boy and the scooty didn't belong to him. His company had given him the scooty to carry out deliveries which is why he was afraid that informing the company could cause the damage reparations from his own salary rather than the insurance company. Since the damage was not too much and no one was injured, the YouTuber let him go with a warning. he also got his ABS fixed, which, in hindsight, could be the reason for the bike losing grip. He mentions that we must be ready for such events on the road and never compromise of safety.