Here's a crazy modification job where a Honda Civic has been modified to look the Civic Type-R sold internationally. It does not go as a Civic Type-R but it will surely have your attention when it goes down the road.
The Honda Civic is one of the most iconic nameplates in the Indian car industry and it enjoys a huge cult status. It is also a car that it particularly mod friendly and you will find plenty fine examples of tastefully modified old-gen Civics in India. The new-gen Honda Civic still enjoys an equally passionate fan following. If you are into cars, you'd know that Honda also sells a hot-hatch version of the Civic called the Type-R. We do not get one here in India but that does not mean we cant build one ourselves.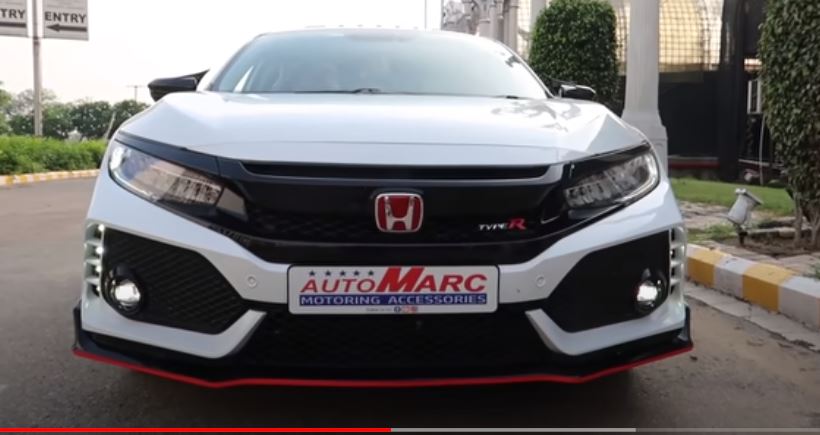 The Honda Civic Type-R is an extremely celebrated car and one that has enthusiasts and critics drooling over it really badly. It's looks may be a little polarizing but somehow it suits the character of the Type-R. And the modified example here has done a sensational job at recreating it. You'd almost be led to believe that this is an import and not modified, except when you look at it from the side and you realize the extra length of the car as the India-spec Civic is sold as a sedan and it's longer than the hatchback-based Type-R sold internationally.
Starting with face, this modified Civic gets very sporty looking bumpers with massive air dams and even a front spiltter and it actually looks very near to the original Type-R. The grille too has been exactly replicated with a blacked-out effect instead of chrome. It even gets the red Honda badge with a 'Type-R' badge on the grille which Honda keeps exclusively reserved for the Type-R variants. The only thing missing here is the bonnet scoop that you find in the original car. The side profile gains some skirts and the alloy wheels get a new dual-tone paint job with stickers for the tires. The rear wheel arches have also been flared for a wider and more squat stance.
Also Read : This is 1959 Royal Enfield Bullet That's Powered by a DIESEL Engine!
The rear is as bonkers as the front. There's a massive wing on the boot lid and the rear windscreen gets a louvered-effect (you must have seen it in a lot of Lamborghinis). The bumper at the rear is equally aggressive with huge air dams (fake of course). There's even a prominent diffuser and faux exhausts that mimic the style of the original Type-R. These are however not functional and only for show. The modified Honda Civic does not use genuine Honda parts but the customization job is near perfect.
Also Read : See Toyota Fortuner And Tata Safari Nailing This Hard Vertical Hill Climb
While this Civic looks like it was meant to demolish lap times, it does go any faster than the stock car. In fact, it will actually be slower owing to all the additional weight. It continues to be powered by either a 132PS 1.8-litre petrol engine or a 120PS 1.6-litre diesel motor. The original Civic Type-R is powered by a 2.0-litre turbo-petrol engine that produces 306PS and 400Nm of peak torque. Power is sent to the front wheels via a 6-speed manual gearbox. Its really a monster. It is quite unfortunate that most manufacturers do not bring sporty iterations of their cars to India. Look at Hyundai's N Line for example or even Honda for the Civic Type-R. Only once was this norm broken when Volkswagen brought in the Polo GTi and we wished Honda did it with the Civic too.