Here is a video by a qualified CA on how to save a ton of money on the purchase of a Rs 47 lakh Toyota Fortuner, or any other car for that matter.
Here is how you could save over 50% on a brand new Toyota Fortuner. In fact, the CA in the video mentions that this technique is applicable to any vehicle. Over the last few months, Toyota has been constantly introducing new variants of the Fortuner and the prices of the popular SUV are climbing up rapidly. The customers are looking for some sort of relief, which is where this video becomes relevant. However, you need to research a bit about the taxation terminologies to fully understand the concept or hire a CA that could help you with these.
You may also like: 2010 Toyota Fortuner Modified to 2022 Legender – VIDEO
You may also like: Now Toyota Fortuner Owner Tests Safety by Hitting and Banging Doors
How To Save 50% On Toyota Fortuner
The CA explains some specific concepts which could save you over 50% if you are a businessman. But if you are a salaried employee, you could still end up saving over 30% on the price of any vehicle. To start with, the YouTuber has taken the example of a Toyota Fortuner with an on-road price of over Rs 47 lakh. On this, the dealerships pay around Rs 39,000 TCS (Tax Collected at Source). This is one component that the car buyer could get back because TCS has to be paid by the seller and is included in the cost of the car.
You may also like: Watch Toyota Fortuner vs Ford Endeavour in Water Race!
Then, you could avail benefits on the payment of ITC (Input Tax Credit) which doesn't become part of your expenses. In essence, it refers to the amount you pay as Tax in advance and could be reduced from the total income at the end of the year. To become eligible for this, you must use the vehicle for a) Supply like the dealership, b) Commercial transport or c) Driving School. In the best-case scenario, 42% of the ex-showroom amount can get refunded in form of depreciation over the years of owning the vehicle.
You may also like: Jeep Meridian vs Toyota Fortuner Comparison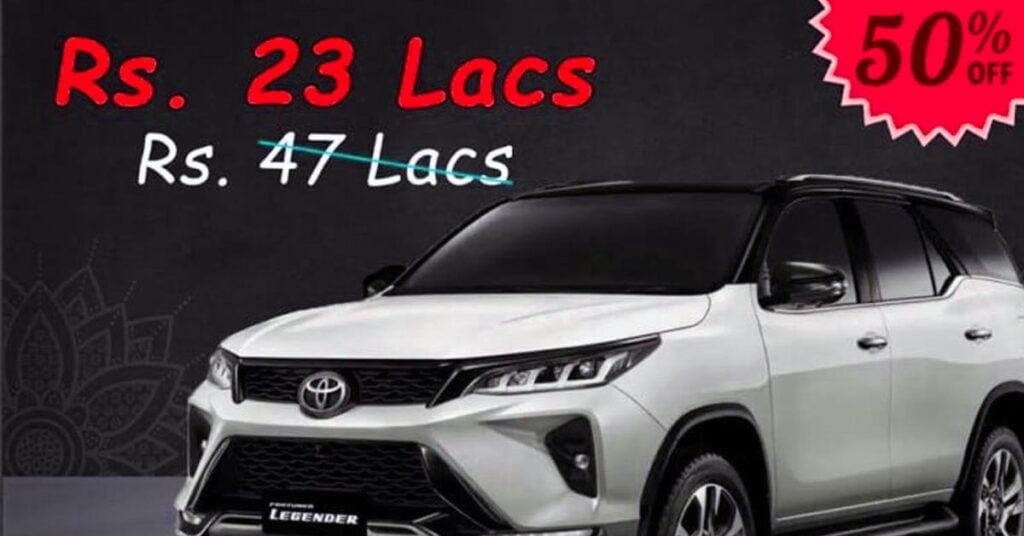 However, if you are not eligible for this and earn above Rs 10 lakh as a salaried employee, you could get a 31% rebate on the taxes in the form of depreciation. This means that depending on your tax slab, you are capable of saving anywhere between 31% and 51% of any new car you purchase if you follow these simple tax regulations.
Join our official telegram channel for free latest updates and follow us on Google News here.