There are a ton of accidents that happen on the roads due to the fault of no one and this is one such case.
In this latest crash, a Hyundai Aura and Maruti Celerio was seen buried after a bridge breaks. This is one of those incidents that occur due to poor engineering or the use of low-quality materials in the construction of the highways. It is unfortunately not uncommon in our country that roads, highways or bridges collapse suddenly due to poor quality of construction. However, it is the common man that ends up paying the ultimate price. Here are the details of this case.
You may also like: Maruti Celerio Washed Away in Jodhpur Flood Shows Wrath of Nature
You may also like: Mahindra XUV700 Running with Cruise Control Set at 78 km/h Crashes, Keeps All SAFE
Hyundai Aura and Maruti Celerio Buried After A Bridge Breaks
This video has been uploaded by Prateek Singh on YouTube. He regularly posts such content in order to raise awareness among Indian car buyers about the importance of buying cars with high safety ratings and how well they perform in real-life situations. As per the information in the video, this incident has been reported from Bhawanipatna, Odisha. In the video, two cars are seen buried in the rubble caused by the collapsed bridge. An entire chunk of the bridge suddenly broke and engulfed the two cars that were there at the time.
You may also like: New Maruti Celerio Spied with Weird Camouflage, Tour H2 Taxi Model?
When these vehicles are taken out, the damage becomes evident. Since the cars ended up head-first into the gorge created by the breaking of the bridge, the front fascia including the bumper, bonnet, windshield, etc. is considerably damaged. Thankfully, there were no injuries to the passengers in either car as the distance of the fall was not too much.
You may also like: Why is Media Not Reporting Ambani's Ferrari SF90 Stradale Crash?
In such cases, one can't really do anything about it. These are engineering or construction errors and the road pliers have to take the fall for it. We can only hope that the government and concerned authorities take cognizance of the matter and share responsibility. Also, the contractor who built this bridge must be held accountable and appropriate action must be taken against him/her. What do you think about this?
You may also like: Leopard Gets Stuck In Maruti Celerio, Breaks Free at Last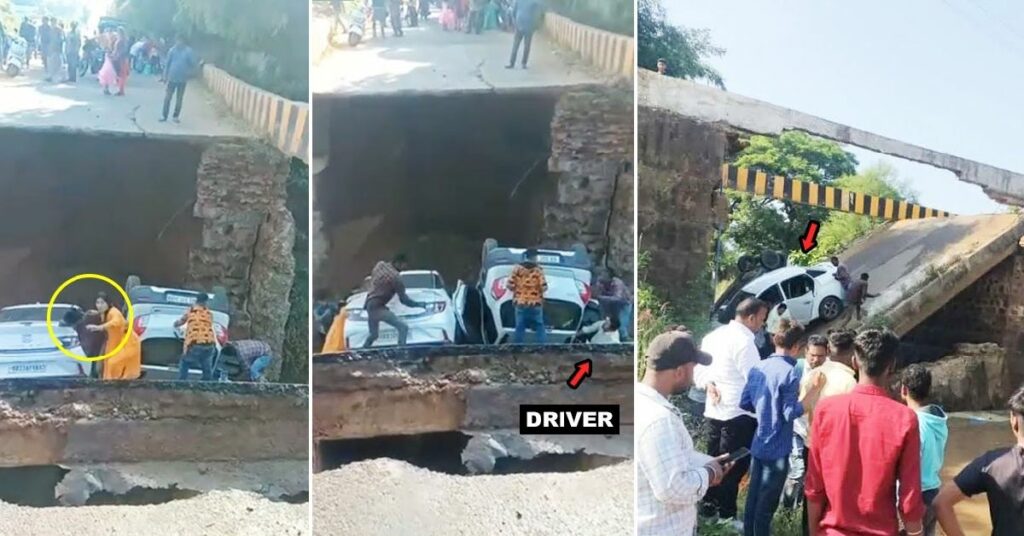 Disclaimer- The embedded videos/ external content is/are being used as a convenience and for informational purposes only; they do not constitute an endorsement or approval by Car Blog India of any of the products, services, and /or opinions of the corporation or organization or individual. Car Blog India bears no responsibility for the accuracy, legality, and/or content of the external site or for that of subsequent external videos/ external content. Contact the external publisher for answers to questions regarding its content.
Join our official telegram channel for free latest updates and follow us on Google News here.