Hyundai Motors India Limited, India's second largest car maker is gaining pace quite well. The largest car maker Maruti is going through a relatively tougher time as it has just recovered from labour unrest and has been reporting negative growth in sales for past two months. Coming back to Hyundai, it has shown good positive growth in November 2011 after a mild 5% dip in October 2011. Hyundai is back on track again and with a strong overall sales number of 57080 cars in November 2011 including domestic and export sales compared to sale of 44540 cars in November 2010. The interesting part of the sales number is that 85% of the total sales number of Hyundai cars comprises of small cars of A2 segment including newly launched Hyundai Eon, Hyundai's well known and reliable Hyundai Santro, Hyundai i10 and Hyundai i20 with a total sales number of 48,732 cars !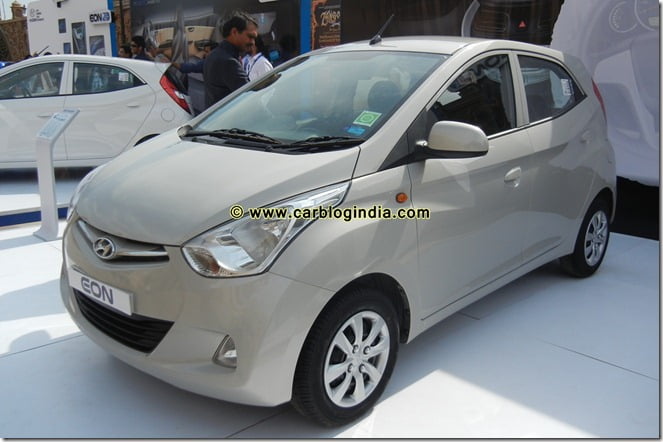 image- Hyundai Eon small car India
With a high number of sales in the small car segment, it appears like Hyundai has manages to attract many small car buyers from buying Maruti's small cars with longer waiting periods because of production disruptions at Maruti's plant. Also newly launched Eon has the potential to attract many Maruti Alto's customers towards itself with a lot of features and better visual appeal to offers, but it does cost more, so its not a very tough competitor since the price advantage still remains with Maruti Alto with a long history of reliability and good resale value. Also read – Hyundai Eon Vs Maruti Alto– Which Is a Better Small Car And Why?
Hyundai has recorded a 10.9% jump in domestic sales in a difficult market. Exports have climbed 69.8% taking aggregate growth for the month to 28.1%. HMIL's domestic sales for the month were 35,000 units against 31,540 units in November last year; exports were 22,080 units against 13,000 units in the corresponding month last year. HMIL's aggregate sales for the month were 57,080 units against 44,540 units in November 2010.
Commenting on the November 2011 sales, Arvind Saxena, Director Marketing and Sales, HMIL said, "In a challenging market we have been able to grow volumes and market share on the strength of our new launches – Hyundai Verna Fluidic and Eon. Our immediate outlook on the market is not too bright as interest rates and fuel prices are unlikely to soften in the forseeable future."
check out more-