Awarded the UK Car of the Year award recently, the Hyundai Ioniq 5 was recently spied on a flatbed in West Bengal
The Hyundai IONIQ 5 is a much-awaited electric car in the Indian market. The Kia sibling strengthens the company's presence in the Electric mobility segment. The upcoming car is expected to come with a sleek and sophisticated look. Now, import units of the Ioniq 5 have been spotted mid-transportation on the NH2 (near the Burdwan District, West Bengal). Since eastern India is connected to some of the neighboring landlocked countries, it gets to witness multiple new car models before official launches as they're often transported to these nations. Let's take a look at the upcoming electric car from Hyundai.
You May Also Like: 5 Best EV Design Concepts That Are Just Production-Ready – Kia, Hyundai, Honda, Tata!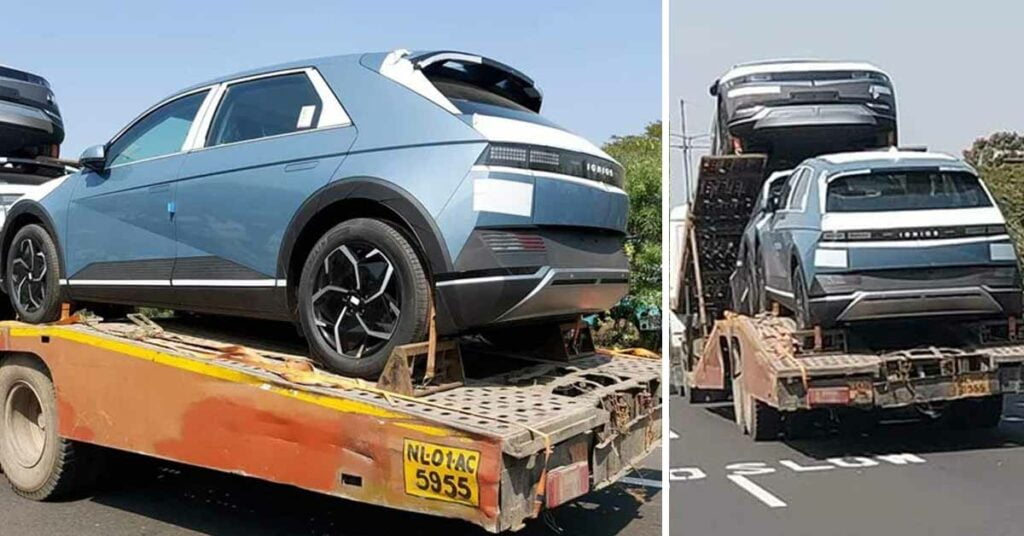 You May Also Like: Hyundai Kona Platform Could Spawn More Electric Vehicles
As you can see from the images above, the Hyundai Ioniq 5 electric car looks retro-futuristic look. You can see a Sly Blue theme with White highlights and a Black pattern. The stylish alloy wheels feature a Black and White design. The new EV features a beautiful design with a modern body type. It features clean and sharp lines. Additionally, the Hyundai IONIQ 5 comes with aero-optimized 20-inch wheels and an array of pixel-inspired lights on the front end. Overall, the upcoming EV carries the best of Hyundai's design language. It will be joined by many new electric cars from the company, likely to include Venue Electric, Creta Electric, and more.
You May Also Like: Kia Sonet Buyer Cancels Booking and Buys Used Ford Ecosport Instead
You May Also Like: Hyundai Suspends Dealership Staff Who Thrashed Creta Owner
The Hyundai Ioniq 5 electric car was globally launched last year. However, it has received a new facelift. The electric SUV is based on Hyundai's Electric Global Modular Platform (E-GMP). It is powered by a 77.4 kWh battery pack and has over 500 km of range. Additional features on the new model include optional digital mirrors (including a Digital Centre Mirror (DCM), Smart Frequency Dampers (SFD), and more. In India, the company is expected to bring the Hyundai Ioniq 5 through the CBU route. This might lead to a premium price tag (thanks to the duties and taxes).
Join our official telegram channel for free latest updates and follow us on Google News here.