Election Commission has sacked an IAS officer for a publicity stunt. He had shared a picture with the official Toyota Innova Crysta online.
Gujarat is heading towards an intense election event. The polls for a new government will take place on December 1 and December 5. The Election Commission is back in full swing and officers are being appointed for election duties across Gujrat. As expected, the election body is under huge pressure and not tolerating any irresponsible behavior. One IAS officer has fallen on the wrong side of the Election Commission. A couple of pictures with a Toyota Innova Crysta government vehicle on social media have led to his being sacked. Let's take a closer look at this incident:
You May Also Like: Swiggy Delivery Agent Waits in Rain at Traffic Lights, IPS Officer Shares Video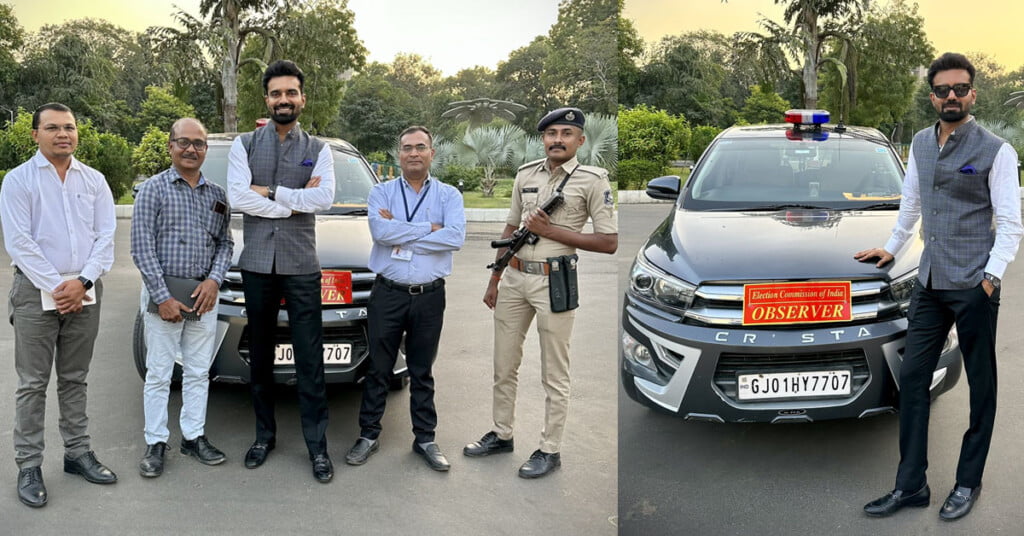 You May Also Like: WATCH Truck Driver Take Revenge From Corrupt Police Officers
IAS Officer from UP-Cadre
Abhishek Singh is an IAS officer from UP-Cadre. He was appointed as the Observer for Gujarat elections in the Bapunagar and Aswara constituencies of Ahmedabad. However, he has now been sacked from election duty. Allegedly posting pictures with a government vehicle on social media was cited as the reason. The IAS officer posted a couple of pictures with the official Toyota Innova Crysta (with an Observer board in the front). These images were noticed by the Election Commission and immediate action was taken against the officer.
Mr. Abhishek Singh shared two pictures on Instagram and other social media platforms with the tagline "Joined Ahmedabad as Observer for Gujarat Elections #Election2022 #GujaratElections2022#NoVoterTobeleftBehindNovember." In one picture, the IAS officer is posing next to the Toyota Innova Crysta. In the other picture, he can be seen with three other officers and security personnel. The Innova Crysta is in the background. Both these pictures were seen as inappropriate by the Election Commission.
You May Also Like:This Act of Police Officers Will Restore Your Faith in Humanity
Took Advantage of Official Position
The Indian election body maintains that Mr. Abhishek Singh took advantage of his official position to pull a publicity stunt. He has been immediately removed from his duties as General Observer for Gujarat elections. In fact, the IAS officer has been debarred from any kind of election-related duty till further orders. Additionally, the Election Commission had asked the officer to leave the constituency immediately. He is required to report to his parent cadre (Uttar Pradesh). All the government facilities including the Toyota Innova Crysta have been taken away from the officer.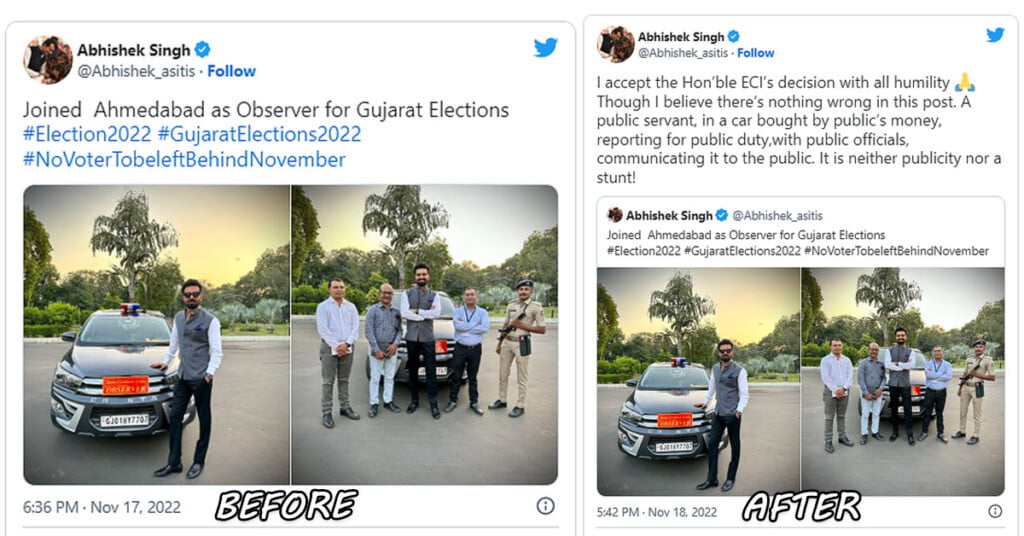 Responding to this incident, the Gujarat chief election officer has stated that all actions have been taken in accordance with Election Commission's guidelines. The election duties have now been handed over to another IAS officer (Krishan Bajpai). Mr. Abhishek Singh has also responded to the election bodies ruling on Twitter. "I accept the Hon'ble ECI's decision with all humility Though I believe there's nothing wrong in this post. A public servant, in a car bought by public's money, reporting for public duty, with public officials, communicating it to the public. It is neither publicity nor a stunt!" he posted.
One should note that the Election Commission of India is an autonomous constitutional authority. It has been responsible for conducting fair Union and State election processes in India. This includes elections to the Lok Sabha, Rajya Sabha, and State Legislative Assemblies. Even the elections for the offices of the President and Vice President are handled by the election body. Since elections are an essential part of democracy, the Election Commission is quite strict about the rules and regulations. The above-mentioned actions are often taken to set an example and avoid any controversy during the upcoming elections.
The results of the Gujarat elections would be declared on December 8.