A video that went viral recently shows a Swiggy delivery boy on a motorcycle waiting at a traffic signal in heavy rain
A food delivery agent's job is often not just among the most underpaid ones but even something that's mostly underappreciated by most. It's not uncommon to see Swiggy and Zomato delivery agents zipping through traffic recklessly just to deliver on time and earn a high rating. In spite of all the risk that comes from overspeeding, cutting through lanes, jumping lights, etc, some users of these apps create a fuss for a delay of a few minutes. In fact, even these companies don't recognize the effort put in by their employees. Something similar came to light recently when a video of a Swiggy delivery boy waiting at a traffic signal under heavy rainfall went viral.
You may also like- Full SUV Collection of KN Nehru, Politician Owner of India's 1st Land Cruiser LC300
You may also like- Brick Wall Collapses On Fortuner and Pajero, Shocking Difference in Damage
The sight of the Swiggy delivery boy getting completely drenched in heavy rain saddened many netizens. While thousands offered their sympathy, some even called out the food delivery giant for not caring enough for their delivery partners. As can be seen in the video, the delivery agent doesn't have a helmet or a raincoat and he waits helplessly for the signal to turn green. What's even worse than being underpaid or underappreciated is the fact that the boy is seen risking his health and safety. Sharing the video, IPS officer Dipanshu Kabra wrote: "Unfortunately, in Swiggy only 5 stars can be given. Crores of stars are also less for such a conscientious and hardworking employee."
In response, Swiggy said, "We value the efforts of all our delivery partners, including this executive from Vijayawada. Their safety is of utmost importance to us and we take multiple measures to ensure they are weather ready across the year." However, soon, a Twitter user pointed out that Swigy charges Rs 300 to its delivery boys for a raincoat. This raincoat advertises the company even though the delivery boys have paid for the protective gear.
You may also like- India's Longest Truck Has 148 Wheels, Moves With Mahindra Xylo Escort Vehicle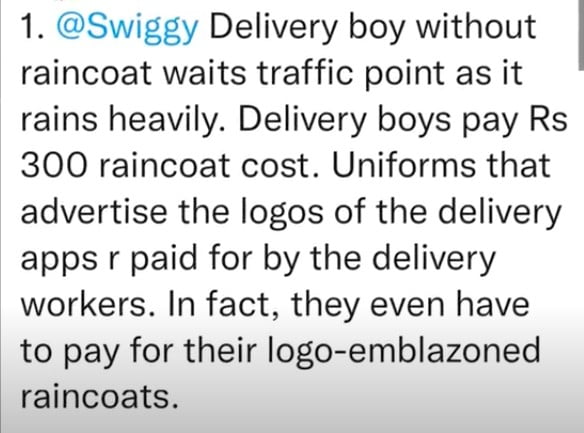 You may also like- 10 Famous TV Stars And Their Cars – Krushna To Urfi Javed
The video shared by the IPS officer has garnered over 5 million views and thousands of comments. The short clip has left many netizens saddened by seeing the plight of the delivery agent. Many commented 'respect' and 'salute', while others said things like: "Life is not easy for middle or lower class families"; "I am feeling his pain"; "Yes really. Hard work is not a joke" and "Thank u all delivery boys for making us happy with delicious food."
Join us for FREE NEWS Updates on our Whatsapp Community or our official telegram channel.