A team of more than 20 officers of the Indian Army have embarked on a journey on Ola S1 Pro electric scooters from Kasauli to higher regions of Shipki La
A team of over 20 Indian Army officers have kickstarted an all EV ride on Ola S1 Pro scooters from Kasauli to the higher areas of Shipki La. The bravehearts will ride for over 5 days and conclude their journey at Kinnaur on June 8, 2022. Dubbed 'Surya Electric Scooter Expedition', this ride will see the much talked about electric scooter take on challenging terrains to conquer the finest peaks through this journey.
You may also like: Honda Activa User Books Ola S1 Pro, Cancels It- Read Why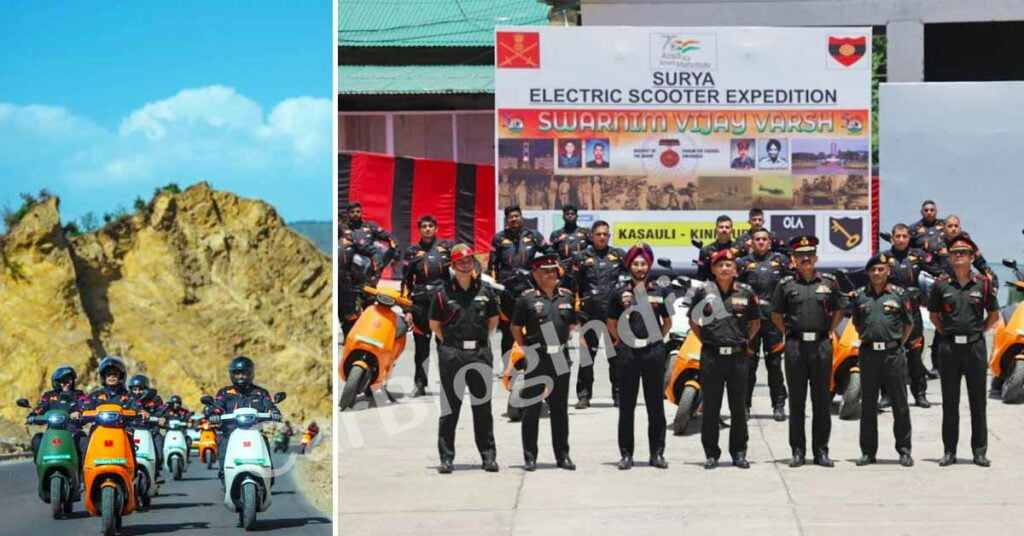 You may also like: 3 Ola S1 Pro Front Suspension Failures Reported in 45 Days
Ride to Establish Reliability of EVs
Reacting on the flag-off, Bhavish Aggarwal, CEO, Ola Electric, Tweeted," Feeling really proud today, the Ola Scooters have set off on the first ever EV ride with the bravest hearts, the Indian Army! The route, the company and the ride, I'm missing it all." Meanwhile, the official Twitter account of the Surya Command posted – #IndianArmy #InStrideWithTheFuture An e-Scooter rally from Kasauli to Shipki La was flagged off by GOC-in-C, #SuryaCommand. The Surya Command Team led by Capt V Rana with 11 soldiers will traverse the tough terrain from Kasauli, Karcham, Ropa to Shipki La (13000 ft)." Another Tweet read- "Contributing to the vision of clean energy, the rally will also establish the reliability of electric vehicles & the spirit of sustainable adventure."
You may also like: Ola CEO Bhavish Aggarwal to Elon Musk: Thanks, But No Thanks
The latest association between the Indian Army and the Ola S1 Pro comes at a time when the latter is under the limelight for questionable reliability and poor quality control. Multiple incidents of broken front suspension and electronic malfunctioning that were reported in the last few weeks have created some negativity around the product.
You may also like: Ola S1 Pro vs KTM Duke 390 Drag Race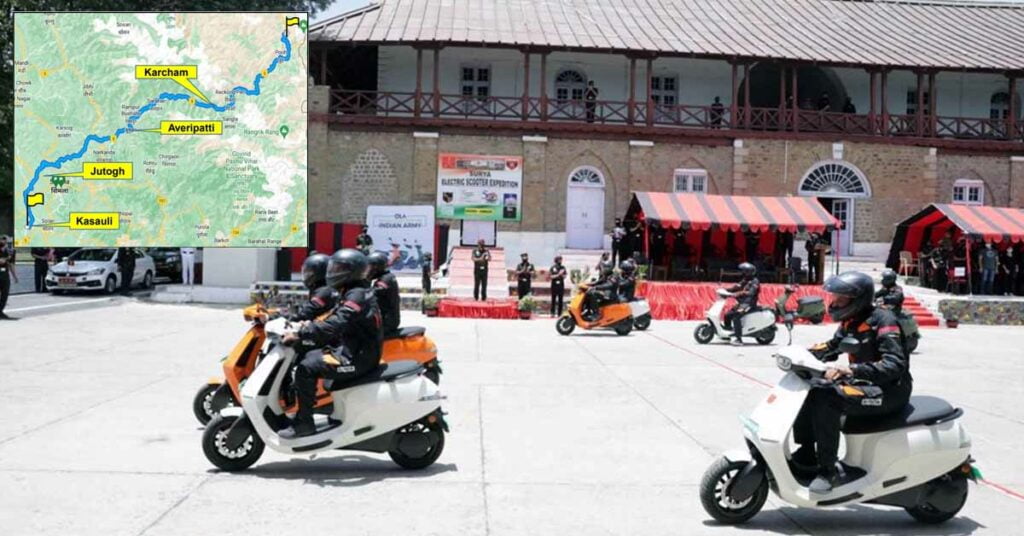 You may also like: Ola Electric CEO Engages in Twitter Spat With Autocar Editor Over Faulty Scooter
Ola S1 Pro Specs
The Ola Electric scooter carries a 3.97 kWh battery pack. It gets its juice from an 11.4hp-58Nm electric motor that can propel the EV from 0-40 km/hr in just 3 seconds. The electric scooter has a claimed range of 181 kilometers. However, some users have managed to cross the 200 km figure after updating to the latest OS. The scooter has a top speed of 115 km/hr while it comes with three riding modes – Normal, Sport, and Hyper. One can charge the EV completely through a 750W charger in roughly 6 hours 30 mins. You can get up to 75 kilometers of range in just 15 minutes of charging. The running cost of this electric scooter comes out to be a mere Rs 0.10 per km as per the current electricity rates in Himachal Pradesh.
Join our official telegram channel for free latest updates and follow us on Google News here.