Back in 2018, Tata Nano Electric or the Jayem Neo was expected to soon hit the Indian roads. The initial batch of 400 cars was to be sold to cab aggregator Ola
Despite the petrol version of the Tata Nano not doing quite well in the Indian market, it is likely that the small hatch will live on. Jayem, a Coimbatore based company is currently working on an electric version of the Nano for the Indian market. To be called the Neo and sold under the Jayem badge, the electric vehicle is expected to reach Indian roads within the next couple of months. Reports suggest that the first batch which consists of 400 of these cars will be sold to Ola, the cab aggregator for its Hyderabad fleet operations. Yes, you heard it right, at the moment, the Tata Nano electric will only run as a commercial vehicle and will not be available for private use.
You May Also Like: Mean Green Tata Altroz with Wide Body Kit Is A Proper Track Tool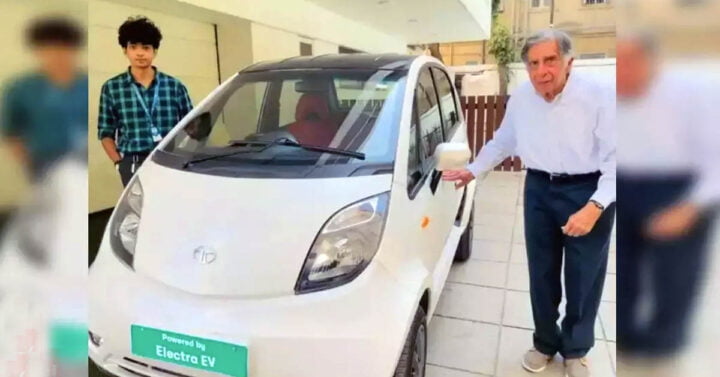 Tata Nano Electric Launch Date
The launch of the Neo was to happen in mid-2018. It was being even said that the electric Tata Nano aka Jayem Neo would be available pan-India by Diwali of that year. The Coimbatore-based company was to supply 400 units of this car to Ola Cabs, the popular cab aggregator, on the day of the launch. However, as Tata Motors absorbed Jayem and gave up on the Nano project, the entire electric car plan got shelved. Now, though, Rata Tata has been seen checking out an electric car developed by Electra EV.
You may also like: Tata Altroz Goes Out of Control Inside Showroom, Crashes Into Customer
Electra EV was founded by Ratan Tata himself and the Pune-based electric vehicle startup develops electric powertrains, battery systems and other EV components for Tata Motors. Although there has been a huge push to faster adoption of EVs in recent times, it looks like many might want to retrofit electric powertrains in their old CE vehicles instead of going for new ones. This is especially true in Delhi-NCR, where the life of ICE cars has been reduced to 10 years for diesel and 15 years for petrol. Even Electra EV will soon release its electric car conversion kit that will enable many car users to switch from ICE to electric while retaining their current vehicle
Tata Nano Electric Price in India
While the official price list for this conversion kit will out only on the day of its launch, speculations are rife that this kit will cost roughly Rs 5 lakh. At this price point, it could be a bit costly to convert small cars like the Nano to EVs but it's still a huge step in the right direction for quick adoption of electric vehicles. It must be noted that earlier, the Nano-based hatchback from Jayem was supposed to become the cheapest four-seater electric car in the market. While the electric Nano would have sold as the Jayem Neo, Tata Motors was expected to launch its own version at a later stage. All of this, however, never actually happened with the entire project being called off.
You may also like: Tata Altroz MPV Looks Ready to Take on Maruti Ertiga
Tata Nano Electric Specifications
Cosmetically, the Tata Nano Electric created by Electra EV looks similar to the regular Nano. However, inside, it has been fitted with a 72V battery pack. Details of the motor and performance figures have not yet been shared. However, it must be noted that Electra EV offers a huge range of battery ranging from 48V to 750V. These battery packs have been tested as per AIS 048 standard and even certified by ARAI.These packs can operate in a wide range of temperatures ranging from sub-Zero to over 55 degree celsius. The battery packs from Electra EV are already being used in the Xpres-T EV, which is nothing but an EV based on the Tigor. It has been in use in the fleet market.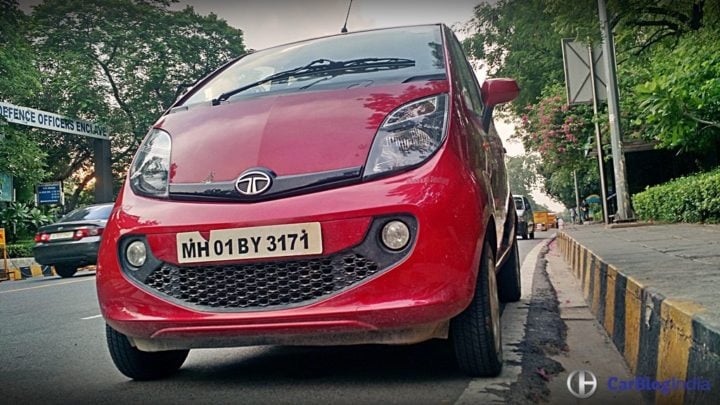 You may also like: Tata Altroz Has a Huge Crash But Airbags Don't Deploy
Meanwhile, powering the Jayem Neo aka Tata Nano Electric was to be a 48-Volt electric motor that was to output 23 bhp of maximum power. The new model was likely to have a kerb weight of roughly 800 KGs. The petrol-powered Nano, which came with a 623cc twin-cylinder engine, weighed upto 765 KGs. The Nano Electric would have offered an ARAI-rated range of 200 KMs on a single charge. With four passengers and air-conditioning, the Electric Nano would have offered a range of 140 KMs.
Features
The exact features list of the Jayem Neo was never made available but it was pretty much for sure that the Neo would offer most of the features that are available on the Petrol-powered car. The same can be found even on the Nano Electric developed by ElectraEV. These include –
Electric power steering
Air Conditioner
Front Power Windows
Central Locking with Remote
12V Power Socket
Bluetooth
AUX-in
Multi-Information Display
Metallic Paint Options
Design
As Tata Nano EV developed by ElectraEV is based on the Nano, it's pretty unsurprising to see the car looking close to its ICE sibling with exactly the same body panels. There have been absolutely no changes in the styling as compared to the facelifted Nano that was available in the market and overall, the new model looks much like a regular Nano. The same was the case with the Jayem Neo, where the only difference was that there wasn't even a single Tata badge; the Neo had Jayem badges instead along with an Electra EV insignia for the electric power system. Also, the first batch of the EV was expected to wear OLA decals as the initial 400 units were to be supplied to the cab aggregator.
So, what are your views on the Tata Nano electric? Do you think the Nano EV can help the carmaker achieve higher sales? Will you buy the electric version of the Nano at a price of roughly Rs 5 lakh? Stay tuned to CarBlogIndia for more electric cars in India.
Join our official telegram channel for free latest updates and follow us on Google News here.