The Indian automobile market is witnessing an exponential rise in aftermarket electric powertrain installation on regular bikes. This is yet another addition to that list.
Converting a KTM Duke into an electric bike has made it an extremely powerful motorcycle. Aftermarket electric powertrain installation is gaining popularity in the face of high initial prices of EVs. People are finding it much more affordable to convert their old bikes into electric bikes, rather than buying a new one. Also, the astronomical prices of fuel are driving people towards alternative fuel-powered engines. The prices of petrol and diesel will keep on increasing with time. Let us check out the details of this aftermarket installation on a KTM Duke.
You may also like: Honda Activa Petrol-Electric Hybrid Offers Ultra-Low Running Costs
You may also like: WATCH India's First Bajaj Pulsar Electric Review Video
KTM Duke Electric Bike
The YouTuber records the entire installation process. The engine of the bike, along with the rear tyre is removed. The 4000 W electric motor is mounted on the wheel hub. The necessary electrical connections are fitted. The next phase includes the development of a customised battery pack. For this, the YouTuber had brought a pack of cells and arranged it into a module. Then he makes the housing for the battery pack which is positioned in place of the engine. After a few installation steps, the powertrain has been completely integrated into the bike.
What is interesting is the fact that the real-time parameters of the powertrain are monitored through an app. He takes the bike for a test drive and the driver information is displayed on the screen. Interestingly, the bike achieves a top speed of 121 km/h. The driving dynamics of the bike are not altered all that much and the rider takes the electric bike across various road conditions. In the Eco mode, one could squeeze out the maximum range of 130 km. In the Sport mode, this range is reduced to 80 km but it is a significant enhancement in the performance.
You may also like: Bajaj Avenger Petrol-Electric Hybrid Modification Costs Just Rs 28,000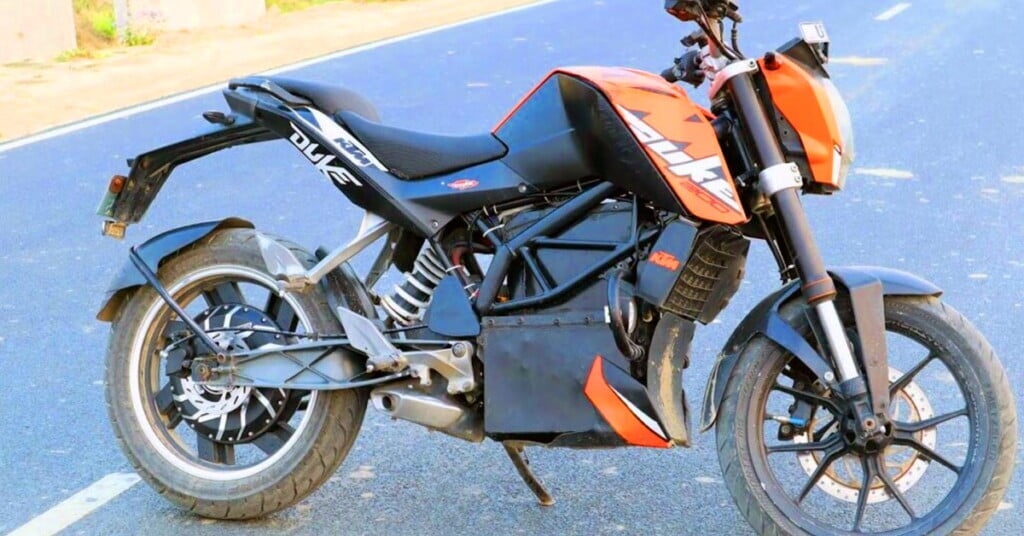 You may also like: FuelX Pro for KTM Duke 390 Enhances Performance at Just Rs 9,990
Such aftermarket, the easy-to-install electric kit has been gaining popularity and many new players are developing such options. The life of an old bike is increased using this method and the fuel and the maintenance costs are reduced drastically. Let us know if you would like to convert your regular motorcycle into an EV with this technique?
Join our official telegram channel for free latest updates and follow us on Google News here.