We have seen videos of some tourists doing weird activities in Ladakh attracting legal action and this incident features in that list too.
In a disheartening incident, Ladakh Police fines a couple performing off-roading in their Toyota Fortuner on the dunes of Ladakh. The couple was travelling from Rajasthan when they ventured into the sand dunes of Hunder village in Nubra Valley. This is, unfortunately, not the first time tourists have caused a ruckus in the desert valley of Ladakh as a video of an Audi from Haryana being driving inside the Pangong Lake went viral a while ago. The local Police had to intervene and fine this shameful act.
You may also like: This 3-Door 4×4 Toyota Fortuner Is Unlike Anything You've Ever Seen
You may also like: Here's How to Save Rs 24 Lakh on Rs 47 Lakh Toyota Fortuner
Ladakh Police Fines Toyota Fortuner
According to the information shared in the video, the couple was travelling from Jaipur in the Ladakh region. Near the Hunder village, they decided to leave the main road and perform stunts in the sand dunes. However, such activities have been banned by the local administration. There are a ton of reasons for this. The tourist might not know that such activities cause ecological damage to the topography and local flora and fauna of the place. Ladakh is home to a ton of species and pristine lakes which are destroyed by such reckless acts.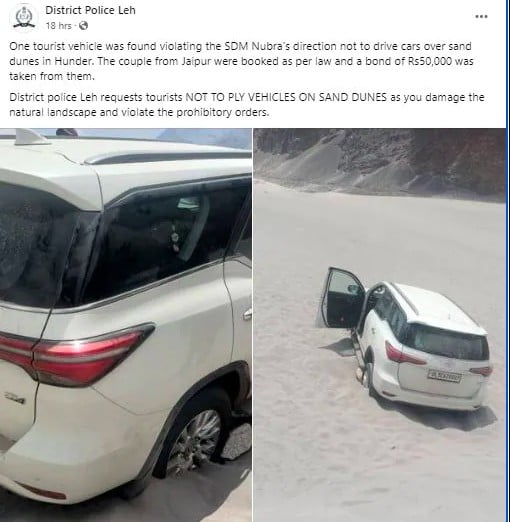 You may also like: 2010 Toyota Fortuner Modified to 2022 Legender – VIDEO
In accordance with the local law and SDM Nubra's direction, the couple was booked and fined Rs 50,000 for damaging the local landscape and violating the prohibitory orders. These things need not be explained but should be understood that the mountains are pious and beautiful because of the natural landscape and untouched ecology. If people start taking their cars into clean lakes and off-road, it won't be long before mountains will lose their charm. We already see this happening in many Himalayan villages that have been converted into trash valleys with all the plastic and waste materials dumped on the sides of the roads.
You may also like: Man Stands On 2 Moving Toyota Fortuner SUVs, NABBED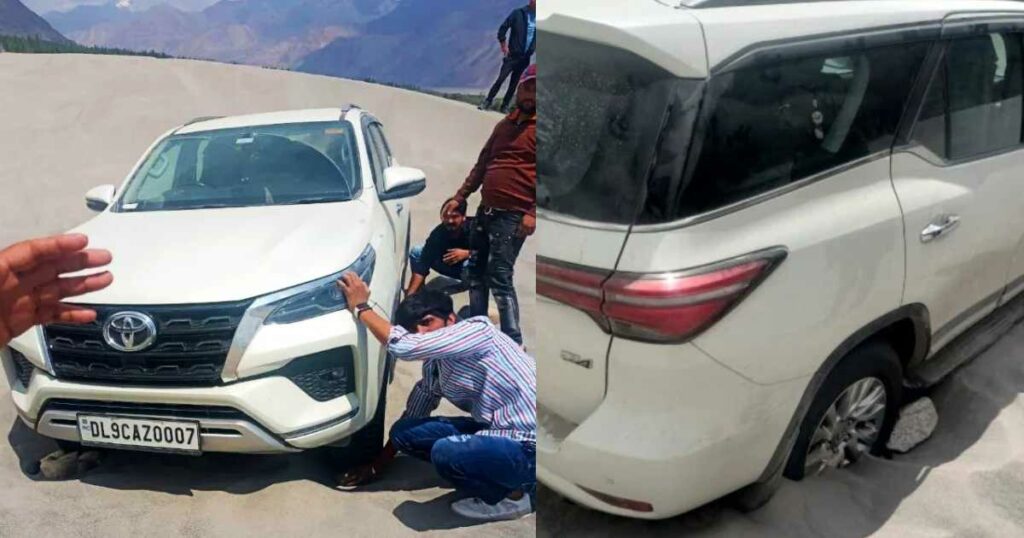 We could only urge our readers to be responsible travellers and respect the local traditions and rules of any new place you visit. You must travel to various places in India to learn about new areas, cultures, traditions, meet the locals, relax, etc. But you must keep the locals' living in mind as well. Because you might come back in a few days, but the locals live there and you must ensure that you don't leave behind the place in a worse condition than you found it.
Join our official telegram channel for free latest updates and follow us on Google News here.