We have compared the Quanto with the Duster and Ertiga solely because of its body type, but if we look at the dimensions of the car, especially its length, it can be compared with another best seller. We are talking about the 2012 Maruti Swift Dzire which may not belong to the segment of the Quanto, but is considerable because of its sub-4 meter body type and the pricing of Dzire Diesel and Quanto are interestingly similar. So in this article, we do a detailed comparison of Mahindra Quanto Vs Maruti Swift Dzire. Also read – Mahindra Quanto Vs Maruti Ertiga and Mahindra Quanto Vs Renault Duster.
So Quanto and Dzire 2012 are both well priced and are compact, but which of the two suits you more? Let us find that out.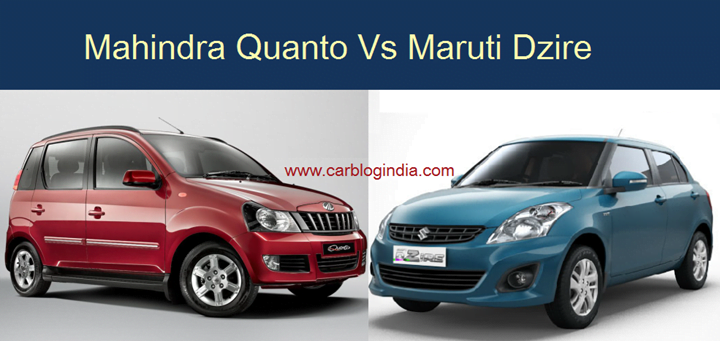 Exteriors Comparison
This is one of the most difficult sections of the comparison as the exterior of the two cars are entirely different, owing to their body type. The Mahindra Quanto is a tall SUV which has a rear mounted spare wheel, which does give it the feel of a typical SUV. But to be very honest, it isn't as appealing as an SUV should be, definitely because of the chopped rear and small wheels. Had the wheels been bigger, it would have looked much better.
Alike the Quanto which is a mini Xylo, the Dzire 2012 is nothing but older car with a chopped rear. The rear does look out of proportion, but overall the profile of the car is good enough. In fact it looks better than the full fledged Dzire sedan.
We cannot talk about the overall dimensions of the two cars, but we can compare the wheelbase of the two. The wheelbase of Quanto is 2760 mm whereas the Dzire has a 2430 mm wheelbase. Clearly the Quanto offers way more room for your legs than the Dzire.
Interiors Comparison
image – Mahindra Quanto Interiors
Mahindra Xylo and Quanto share cabin components with each other. The fit, finish and design is not even close to Dzire, but it still pleasant. Features list include blackened pillars, flexible 5+2 seating , granite theme dashboard, armrest for driver and passenger, foldable snack trays at rear seats, digital driver assistance system as seen on Xylo, ABS and EBD, Dual airbags at front, reverse parking assist features, rear defogger, power steering and air conditioning, etc. Compared to other SUVs, the Xylo offers brilliant amount of space and a high driving position too.
image – Maruti Swift Dzire 2012 Studio Shots
image – Maruti Swift Dzire 2012 Studio Shots
Comparing the old Dzire with the new one, the latter is a huge improvement and it shows in the exterior design and passenger cabin. It has got pleasing beige gray dual tone interiors, wood inserts on front doors and dashboard, a good looking central console, large AC vents, sporty appeal in equipment and instrument cluster, good fabric Upholstery. Features such as ABS with EBD, dual airbags, audio system, tilt adjustable steering wheel, automatic climate control, etc. Even the leg room has been improved compared to the older generation model.
Quanto does offer more cabin space, in fact much more space than the Dzire owing to the former's greater height. But if the plastics quality is considered, Dzire is miles better.
Engine Comparison
Mahindra Quanto Engine Specifications
1.5 litre twin turbocharged mCR100 diesel engine
Max power of 100 BHP @ 3750 RPM
Max torque of 240 Nm @ 1600 to 2300 RPM
ARAI certified mileage of 17.21 KMPL
5 speed manual transmission
Kerb weight of 1640 kg
Power to weight ratio of 60.9 BHP per 1000 kg
Maruti Swift Dzire 2012 Diesel Engine Specifications
1.3 Litre DDiS CRDI Diesel Engine
Turbocharged Diesel Engine
Peak Power of 74 BHP @ 4000 RPM
Peak Torque of 190 Nm @ 2000 RPM
ARAI Tested Mileage of 23.4 KMPL
5 Speed Manual transmission
Kerb Weight between 1050 Kg and 1080 Kg
Power to weight ratio of 69.5 BHP / 1000 Kg
Both the cars are different in terms of proportions, weight etc. and therefore comparing the power and torque outputs of the would not be wise. But we can surely compare the power to weight ratios of the two, where the Dzire is ahead with 69.5 BHP / 1000 kg as against Quanto's 61 BHP / 1000 kg. Another very important factor to consider is the fuel efficiency figure, where once again Dzire overpowers the Quanto with 23.4 KMPL as against the latter's 17.21 KMPL.
Performance & Handling
Quanto has the underpinnings of the Xylo which drives well, but because Mahindra has not done pretty well with the Quanto proportions, it does not impress us. The wheels are small while the height remains the same as the Xylo, which adds a lot of body roll. The suspension does not work well on bumpy roads and delivers the jerks to the passenger cabin.
The Dzire is a great car in all senses. It drives really well and the suspension is finely tuned, though not perfect. Driving dynamics are good too and it is confident around sharp bends.
Price And Value For Money
Mahindra Quanto Price Ex-Showroom Delhi
Mahindra Quanto C2 is priced at Rs. 5.99 Lakhs
Mahindra Quanto C4 is priced at Rs. 6.53 Lakhs
Mahindra Quanto C6 is priced at Rs. 7.03 Lakhs
Mahindra Quanto C8 is priced at Rs. 7.57 Lakhs
Maruti Suzuki Swift Dizre 2012 Price Ex-Showroom Delhi
Maruti Suzuki Swift Dizre LDI : Rs. 5.99 lakhs
Maruti Suzuki Swift Dizre VDI : Rs. 6.53 lakhs
Maruti Suzuki Swift Dizre ZDI : Rs. 7.34 lakhs
Despite being largely differentiated by their segments, both the cars offer almost similar features. But as an overall package of features, the Dzire is better. The pricing of the two, for New Delhi, is exactly the same for the first two models, while the top end of the two differ by Rs.23,000. Even if you are going for the top end Quanto, you would miss a number of good features which present in Dzire. Those features are steering mounted audio controls, ORVM mounted turn indicators, Automatic AC, etc. Exclusive features of the Quanto include cup holders, foldable snack tray, driver under seat storage, reverse parking assist system.
Car Blog India Verdict – Mahindra Quanto Vs Maruti Dzire 2012
There is not going be a verdict as such. What we are here to find out is which car will suit you better. The Quanto is enormously spacious and offers great convenience features, but feels underpowered, does not drive as nicely as Dzire and is less fuel efficient too. The Dzire on the other side is less on space, but offers good handling, better fuel efficiency and beautiful handling characteristics.
If you have a big family, close to 5 members, and want a spacious and economical car with aggressive appeal then the Quanto will definitely fit your needs better. Whereas if you want better fuel efficiency, features and can compromise on the amount of space available for passengers then Dzire is the one to go for. We also suggest you to test drive both these cars before you take your final decision.
Also read – Mahindra Quanto Vs Maruti Ertiga and Mahindra Quanto Vs Renault Duster.
Join us for FREE NEWS Updates on our Whatsapp Community or our official telegram channel.