Mahindra XUV700 received unprecedented demand in our market ever since its launch in 2021.
As a result, the waiting periods are quite long running over 2 years in some cases.
But some people are getting the delivery date in 2099 – here's the reason.
A Mahindra XUV700 buyer got a tentative delivery date for the SUV in 2099 in the booking receipt! While we understand that the waiting times the SUV commands are quite high, it still makes no sense to get a delivery date 76 years later. XUV700 has been immensely successful ever since its launch in our market in 2021. In some cities, the waiting times on certain models are well over 2 years. Its excellent safety, modern cabin, latest features and powerful engines are the reasons why people love it so much. Here is the reason for this absurd delivery date.
You may also like: Fitness Model Siddharth Borgohain Dies in Tata Harrier Accident
You may also like: Mahindra XUV700 Displays New Year Greetings to Owners!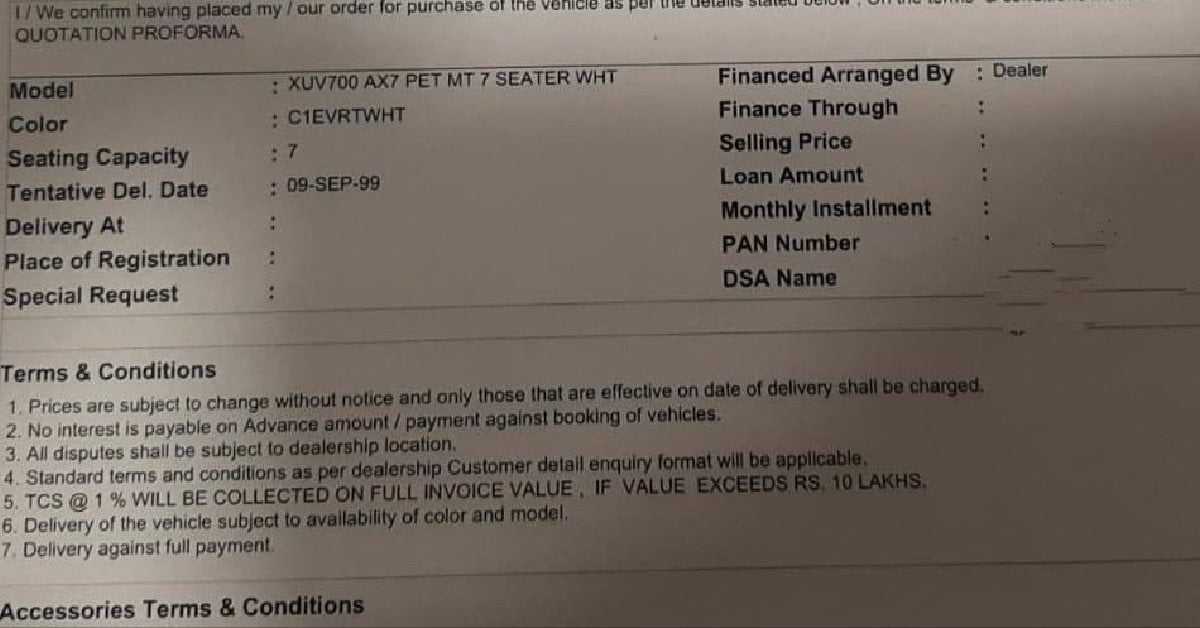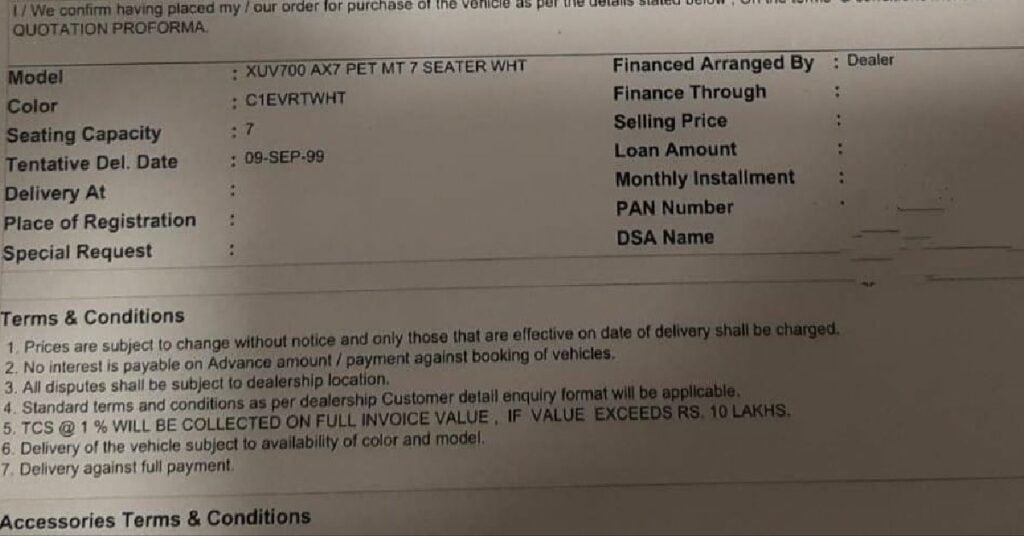 You may also like: Mahindra XUV700 Falls Off the Road, Owner Blames ADAS
You may also like: Brand New Mahindra XUV700 Crashed While Testing ADAS
Booking Receipt of XUV700 Shows Delivery in 2099
In today's day and age, almost all these documents are generated digitally. Hence, it is some kind of a default computer-generated date which got printed on this receipt given to a buyer. This can't possibly mean that the owner will get the delivery of the SUV in 2099. In fact, the actual delivery might just be months away. But due to this error of printing the default date by the computer for some reason, the receipt shows the delivery date as 9th September 2099. That is why many people have received this same date – 09-09-99.
You may also like: Mahindra XUV700 Owner Goes to 'Sleep' at High Speed, Then Tells Others Not To Do It
Specs
The Mahindra XUV700 comes with a 2.0-litre turbocharged petrol unit that churns out a maximum power of 200 PS and a peak torque of 380 Nm. Meanwhile, the Diesel engine is available in multiple states of tune. The lower versions get 155 PS and 360 Nm, while the higher-positioned models benefit from 185 PS and 420 Nm (450 Nm in the automatic variant). Both the petrol and diesel engine variants will be available with 6-speed manual and automatic transmission choices.
You may also like: Mahindra XUV700 vs Hyundai Tuscon – Which One Has Better ADAS?
You may also like: Mid-spec Mahindra XUV700 AX5 with Luxury Interior Modification – VIDEO
The prices range between Rs 13.45 lakh and Rs 24.95 lakh, ex-showroom. It rivals the Tata Safari in our market which is the 7-seat version of the popular Harrier. This year, Mahindra plans to work on its electric SUV portfolio with the XUV400 (electric version of the XUV300) planned for launch in January itself. In the coming years, more electric SUVs are slated to be introduced in our market.