Unfortunately, the automobile industry is an opportunistic place for scammers to run wild. This is yet another instance of a scam that has been running in the name of Mahindra.
Recently, a Mahindra XUV700 RSA service fraud has come to light. We keep hearing new scams and frauds every now and then. Unfortunately, that is the kind of world we live in. If we are not aware, these scammers could rip us off without us realising until much later. The Mahindra XUV700 is one of the most popular cars in the market at the moment. It is in the most demand apart from the entry-level products in our market. Also, it is a pricey car which is why fraudsters try to come up with innovative ways to scam people. Let us check out the details of this particular scam.
You may also like: Mahindra XUV700 Diesel AT Real World Mileage Revealed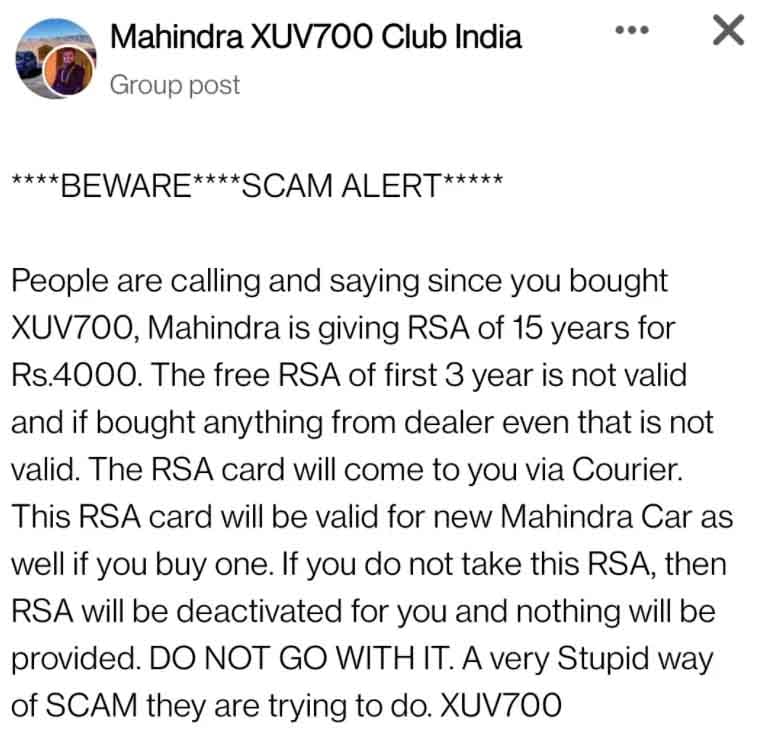 You may also like: Watch Tata Safari vs Mahindra XUV700 in Classic Drag Race
Mahindra XUV700 RSA Fraud
This was shared on Facebook on the Mahindra XUV700 Owners page. The scammers are calling up the recent Mahindra XUV700 owners and telling them that Mahindra is offering 15 years of RSA at just Rs 4,000. They are also claiming that the first 3 years of the RSA that the owner might have bought from the dealer, is not valid. If you pay Rs 4,000, the RSA card will be parcelled to you via courier. In addition to that, this new RSA card will also be valid for future Mahindra cars. However, if you don't take this offer, your other RSA will be deactivated and nothing will be provided to you thereafter. This is quite a stupid way to catch unsuspecting new XUV700 owners and drag them into the fraudulent scheme. We urge our readers to be aware of such frauds. Make sure to always cross-check such things will the official car dealers or the carmaker.
Specs
The Mahindra XUV700 comes with a 2.0-litre turbocharged petrol unit that churns out a maximum power of 200 PS and a peak torque of 380 Nm. Meanwhile, the Diesel engine is available in multiple states of tune. The lower versions get 155 PS and 360 Nm, while the higher positioned models benefit from 185 PS and 420 Nm (450 Nm in automatic variant). Both the petrol and diesel engine variants will be available with 6-speed manual and automatic transmission choices.
You may also like: Mahindra XUV700 Keeps All Safe in First Major Accident At 130KMPH
The prices range between Rs 12.95 lakh and Rs 23.79 lakh, ex-showroom. The direct rivals include the likes of Tata Safari, MG Hector Plus Hyundai Alcazar and the newly launched Kia Carens.
Join our official telegram channel for free latest updates and follow us on Google News here.