The latest crash between a Maruti Baleno and KTM Duke has once again shown the importance of safe riding. Nowadays people usually factor in a lot of things while purchasing a two-wheeler, including safety features. However, simple bike safety tips are often ignored by riders while taking their bike out of the showroom and exploring the Indian roads. According to the Ministry of Road Transport and Highways, more than one-third (37%) of the people who died in road accidents in 2019 were two-wheeler riders. Let us share some motorcycle safety tips to ensure your safety on roads and that of others.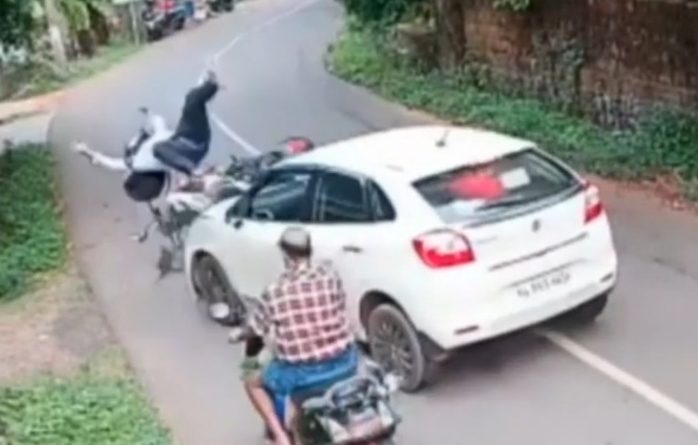 Nowadays, there is a wide range of attractive motorcycles and scooters in the market. Choosing a bike that suits you is the first smart choice. A great-looking bike is not always a vehicle you can control and ride easily. While wearing a helmet is common sense now, a bright or neon-colored reflective band over your helmet and sides of your two-wheeler can ensure your safety during the night or foggy conditions. Staying visible to car and truck drivers makes the ride safe and secure for motorists. You can also get additional safety gear – jackets, elbow guards, leather hand gloves, etc.
Also read: Latest Tata Nexon Crash Shows At Times Even 5-star Safety Isn't Enough!
The standards traffic rules in India include avoiding overspeeding, following the traffic signals, and not riding under the influence of an intoxicating substance. It is also advisable to check if your engine oil, air filter, and bike tyres before riding and replace them if necessary. Instead of overtaking trucks and cars on the roads, wait for them to give you a pass. Avoid situations that might require applying quick brakes or loose balance. Also, you never know when a rash rider or an inexperienced driver would approach and collide with you. For example, take a look at this latest crash between a Maruti Baleno and KTM Duke.
As seen in the video above, the KTM Duke rider clearly loses control and moves into the wrong lane. This leads to an unpreventable accident with the Maruti Baleno. It is not a comfortable speed enough to handle the bike. The rider also takes the largest turning radius possible without paying heed to the incoming car. In a small road like this, cars and bikes changing lanes suddenly is a dangerous situation, especially at a turn. To ensure safety, both the car drivers and the bike riders should slow down at such turns or streets joining the highways.
Also read: Now Riding A Two-Wheeler With Slippers Invites You A Traffic Challan
Unfortunately, even if you follow all safety protocols, the Indian roads are filled with unexpected elements. A dog/ a cow/ even children might appear out of nowhere making you panic brake leading to skidding or losing control. It is important to be stay alert while driving in the city or on highways. Also, don't forget to maintain a safe distance. It is also advisable to insure (both own-damage cover and third-party liability cover) your vehicle before taking it out on the road. You can also get a personal accident policy.
Also read: What are the different safety features on bikes? Why are they needed?