Dzire is not the type of vehicle one would generally associate with dune bashing but it doesn't stop people from attempting it every once in a while.
In this video clip, a Maruti Dzire climbs up a sand dune. Now, one can't think of taking a budget-friendly sedan to the desert to perform such stunts with it. But someone in this Instagram post certainly is brave enough to attempt that. Dzire is the highest-selling sedan in the country and has been for a long time. In fact, it has enjoyed unparalleled success in the commercial segment in addition to the private market. But if there is something we don't recommend doing in a Dzire, it is off-roading.
You may also like: Rashly Driven Tata Tiago Hits Maruti Dzire, Suffers Similar Damage
You may also like: Maruti Dzire Goes Under Indigo Aircraft- Miraculous Escape for Flight Crew
Maruti Dzire Climbs Sand Dune
The video clip has been posted by mr_lovejeet_singh_07 on Instagram. The exact location of this event is not known. However, one can see that there are a lot of people having a good time sitting in the sand. It looks like a prominent desert area where people are enjoying an evening stroll. In the meanwhile, a Dzire owner decides to crash the party by bringing his sedan among the people and continuing on to climb the sand dunes.
You may also like: This Maruti Dzire and Tata Harrier Crash Has Shocking Results
We must understand that the Dzire is a regular urban sedan with an FWD setup. This configuration is not meant for any off-roading shenanigans. Such moronic attempts could get the vehicle stuck in the sand and it could become difficult to rescue due to minimal traction for any other vehicle as well. Also, in this case, there are a lot of people sitting on the sand. The way the driver of the Dzire is driving is quite dangerous as people are not expecting it. Therefore, the safety aspect also needs to be taken into consideration.
You may also like: 2-Door Maruti Dzire Low-Rider Concept Evokes Major Want
We would like to caution our readers against attempting anything like this. We must respect road safety and traffic regulations. There are so many lives lost on the roads every year. With proper rule-following, we will be able to save a lot more lives. Therefore, make sure to encourage everyone around you to follow rules and put the safety of people at the top of your priority list. What are your thoughts on the matter?
You may also like: Curious Case of 2 Maruti Dzire Taxis With Same Registration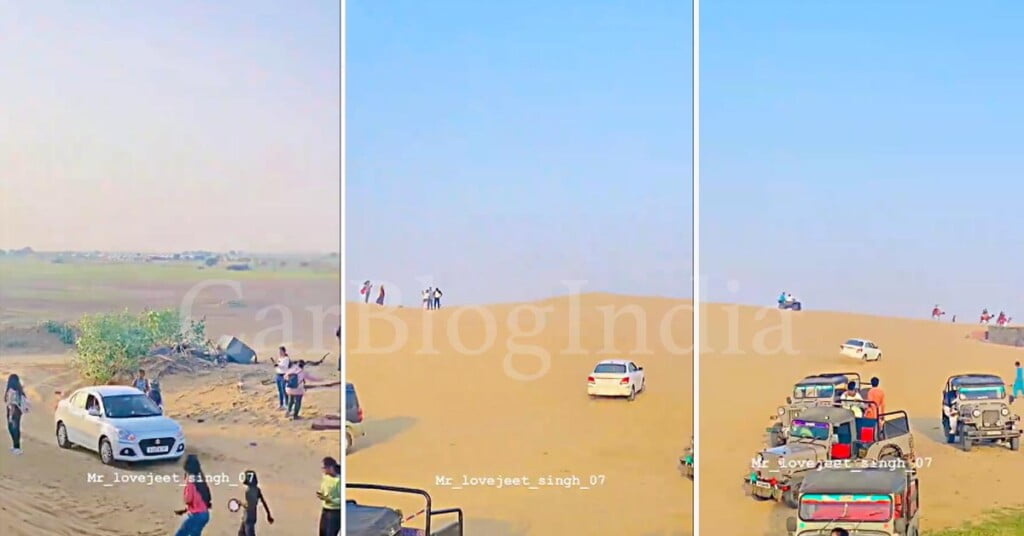 Disclaimer- The embedded videos/ external content is/are being used as a convenience and for informational purposes only; they do not constitute an endorsement or approval by Car Blog India of any of the products, services, and /or opinions of the corporation or organization or individual. Car Blog India bears no responsibility for the accuracy, legality, and/or content of the external site or for that of subsequent external videos/ external content. Contact the external publisher for answers to questions regarding its content.
Join our official telegram channel for free latest updates and follow us on Google News here.