With the videos on the internet, we are able to witness certain events that we would otherwise refuse to believe had we not seen them with our own eyes.
In this bizarre video, a Maruti Dzire is seen under a trailer on the road. Dzire is the most popular commercial vehicle in the country. Additionally, it is also the most popular compact sedan in the market by a mile in the passenger segment too. So, it is not all that uncommon to see it being involved in some weird situations on the road. This is one such case where you will have to watch it with your own eyes to believe.
You may also like: Maruti Dzire Climbs Up a Sand Dune – Why Not To Do It
You may also like: Rashly Driven Tata Tiago Hits Maruti Dzire, Suffers Similar Damage
Maruti Dzire Under Trailer
The short video clip has been shared as a Reel on Facebook. The outrageous scene captures a Dzire completely underneath the trailer of a truck. It looks like the truck is carrying iron rods on the trailer. The video starts as the sedan has gone under the trailer without getting damaged. Although the details of the incident are not available, it can be safely assumed that the driver of the Dzire lost control of the car and was not able to brake on time. As a result, it ended up going inside the trailer from behind.
You may also like: Maruti Dzire Goes Under Indigo Aircraft- Miraculous Escape for Flight Crew
This is a miraculous save for the passengers if there were any. If not, at least the driver was alive as the height of the trailer was so much that the car didn't hit it but went underneath it. It is entirely possible that the trailer would have applied the brakes suddenly due to an issue on the road. But the driver of the Dzire had to maintain sufficient distance as advised by the traffic regulations. There are people surrounding the car and guiding the driver to reverse the car out of the truck. After a few moments, the car was retrieved with minor scratches on the roof.
You may also like: This Maruti Dzire and Tata Harrier Crash Has Shocking Results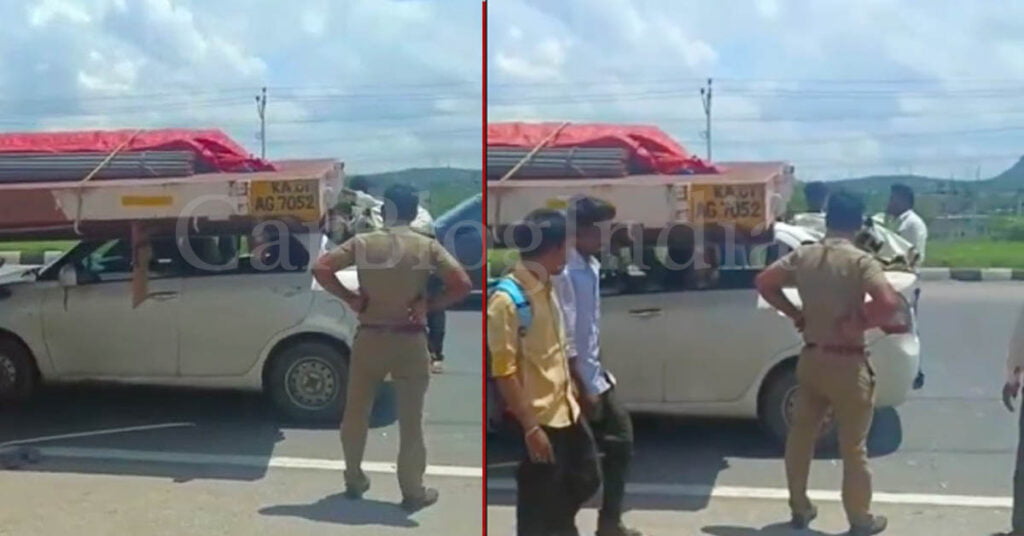 We would like to urge our readers to always follow the traffic regulations. Overspeeding continues to be the main cause of almost all accidents on the road. We lose thousands of lives every year due to road accidents. It is time that we take responsibility of being great drivers by following the rules and regulations and driving slowly at all times so that such accidents could be avoided.
Join our official telegram channel for free latest updates and follow us on Google News here.