Grand Vitara is a mid-size SUV from Maruti Suzuki to rival the likes of Hyundai Creta, Kia Seltos and VW Taigun.
It has not been crash-tested yet but real-life situations have shown promising results.
In this latest incident, a VW Ameo hits it from behind at high speed.
In this latest instance, the Maruti Grand Vitara has exhibited pretty strong build quality in a mishap. Grand Vitara is Maruti's answer to the domination by Hyundai Creta and Kia Seltos in the mid-size SUV segment of our market. We don't generally see an awful lot of Maruti products with impressive safety ratings but considering the real-life performances of the Grand Vitara, Maruti might finally have a hero on its hands. Obviously, we will need to wait for the official NCAP testing before drawing any conclusions. Here are the details of this latest crash.
You may also like: Maruti Grand Vitara Hits Cow in First Major Accident, Driver Safe
You may also like: Here's World's First Maruti Grand Vitara to Go Snow Camping at -12 Degrees
Maruti Grand Vitara Build Quality
The video has been uploaded by Nikhil Rana on his YouTube channel. This channel keeps featuring content around the real-life performances of popular cars in terms of its safety rating along with raising awareness about road safety in the market. As per the information in this video, this crash has been reported from Bangalore. The visuals show the SUV being hit by Volkswagen Ameo from the rear in what looks like a high-speed crash. The damage to both vehicles is evident in the video clip.
You may also like: Maruti Grand Vitara Build Quality Tested by Knocking and Pressing Panels
The SUV suffered quite some damage to the rear profile including a broken bumper, tailgate, skid plate, etc. On the other hand, the performance of Ameo has shocked a lot of people. The entire front section has been heavily impacted by the crash. The bumper, radiator grille, bonnet, headlamps, side fenders and almost all the frontal components have sustained severe damage. However, in both the cars, the side pillars are seen intact which was able to save all the passengers from any grave injuries.
You may also like: India's First Maruti Grand Vitara with Aftermarket Multispoke Alloy Wheels
Prevent Overspeeding
While the details of how this happened are not available, it is possible that the driver of the Ameo was driving at high speed and was not able to control when the Grand Vitara suddenly hit brakes. It is high time we understand the adverse consequences of driving vehicles beyond the speed limit. Most accidents happen on our roads due to overspeeding. Let us take a pledge to be responsible drivers and follow the traffic rules so that our roads become safer than they are at the moment. Do share your thoughts with us on this.
You may also like: Maruti Grand Vitara Delivery Goes Wrong – First Reported Crash!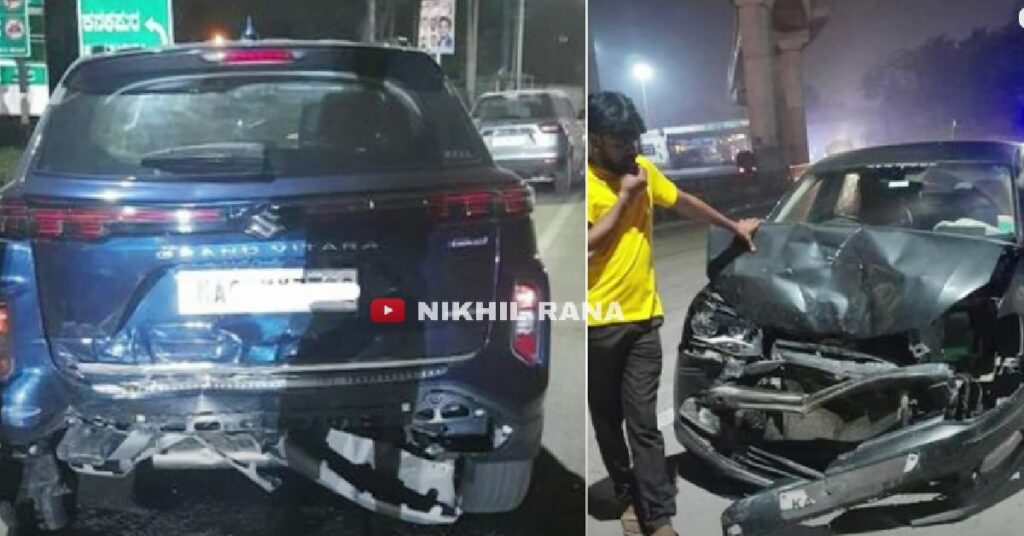 You may also like: Accessorized 2022 Maruti Grand Vitara Black Edition Illustrated
Disclaimer- The embedded videos/ external content is/are being used as a convenience and for informational purposes only; they do not constitute an endorsement or approval by Car Blog India of any of the products, services, and /or opinions of the corporation or organization or individual. Car Blog India bears no responsibility for the accuracy, legality, and/or content of the external site or for that of subsequent external videos/ external content. Contact the external publisher for answers to questions regarding its content.
Join our official telegram channel for free latest updates and follow us on Google News here.