In this article, let's take a closer look at India's first Maruti Swift converted into a Baleno. The old-gen Swift is completely modified.
With Baleno, Maruti Suzuki has a winner on its hand. The premium hatchback is getting more and more popular in the Indian market. It has essentially replaced the company's Maruti Swift model. Most customers are now opting for the new Maruti Baleno. One such customer has seven modified his Maruti Swift to look like a Baleno. While the old-generation Swift was not in good condition, with several upgrades and modifications, it now looks like a brand new Maruti Baleno.
You May Also Like: New Maruti Baleno in -5 Degree Celsius at Rohtang Pass – Owner Shares Experience
You May Also Like: Maruti Baleno Owner Drives Skoda Slavia – Shares His Feedback
Maruti Suzuki Swift to Maruti Suzuki Baleno
As you can see in the YouTube video above by Vinay Kapoor, the auto shop has done an amazing transformation job on the Maruti Suzuki. The old-generation Swift was in a bad condition. You can see multiple scratches on the vehicle. It was also severely rusted. To give it a new look, the team did a complete overhaul of the suspension system, steering system, and many other mechanical parts. Additionally, the AC system, suspension, and steering system have been reworked. The final product looks quite similar to the Baleno.
The Maruti Baleno look-alike gets a new dual paint scheme. The red base is complimented with a white roof, door handles, and ORVMs. On the front, it sports a modified front with the grille of the Maruti Baleno. Additionally, faux hood scoops have been added to give it a muscular look. On the back, the stock Swift look has been maintained. However, the new badging (at the front and the back) adds a new look. Since both Maruti Baleno and the old-generation Swift feature similar headlamps, the front of the modified car looks like a Baleno.
You May Also Like: 2023 Maruti Swift – Everything We As of November 2022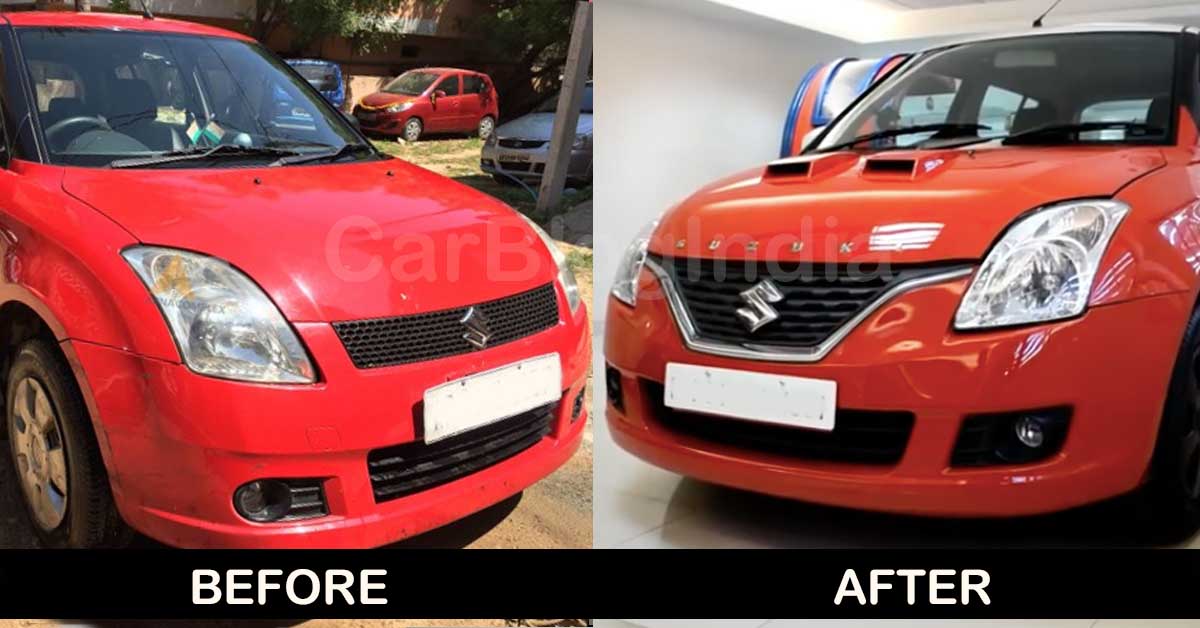 You May Also Like: How Many Bags Can Fit in the Boot of New Maruti Baleno CNG?
Maruti Suzuki Swift and Maruti Suzuki Baleno Specs
Both the Maruti Suzuki Swift and Maruti Suzuki Baleno are powered by a 1.2-liter petrol engine. While the Baleno unit outputs 83.1 Bhp of power and 115nm torque, the Swift produces 81.8 Bhp of power and 113 Nm of torque. Both hatchbacks cars also come with a 1.3-liter diesel engine option that outputs 74 Bhp and 190 Nm. While the new Swift offers AMT automatic transmission, there was no automatic option in the last-generation Swift. The Baleno offers CVT automatic transmission with the Petrol option. In terms of price, the new-generation Maruti Suzuki Swift and Baleno cost Rs 4.99 lakhs and Rs 5.35 lakhs (ex-showroom, Delhi), respectively.